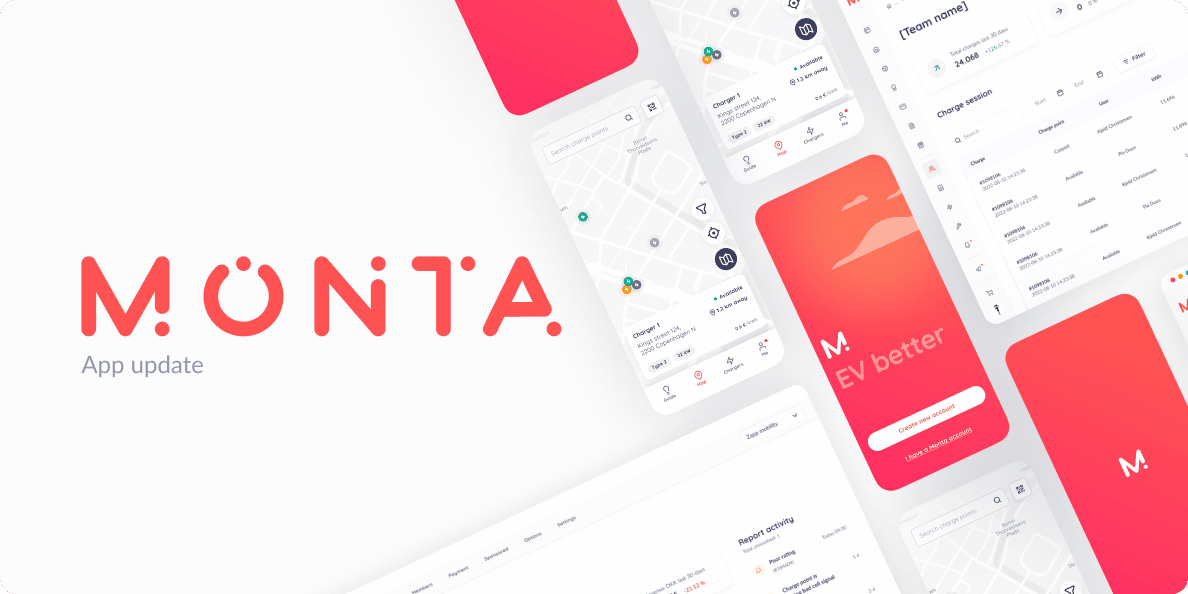 We have an exciting update for you this month that will make your charging experience even better.
Ever dreamed of plugging in your electric vehicle and having the charging process start without any extra steps? Monta's AutoCharge is making this a reality for EV drivers everywhere.
Keep reading for more details.
Seamless charging today with AutoCharge
EV driving can be challenging and frustrating, especially for those new to EVs who need to navigate multiple apps, RFID cards, and payment methods. As part of our effort to make charging more efficient, we've released AutoCharge.
With AutoCharge, you can forget about complicated payment methods or authentication processes. Simply plug in your EV, and AutoCharge takes care of everything else.
How it works
When registering your car on the Monta app, Monta links your car's unique ID to your Monta account.
Plug your car into supported CSS chargers on the Monta network.
The CSS charger will communicate with the car and receive payment details.
Payment and charging start automatically.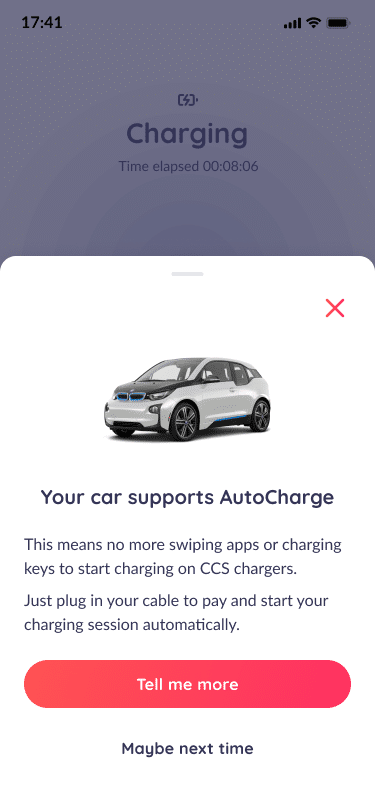 How can you use AutoCharge?
To use AutoCharge, you need an electric vehicle with a CSS connector and a unique, non-shared vehicle ID. Some cars have shared codes and cannot use AutoCharge, such as:
Audi e-tron (model 2018, cannot be guaranteed for model 2019) & Q4 e-tron
Cupra Born
Lucid Air
Maxus eDeliver
Mazda MX-30
Volkswagen e-Up!, e-Golf, ID.3, ID.4 & ID.5, ID.Buzz
Seat Mii electric
Skoda Citigo e-iV & Enyaq iV
BMW iX1 & BMW i7
Rolls-Royce Spectre EV
If you have a compatible car model, check out our guide on how to get started with AutoCharge.
AutoCharge works with any DC charger or AC charger with ISO 15118-3 capable hardware. It works automatically with any DC charger because they have a direct connection with the vehicle, making charging more efficient. See which charge point models support AutoCharge here.
You can read more about Monta's AutoCharge feature in our blog where we also talk about how Plug and Charge compares to AutoCharge technology.
We hope you find the AutoCharge feature helpful for your EV charging needs. As always, we welcome your feedback to improve our services.
Charge Point Integrations - New models added
We have added 24 new charge point models in the past month, making us integrated with 401 models now! See the complete list here. 
—
Tell us what you need
Our product is here to serve you, so if you have any desired features or improvement ideas for the Monta app, please let us know!
You can place feature requests, give feedback, or upvote ideas from fellow Monta users on our Ideas Portal.
Whatever it may be, we love hearing from you.
hello world!