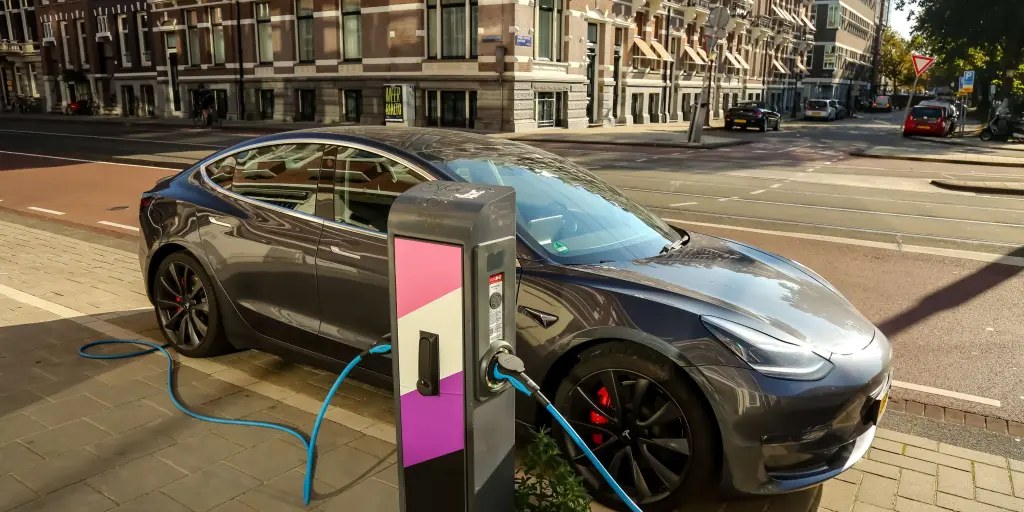 With the electric vehicle industry booming, many experts from different industries have been trying to predict where this sector is going; how many EV's will be in X country by a certain year, how many charge points we will need to satisfy the demand, the number of models that a certain car brand will offer, etc.
But all of these predictions have one thing in common: they continually underestimate the pace at which EV's are being adopted. Every year, new reports mention how the current year's growth numbers overperform in relation to previous projections.
Show me the data
A Sopheon report predicted there would be between 6 and 11 million EVs sold by 2025. There were 6.6 million sold in 2021, four years ahead of schedule. This BCG report from 2020 predicted there would be 400 EV models by 2025 and that EV sales in China would reach 12% by 2025. In 2021 there were already 450 EV models available globally and China's EV sales share was 16%. Four years ahead of schedule!
At Monta, we took a look at different nations' goals for when they plan to have 100% electric vehicles on their roads. With those numbers in mind, we calculated back to how many EVs they would've needed to have already in the year 2021. Quickly, we found out that all countries overpassed those amounts:
Our model predicted there would be 703K EVs on the roads of the UK by 2021. They had 745K instead.
There should have been 1.1M EVs in Germany in 2021. Instead, 1.3M were sold in Germany.
A similar story took place in France, with 673K EVs predicted and 725K on the road.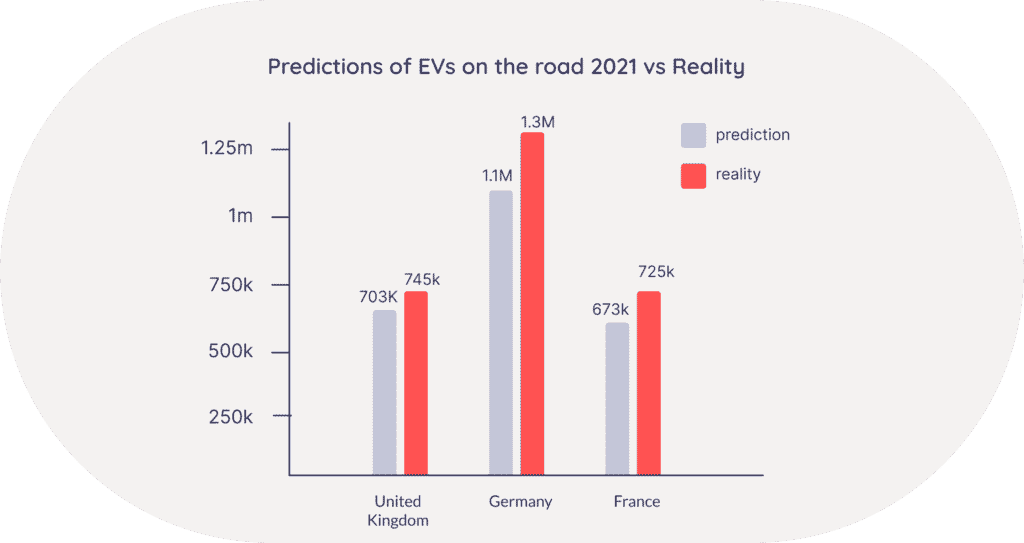 The story is the same in virtually every country. All net growth of global car sales in 2021 came from electric cars. Even we need to increase our predictions for the coming years!
Why this could be happening
Sustained government support
Governments are being more generous with EV incentives and more strict with emissions limits than anticipated. Europe has some of the tightest fuel emission standards in the world, forcing manufacturers to adapt and governments to enforce the standards. Just a few weeks back, the European Union went a step further and agreed to ban the sale of internal combustion engine vehicles by 2035.
Read also: UK smart charging legislation - What you need to know
Quickly changing consumer sentiment
Whether it is climate concerns, rising gasoline prices, or the desire to take advantage of government incentives, consumer sentiment towards EV's has changed dramatically in recent years. From the EY Mobility Consumer Index (MCI) 2022 study that was released last month, a study encompassing 13,000 consumers across 18 countries, 52% of consumers said they were planning to buy an EV for their next car. 
EVs are also just really enjoyable to drive. The quality of the vehicles keeps getting better and better. As more people adopt them, more friends and family see the viability and quality, and people are jumping into the EV wave.
Car manufacturers see the writing on the wall
Manufacturers recognize the importance of moving quickly to take advantage of the once-in-a-generation shift that is taking place. This is why there are so many models that have recently entered the market, with many more on the horizon.