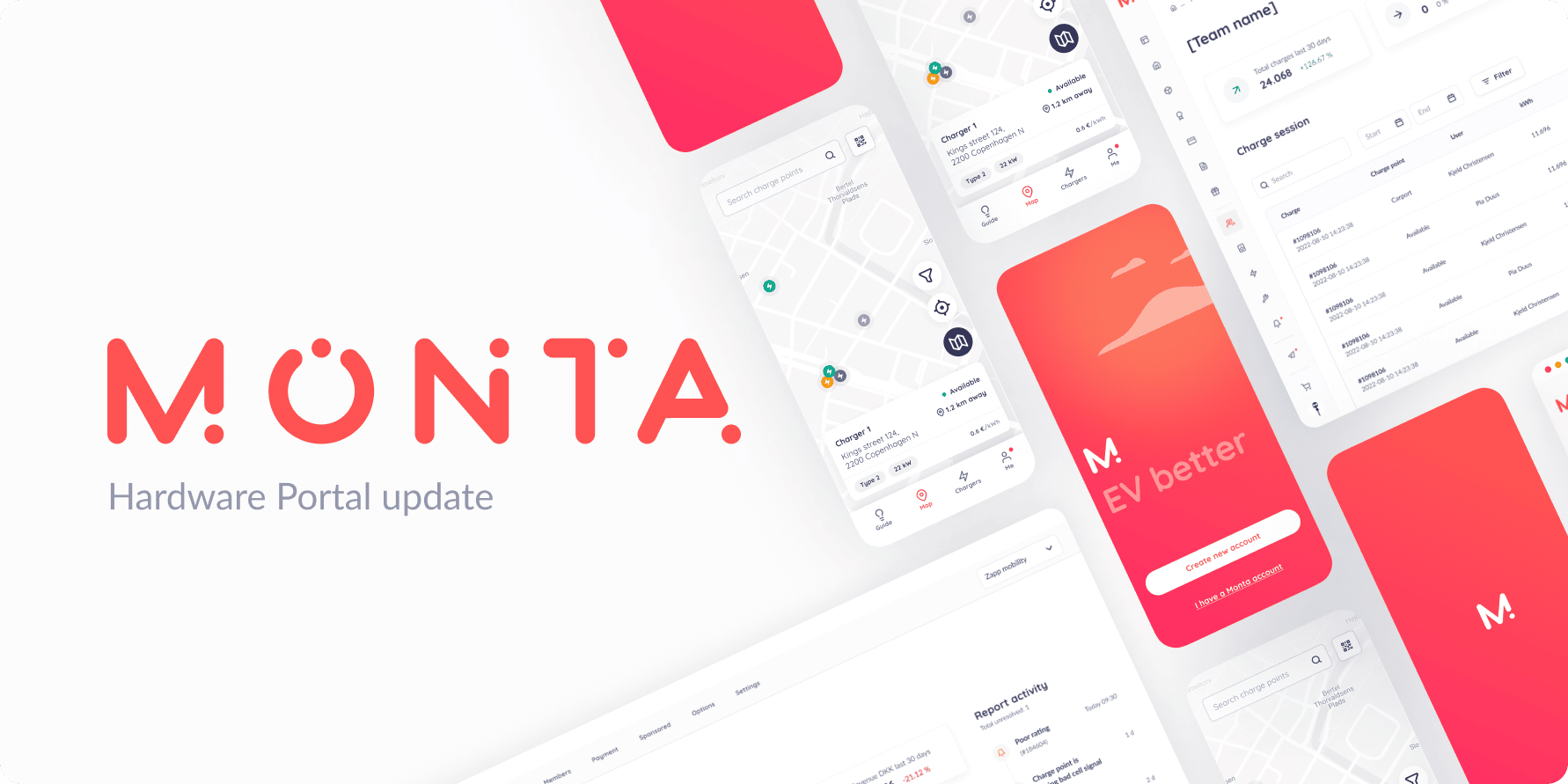 Welcome back to the Monta Hardware Portal blog!
In this month's blog, we'll be exploring what's new in the Hardware Portal, including being able to:
Help detect incidents quickly and improve charger performance with the Overview Dashboard:
Drill down into your charge point logs with the Charge Point Debugger.
Learn more below.
At the moment, the Hardware Portal is available only for 'Powered by Monta' partners. You can find more information about the 'Powered by Monta' partnership here.
Better charge point performance monitoring with the new Overview Dashboard
We understand it can be challenging to monitor charge sessions performed on your chargers and find ways to detect incidents on your own. You also need to be able to see how your chargers are being used, how they perform, and what features they support. With the new Overview Dashboard, you can do just that!
The Dashboard provides you with a graphical overview of all charges performed on any of your charge points, along with a stability score that shows how successful those charges were. You can also see a graphical overview of all your charge points that are connected to Monta over time, along with a popularity score that depicts how often your chargers are being chosen. In addition, you can track the number of charge sessions performed on your chargers, with min, max, and average data. All of this can be filtered for different time periods, and you can also view an overview of all your models and ensure they support all Monta features.
With this new feature, you can detect incidents quickly and take action faster. You can understand how your chargers perform and when they are being used the most in an easy and digestible manner. Plus, you can follow the trend of your charge point's popularity and understand the reason behind it. This information is especially valuable for R&D to make future product decisions.
To access the Overview Dashboard, simply login to the Hardware Portal and click on the Overview tab.
As the saying goes, with great data comes great responsibility. We believe that by providing valuable data to hardware manufacturers, we can work together to make EV charging better for everyone.
Simplify your troubleshooting process with the Charge Point Debugger
We understand how challenging it can be to troubleshoot issues for your customers or to improve your products when you don't have access to the charge point logs. That's why we have developed the Charge Point Debugger, a tool that gives you full access to all your charge point logs. This works for each charge point of your brand that is connected with the Monta backend.
This feature will give you the full picture of a certain issue or general usage of your charger, making it easier for you to troubleshoot, resolve customer problems, or test hypotheses in your R&D department.
To access the Charge Point Debugger, simply log into your Monta Hardware Portal account and navigate to the Charge Point Debugger section. From there, you can access detailed logs for each charge point.
If you are a hardware manufacturer that is also operating charge points, this feature will be especially useful as it will help you understand customer issues and resolve them quickly and efficiently. Through the Monta Portal, you will have access to a range of troubleshooting commands that you can then use to troubleshoot and resolve customer issues.
We hope this new addition to our Hardware Portal will prove helpful in your day-to-day operations, and we look forward to continuing to provide you with the tools and resources you need to succeed.
Charge Point Integrations - New charge points added
We have added 19 new charge point models in the past month, making us integrated with 329 models in total now! See the full list here.
Check out our Public Roadmap for the Monta Portal
Our Public Roadmap displays what you and fellow Monta users wish to see in the Monta Portal and the status of us turning those wishes into reality.
Feel free to submit your feature requests or improvements right there.
Explore our Public Roadmap here.
We love hearing from you.
—