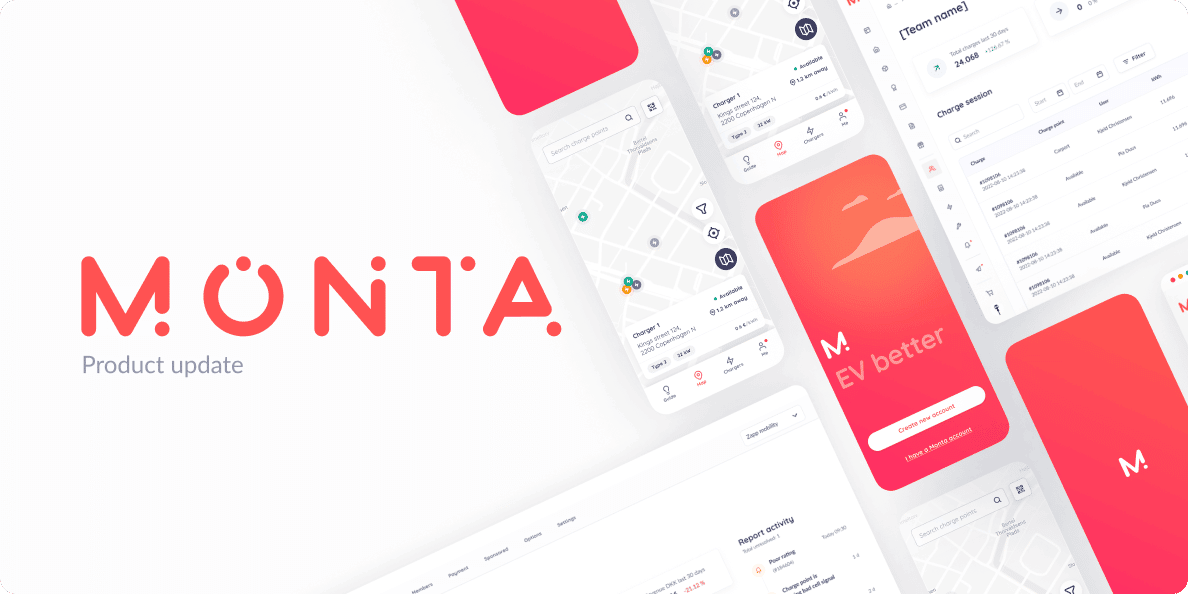 Welcome to the latest edition of the Monta Portal update blog! We are excited to share with you the new features and improvements that we've been working on to enhance your user experience. This month, we've focused on bringing you more flexibility, convenience, and efficiency in managing your business through the Monta Portal.
The updates for April include:
Monta Portal 2.0 is now live;
Bulk upload for charge points and teams;
Create and manage your custom deeplinks from the Monta Portal;
Several invoice improvements.
Learn how to access these features below.
Monta Portal 2.0: New UI, improved workflow, better productivity
We are thrilled to announce the launch of Monta Portal 2.0! Your feedback helped shape our team's strategy for meaningful improvements that would help you manage and streamline your workflow more efficiently. Since we went live, our users have raved about the new changes – Their feedback has been overwhelmingly positive. At Monta, We're delighted to offer a product that helps you save time and simplifies complex workflows, empowering you to focus on key tasks.
The new portal has a completely new user interface and experience while retaining the option to use Portal 1.0 as you adapt to these changes. You can switch between the two systems as you need to, for your convenience.
Our core features, which you can find in the Teams section of the Monta Portal, include team and charge point overviews, team members and transactions, as well as team settings and price groups. Watch this video to see how it works:
We're working tirelessly to enhance Portal 2.0 by adding additional features and capabilities, gradually surpassing the functionalities of Portal 1.0.
If you're one of the beta testers that already had access to Portal 2.0, please send your feedback through the accessible feedback form in the Monta Portal. Alternatively, if you want to try out the latest version of Monta Portal, enable beta access and dive right in.
We hope you enjoy this update and we appreciate your continued support as we strive to create a better product!
Bulk upload for charge points and teams
Previously, manually updating a large number of teams and charge points was a time-consuming and frustrating process. Bulk adding charge points via CSV file excluded adding teams and tracking of orders, causing errors like skipping the second socket in two-socket charge points.
With our new Bulk Upload feature, users can now upload up to 120 charge points across 60 teams daily, including charge points with two sockets. This eliminates the need for manual team creation and individual charge point addition. Additionally, it supports a new use case for charge point manufacturers who need to track orders and bulk update teams and charge points in a fast and efficient manner.
Not only does this feature increase efficiency and productivity, but it also reduces stress and frustration for users who previously struggled with a difficult process. Users now have enhanced confidence and control over managing large amounts of data.
This update also improves customer satisfaction, by reducing the time required to add charge points to the system and enhancing collaboration and coordination among teams through streamlined processes.
The Bulk Upload feature is available in the Teams section of the Monta Portal, providing a simple and streamlined process for managing charge points and teams. With Monta Portal's new Bulk Upload feature, you can experience enhanced workflow management and take your productivity to the next level.
Introducing the Deeplink Management System
Deeplinks, also known as smart links, are a powerful tool to direct users to a specific area within an app or website. However, while they have proven to be invaluable, it has been challenging for Monta operators to manage them.
Previously, Monta operators faced difficulty managing their deeplinks, especially when creating custom stickers, wrapping, or screens. Our customer success team would manually generate unique deeplinks, serving our partners but increasing wait times for customers.
To address this bottleneck, we developed the Deeplink Management System, a centralised solution that grants Monta operators full control over their Deeplinks, including the ability to create, overview, and manage them directly in the Monta portal.
The Deeplinks Management System is a fantastic way to create custom deeplinks for charge points, allowing EV drivers to access their public charge points by scanning a QR or NFC code. Plus, operators can manage existing deeplinks connected to QR stickers. One of the advantages of this system is that operators can create, link, and manage deeplinks and charge points without being physically present at the charge point site.
With the Deeplink Management System, users can easily overview all deeplinks related to their operator account and see which charge points they are paired with. The "Find a deeplink" function allows users to quickly locate and claim deeplinks, and pair them with charge points. By navigating to the charge point deeplink page, users can preview how it will appear to their customers. Now, creating and pairing your own deeplinks to charge points is a breeze.
Currently in Beta, the Deeplink Management System invites users and operators to test it and provide feedback. With this new and improved system, managing personalized deeplinks and enhancing navigation to your content is easier than ever.
Invoice improvements
Introducing our VAT Calculator
If you're doing business across multiple countries, compliance with VAT rules can be a challenge. But with our latest improvement, you no longer have to worry about it. We've partnered with international auditing firm PwC to develop a VAT rules engine to automate VAT rate determination for all transactions performed within the Monta portal.
This ensures compliance with a set of VAT rules that have been provided by PwC. VAT is a regulatory requirement, with different rules depending on the country and parties involved in a transaction. So, no matter where your business takes you, you can be sure we have your back when it comes to VAT.
Invoice PDFs now attached to email
Previously, we provided a download link to access the invoice, but we know that manually entering invoice data can be tedious, especially when handling large volumes. That's why we've made your experience easier by including an invoice PDF as an attachment.
This makes it easier for our clients to manage their accounting and bookkeeping automatically. Whether you're a small business owner, freelancer, or enterprise client, we're committed to making your invoicing experience hassle-free.
Charge Point Integrations – New models added
We have added 7 new charge point models in the past month, making us integrated with 310 models in total now! See the full list here.
—
Check out our Public Roadmap for the Monta Portal
Our Public Roadmap displays what you and fellow Monta users wish to see in the Monta Portal and the status of us turning those wishes into reality.
Feel free to submit your feature requests or improvements right there.
Explore our Public Roadmap here.
We love hearing from you.