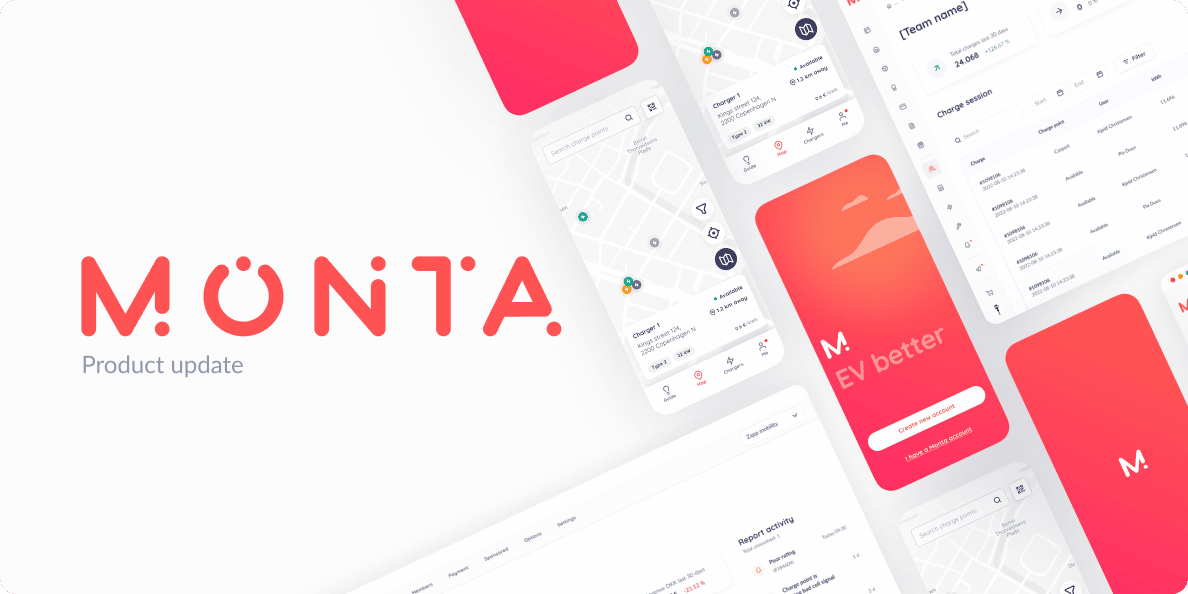 Power up your charging infrastructure management with Monta Portal's upgraded capabilities! Our latest updates provide you with powerful tools to enhance your operations and maximise efficiency.
Starting this month, get ready to:
Unlock new features in Monta Portal 2.0;
Seamlessly bulk-create Installer Jobs;
Gain deeper insights and simplify troubleshooting with the Charge Point Debugger.
We can't wait for you to try them out and see how they can make your life easier!
Learn how to access these features below.
Monta Portal 2.0: More power, more features, and more control
Designed to be smoother, more intuitive, and user-friendly, Monta Portal 2.0 is not only catching up with Monta Portal 1.0's features, but it's also improving the user experience (UX) tremendously along the way. We're thrilled to unveil the latest updates that await you:
Schedules: Use our Schedules feature to combine price groups and accessibility for charge points, enabling greater flexibility and control on who should charge when and at what price;
Additional Fees in Price Groups: Fine-tune your price groups with additional fees such as starting fees, charging fees, minute fees, and idle fees, giving you the freedom to align your pricing structure with your business goals.
Access Monta Portal 2.0 by clicking the "Check out Portal 2.0 preview" banner under Teams in the Monta Portal. Remember, while the new version of the portal looks great, not all features are available yet. However, if you encounter a feature that is not currently available on Portal 2.0, you will be seamlessly redirected to Monta Portal 1.0 to ensure a smooth user experience.
Your feedback has been invaluable in shaping the Monta Portal and we invite you to continue sharing your thoughts and suggestions as we work towards refining the platform. Stay tuned for more exciting updates and enhancements in the coming months!
Bulk creation of Installer Jobs
We're excited to unveil a powerful new feature in the Monta Portal: Bulk Creation of Installer Jobs. This automation is designed to streamline the process of creating and sending installer jobs for users who frequently add large numbers of charge points and rely on installers for connection.
Currently, creating installer jobs in the Monta Portal requires users to manually create charge points and sites first, and installer jobs afterwards. This setup becomes inefficient if you have a large number of charge points and sites.
With Bulk Creation of Installer Jobs, we're revolutionising the process for users who add many charge points and rely on external installers. When bulk-creating teams and charge points via a CSV import, you can now also specify an installer email for each site in the CSV file. Once the site is created, an installer job will be automatically generated, and a link to the public installer job page will be mailed to the installer's email address.
This automation eliminates a lot of steps for you and ensures a smooth operational flow with your installers. Many of our big customers have tested and loved it so far for the time it saves them. We hope you can benefit from it too!
Simplify your troubleshooting process with the Charge Point Debugger
When it comes to troubleshooting chargers or detecting issues, the inability to access charge point logs has been a significant roadblock for CPOs. The traditional methods of resolving issues have often relied on external support or steps that feel like detective work leading to delays and frustrations.
That's why we have developed the Charge Point Debugger, a powerful tool that grants you direct access to detailed charge point logs and remote actions. Seamlessly integrated into Monta Portal, the Charge Point Debugger puts you in control, enabling swift and effective troubleshooting.
By accessing detailed charge point logs directly from Monta Portal, you can gain valuable insights into charge point performance and perform targeted troubleshooting. This capability proves invaluable for both CPOs and hardware manufacturers, enabling them to understand and resolve customer issues promptly. Watch the short video below to see where you can find it in the Monta Portal and to get a glimpse of what it looks like.
Take charge of troubleshooting with confidence, knowing that the tools you need are just a few clicks away.
Charge Point Integrations - New models added
We have added 23 new charge point models in the past month, making us integrated with 352 models in total now! See the full list here. 
—
Check out our Public Roadmap for the Monta Portal
Our Public Roadmap displays what you and fellow Monta users wish to see in the Monta Portal and the status of us turning those wishes into reality.
Feel free to submit your feature requests or improvements right there.
Explore our Public Roadmap here.
We love hearing from you.