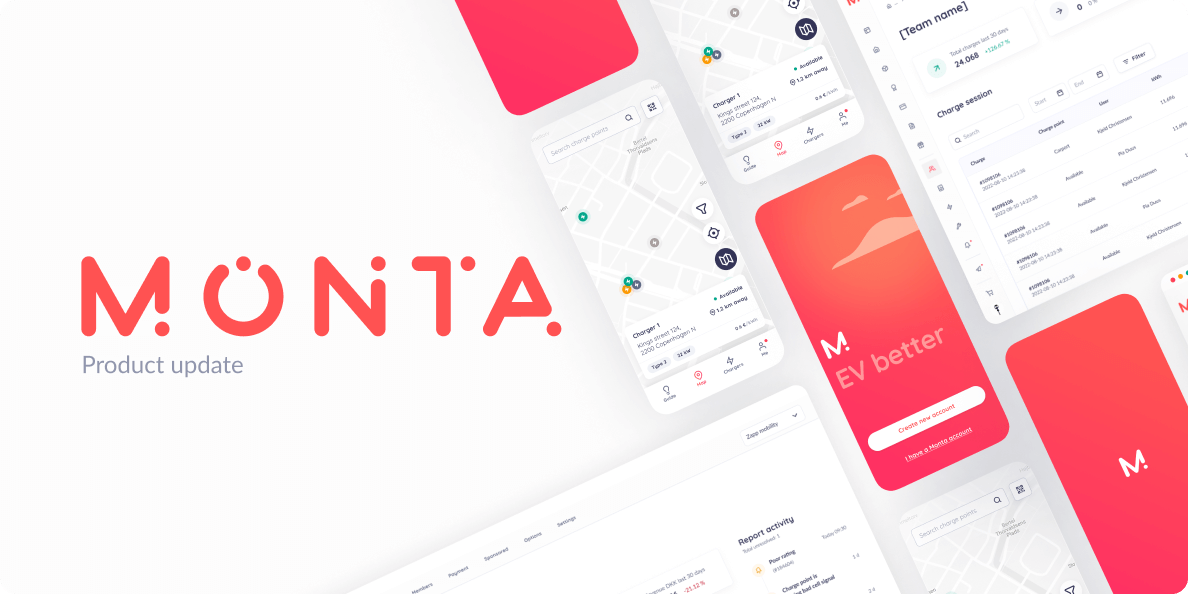 At Monta, our ultimate goal is to give you the best tools to EV better. We want to make your life as easy as possible during the electrification revolution. This month's main focus is to make it easier to get your jobs done and give you great insight.
Check out what we have improved, and built for you below.
OCPP configurations directly from the Portal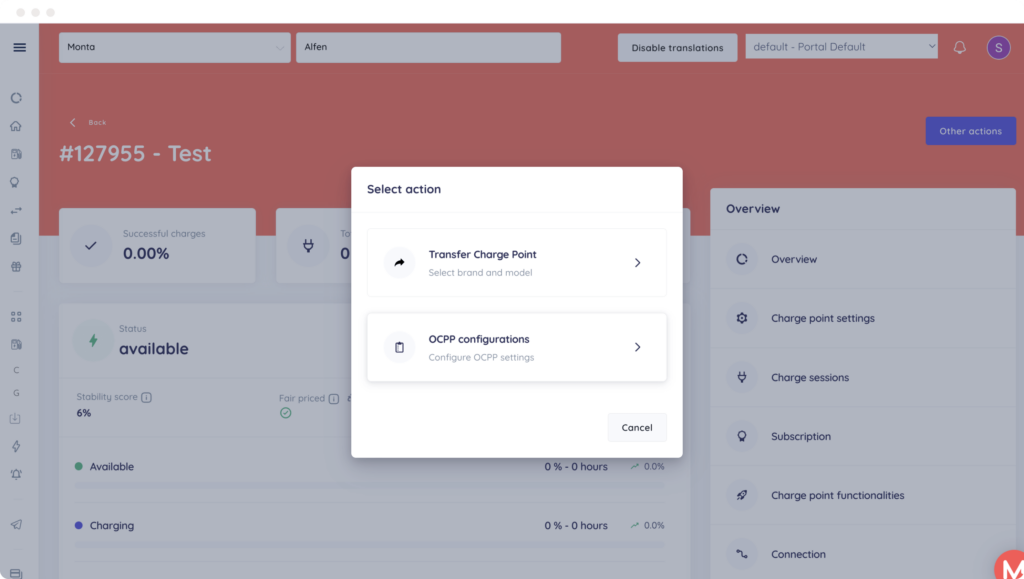 You want one tool that can do it all as a CPO or installer - one that's easy to use and gives you maximum control over setting up charge points the way you want.
We realise that one thing missing in the Monta Portal was being able to remotely edit OCPP Configurations on charge points. Up until now, you needed to use (and pay for) other platforms with no integration to the rest of your toolstack. This required special knowledge and sometimes to manually work on the charge point to set it up.
That's a thing of the past!. Say goodbye to needing multiple tools and extra time spent to get the job done.
Simply put: OCPP Configurations are settings that you can do on the charge point. Some of these allow you to unlock different features on your charge point; e.g. SmartCharge, Reservations, or Remote Controlling your charger to lock or unlock the cable, adjust lightning and colour strength of the display, etc.
Besides that, through changing the OCPP Configurations, you can also do basic settings like setting up the maximum permitted amperage or decide how information is communicated between the charge point and your Central Server to ensure security and stability. For example, you can set up waiting times, different conditions, or authorization measures.
We fixed it all. With Monta, you now have the ability to view and change the current OCPP Configuration of a charge point directly in the Portal. This means that you have:
A) The ability to work remotely from the comfort of your couch, office, or anywhere else in the world
B) A simple interface that gives you a very clear overview of the things that you can configure and those that you cannot ('Read Only')
C) Everything at the reach of your fingertips in Monta, the same place for all your other admin tasks, saving you time for switching between tools.
All you have to do is enter the Monta Portal, choose the one charge point you need to work on, click 'Other actions' in the top right corner, and choose the OCPP Configuration variables that is covering that case (be aware that they differ by brand and that there are no general variables).
There are many OCPP variables that you can configure from the Monta Portal. Here's one example: if you want one of your Alfen chargers to use a maximum of 10 amps, you would set the 'Station-MaxCurrent' variable on that charge point to: 10 amps. Now, that particular charge point will not be able to use more than 10 amps.
This way, you can keep all insights and all data related to your charge point in one place. Earn maximum control to work exactly as you wish and save time, all through Monta.
NOTE: Technical knowledge of OCPP Configurations and their values is needed to make the most out of this feature. These are settings that you can apply on a charge point.
Track the costs of running your charge points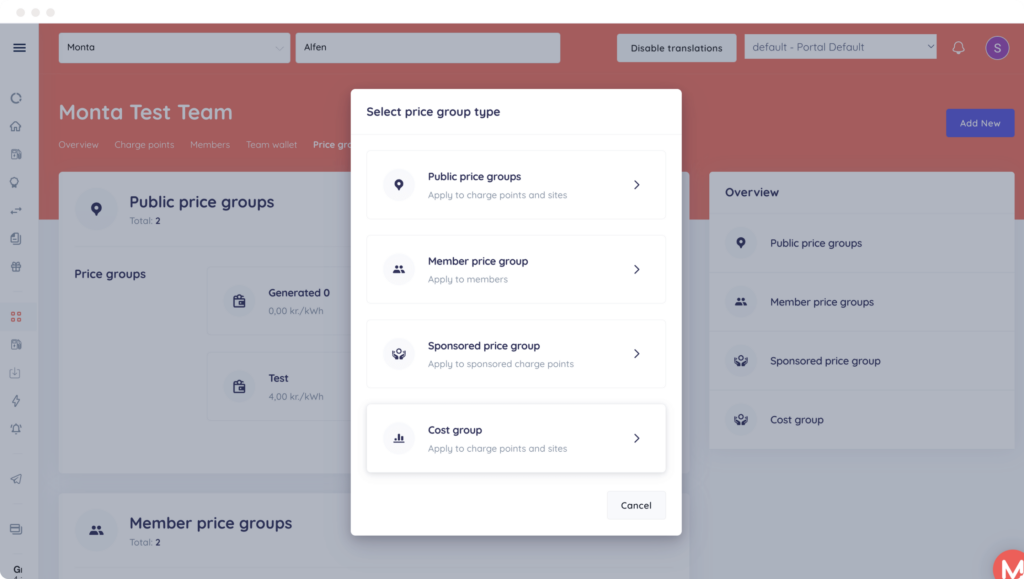 Know how well your charge points or charging sites are performing by tracking the costs for running your charge point. Why? Because knowledge is power.
Until now, in order to understand the actual electricity cost of running your charge points, you may have tracked these numbers outside the Monta Portal. Perhaps you didn't track your costs at all, giving you no way to evaluate your charge points' costs. In the long run not only was this a time-killer, but also a potential burden on your revenues.
We've added a new functionality in the Portal called 'Cost group,' that users can apply to charge points and sites. This will allow you to understand the actual electricity cost of running charge points and track the actual cost.
For example, if your average electricity cost for 1 kWh is 3,50 DKK, you can now set up this cost metric as a cost group to a charge point or charging site and track the actual cost of charging.
You can find the cost group functionality under Price Groups in your charge point functionalities and in your charging site view.
Revisit your charge points or charging site's statistics to understand the costs for your charge point or charging site respectively. With that you can easily gain insight into the actual electricity cost of running charge points and be empowered to make decisions as needed.
Improvements to Instant Site Import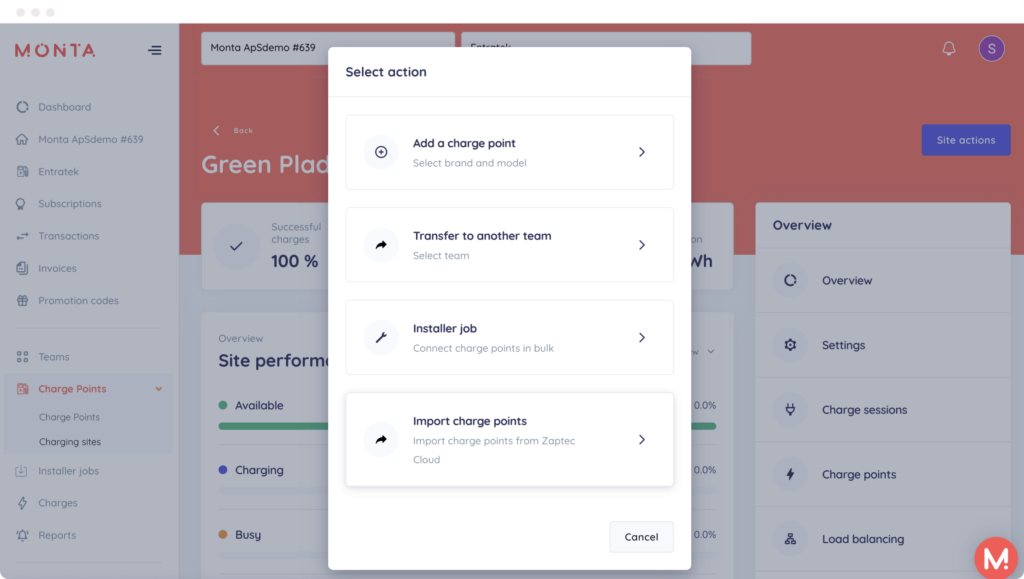 Remember our Instant Site Import feature that allows you to transfer an entire Zaptec charging site into Monta with one click? Now it's even better.
Our users, with whom we have kept in close contact with since the release of this feature, faced some hiccups when trying to re-import Zaptec charge points in the following cases:
When there was an issue in the first import, and if one or more charge points did not transfer
When new charge points were added to an existing site
The result? Manual work to find and connect the missed or new charge points.
Since Monta is all about ease of use, all that is fixed now, once and for all!
You can now search for missing charge points and add them with a single click. Our Portal searches for a mismatch of charge points between the Monta Portal and Zaptec Cloud, and gives you the option to connect the missing or newly added charge points to Monta in the next step with, of course, just one click.
You can find the Instant Site Import feature under Charging Site in the Monta Portal.
Save lots of time and sleep in peace knowing that the instant site import is more robust than ever and that no charge point will be left behind.
NOTE: our team is currently running final tests to make an instant site import possible for Easee charge points, and many more are to come!
Accept Team invitations in the Monta Portal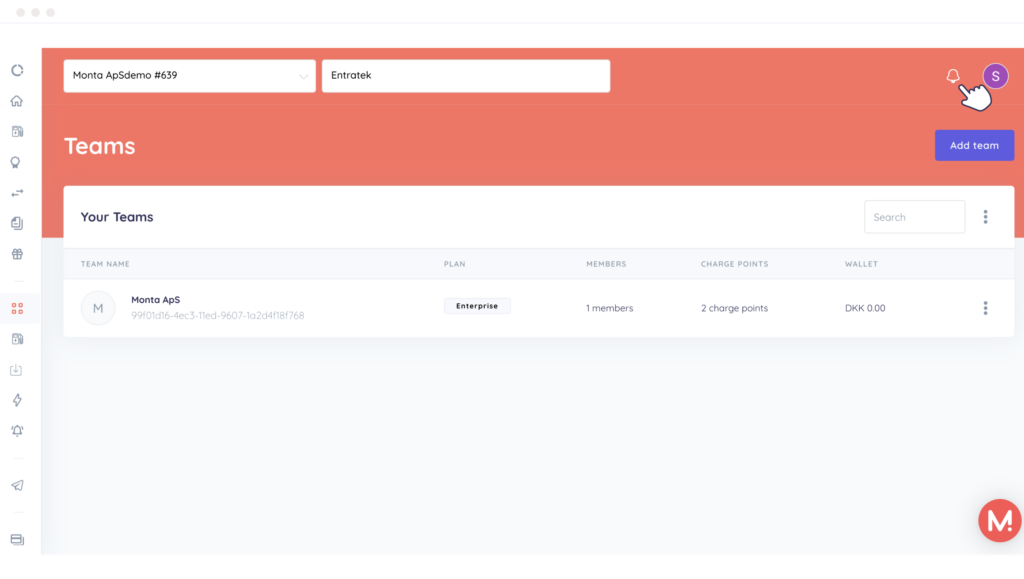 If you get invited to a Team, why should you only see it in the App if you are primarily using the Portal?
You asked. We deliver:
When you are invited to a team, it will be your choice whether you see it and respond from the App or the Portal, purely based on your preference.
Now, everyone who is using the Monta Portal to manage charge points and/or Teams can accept Team invitations directly in the Portal without needing to open the app just to accept the invitation.
Once you get invited to a team, you'll get a notification either in the Portal or via email where you can simply view and accept the invitation in the Monta Portal.
A small fix but our ultimate goal is to make your day-to-day a bit easier.
Charge Point Integrations - New models added
We have added 20 new charge point models the past month, making us integrated with 243 models in total now! See the full list here (available in English).
Read our full product update article here!
—
Tell us what you need
Our product should serve you. Hence, if you have any features in mind that you need in the Monta Portal or if you have any improvement ideas,please let us know!
Head over here and place your feature request, feedback, or to upvote ideas from fellow Monta users!
Whatever it may be, we love hearing from you.