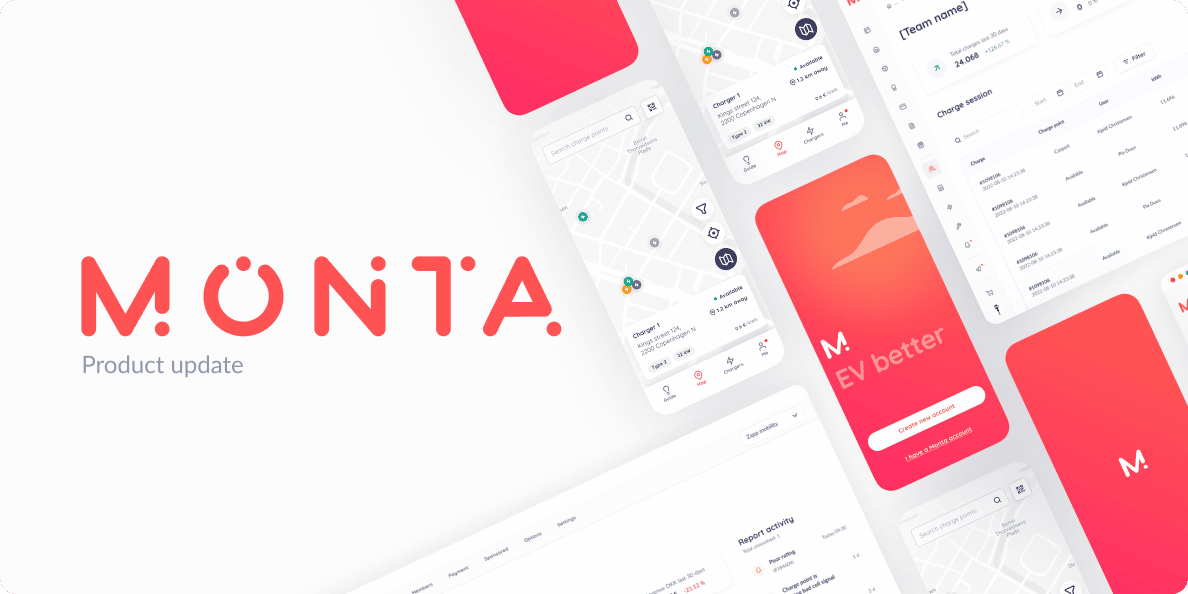 Welcome to the latest edition of the Monta Portal update blog! We are excited to share with you the new features and improvements that we've been working on to enhance your user experience. This month, we've focused on bringing you more flexibility, convenience, and efficiency in managing your business through the Monta Portal.
Starting this month, you will be able to:
Sign up for PowerBank in the Monta Portal;
Create and maintain your own time-based tariffs with the Tariff Creator;
Manage settings for multiple team members with Member Groups;
Customise pricing for your roaming services with Roaming Price Components;
Manage charging sponsorships better with the new Sponsored Charge Points flow.
Learn how to access these features below.
Sign up for PowerBank via the Monta Portal
Monta is officially launching PowerBank in the UK and Ireland in December. More than 4,500 home users are using it successfully in Denmark and Sweden, and now charge point operators like yourself can do so, too. You can already sign up your chargers today to start earning Monta credits as soon as it goes live!
With PowerBank, we reward you for helping stabilise the grid. By letting us pause charging on your charge points during a grid imbalance, you can earn up to 5 EUR/GBP in Monta Wallet credits per charge point a month. The credits can be used for your Team's expenses within Monta, such as Team Wallet charging, paying subscriptions, or buying items from the Monta Shop. Not to mention that integrating PowerBank into your charge point helps create a resilient energy grid and prevent potential blackouts.
Add your charge points today on the Monta Portal to start earning Monta credits from December.
Unlock more control over pricing with the Tariff Creator
We are thrilled to unveil a new feature in Monta Portal 2.0 – the Tariff Creator. With it, you will be able to create and maintain your own time-based tariffs, giving you the flexibility and control you need.
You can choose from DSO-controlled tariffs in our public library or create your customised time-based tariffs. When creating a tariff, you can assign a name and set up dynamic pricing for holidays, seasons (timeframes), and specific periods. For instance, you can schedule different prices for low, mid, and high-demand hours. These settings can be duplicated for other timeframes. Simply put, you can schedule how prices behave and then apply it to specific price groups to gain full control of your pricing.
The Tariff Creator empowers you to tailor and manage time-based tariffs based on your specific needs and accommodate different electricity arrangements.
For private users: If you're a home user, you can create a tariff that matches your electricity deal and track your electricity cost for EV charging at home.
For site owners: If you're a business, residential property, or similar, you can now create and maintain your unique time-based tariffs for selling electricity.
For solution providers: If you're a professional charge point operator, you finally have the freedom to fulfil customer requests for unsupported time-based tariffs. If you're a power utility, you can assume control over the operation and maintenance of tariffs in your respective DSO areas.
Monta Portal 2.0 is currently only available for beta users, so make sure to enable Beta access in order to try out the Tariff Creator. You can access Monta Portal 2.0 by clicking the "Check out Portal 2.0 preview" banner under Teams in the Monta Portal.
Manage settings for multiple team members with Member Groups
Managing individual settings for each team member can become challenging, especially when dealing with larger teams. To address this issue, we have introduced Member Groups.
Member Groups enables you to group team members and apply consistent settings, making it easy to define and conveniently manage settings for multiple team members. You can manage settings such as "can request sponsoring," "can pay with team wallet," and the assigned "price group." at a group level instead of individually.
This makes fleet electrification more efficient and also aids in reimbursing employees part of the Sponsored Charge Points program.
Read our guide to learn more about Member Groups.
Customise pricing for your Roaming services
Roaming Price Components enables you to now add new price components to your Roaming Price Groups. This means you can define and include fees beyond kWh pricing, such as idle fees or minute-based fees. The added flexibility enables you to tailor your pricing strategies to accommodate various scenarios and offer more competitive services in the market.
With Roaming Price Components, you gain complete control over the pricing of your roaming services. Take advantage of this powerful feature to unlock new possibilities and ensure your pricing aligns seamlessly with your objectives.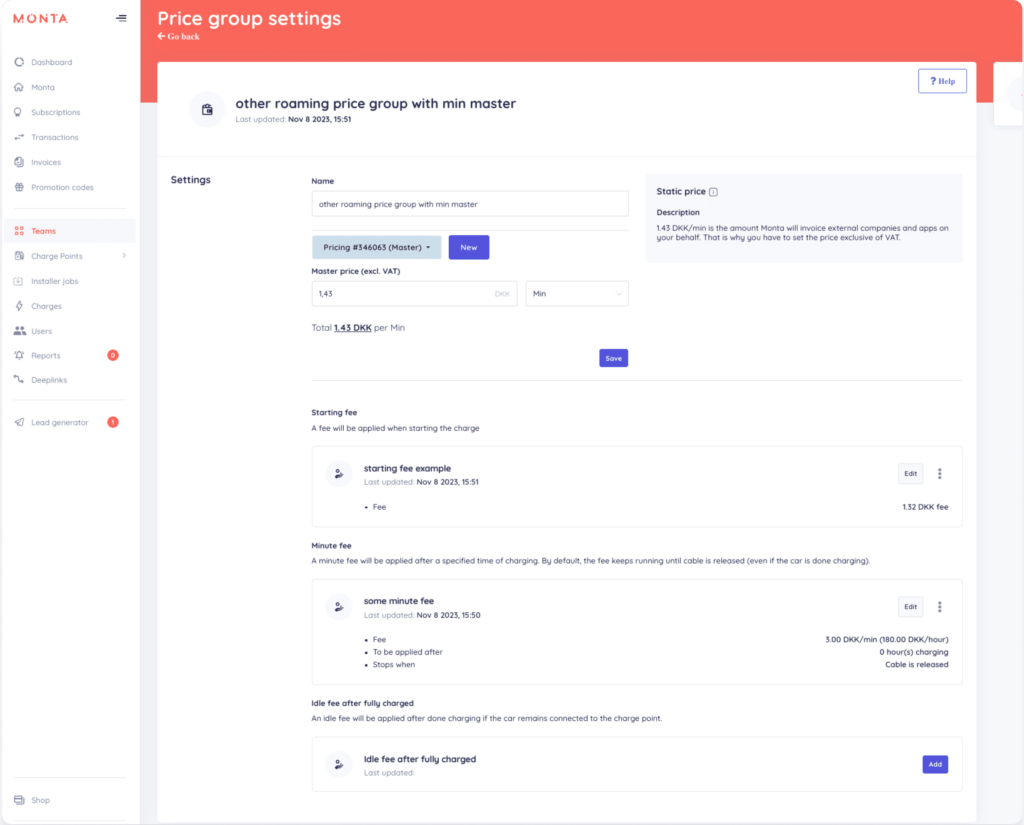 Please be aware that Monta does not have a say in how other apps price your charge points within the roaming network. However, you are guaranteed the full amount of your pricing components after every charge session.
Read our guide to learn more about Roaming Price Groups.
Manage charging reimbursements better with the new Sponsored Charge Points flow
Currently, managing charging sponsorships for employees can be time-consuming and cause delays and inefficiencies. In order to create a more efficient process for requesting and maintaining sponsorships, we have developed a set of updates to enhance the overall experience for both you and your employees.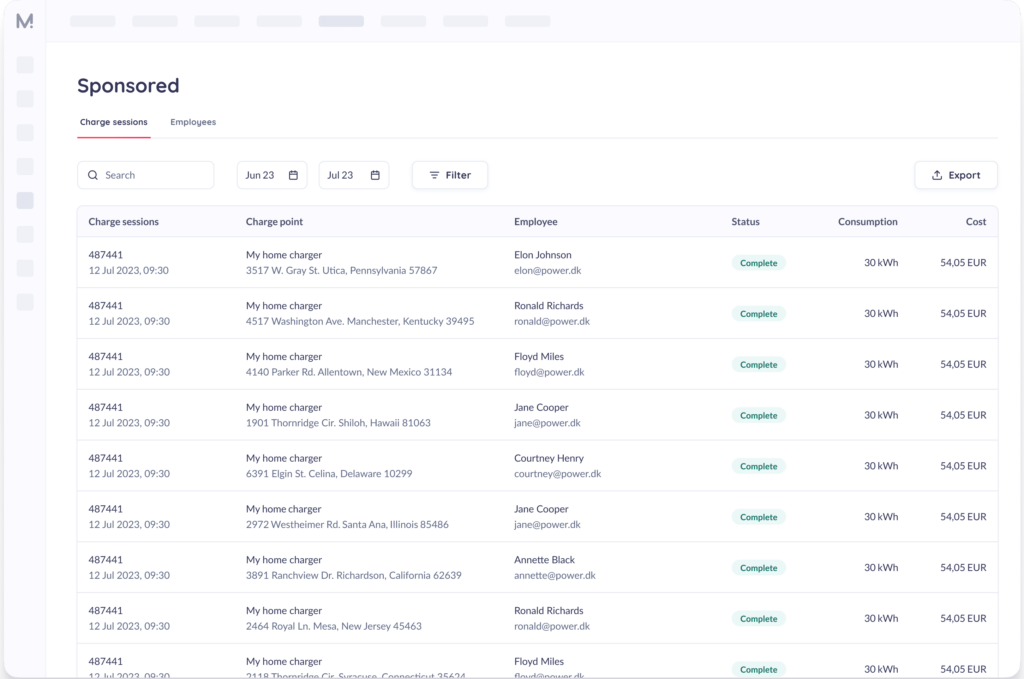 Streamlined sponsorship requests
Your employees can now request sponsorship directly through the Monta app. When a request is made, you'll be able to review and approve the sponsorships in the Portal, enrolling new members more efficiently.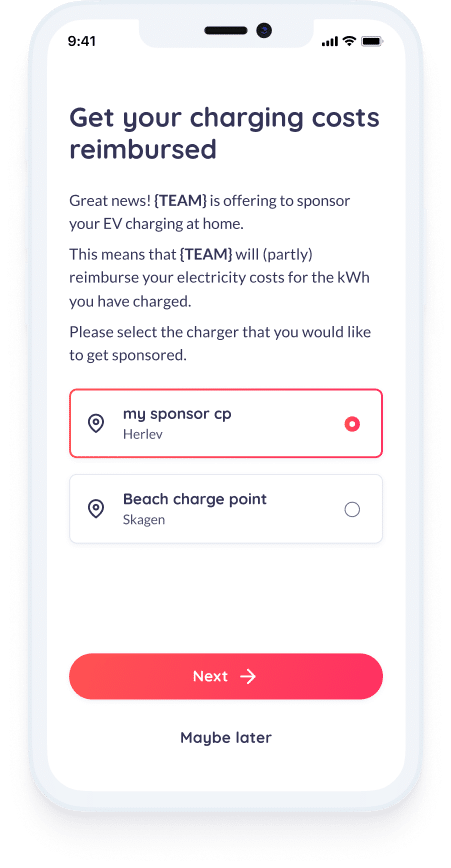 Efficient settings management with Member Groups
As a team owner or admin, you can now define a set of settings for multiple team members and apply them effortlessly, instead of individually managing settings for each employee. By grouping members, settings are automatically applied when they accept the invitation, streamlining operations and saving you valuable time.
Seamless employee electricity cost-sharing
Your employees can now directly share their electricity costs with you from the Monta app. This allows you to easily track and verify home-charging costs. Instead of a fixed kWh reimbursement price, now reimbursements align closely with actual charging expenses, becoming a fairer process and less prone to errors.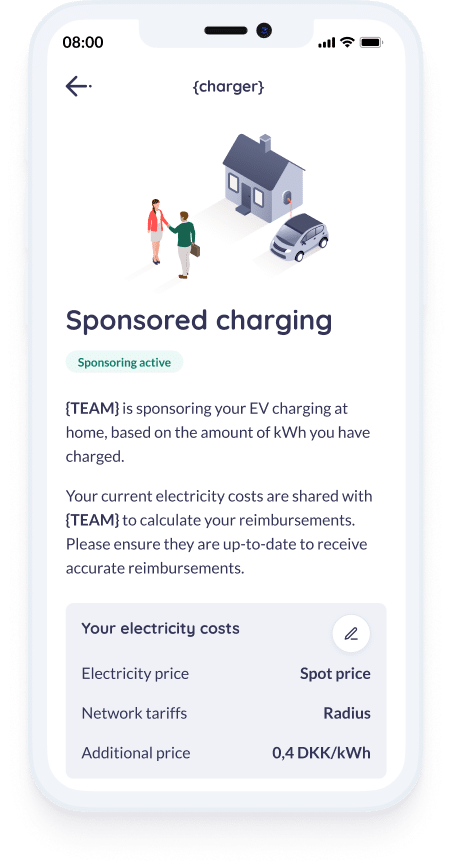 All these improvements allow for effortless enrollment and management of multiple team members simultaneously, ensuring that the solution is scalable and adaptable to varying workforce sizes. By streamlining the experience for all stakeholders, we aim to simplify how your company manages employee EV charging costs.
If you're an existing user of our Sponsored Charge Points solution, we encourage you to explore the new flow to take full advantage of the added value and operational efficiencies. The new flow provides you with the essential data and overview you need, ensuring a seamless charging experience for all team members.
Check this guide to understand how the updated Sponsored Charge Points feature works and how you and your team can start using all the new updates.
Charge Point Integrations – New models added
We have added 8 new charge point models in the past month, making us integrated with 416 models now! See the full list here.
—
Check out our Public Roadmap for the Monta Portal
Our Public Roadmap displays what you and fellow Monta users wish to see in the Monta Portal and the status of us turning those wishes into reality. Feel free to submit your feature requests or improvements and we'll make sure to review them.
We love hearing from you.