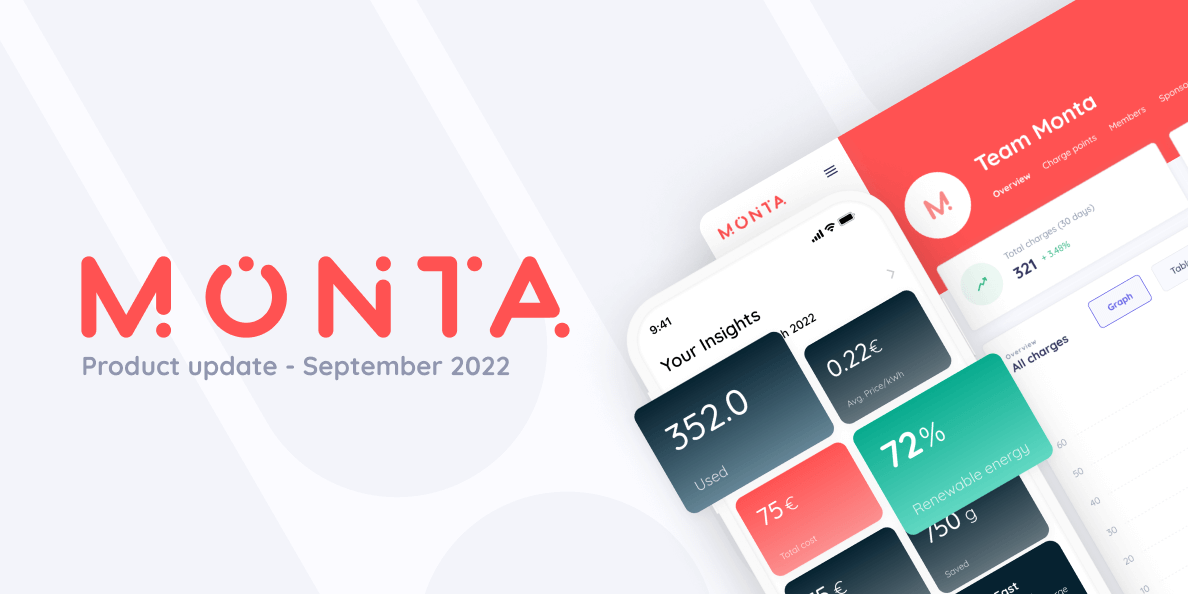 At Monta, our ultimate goal is to make your life better by giving you the easiest way to EV better. This month's main focus is on giving you the best options for pricing your charge points and making little but very important things in your day-to-day life much easier, e.g., such as invoice management and handling customer becoming a breeze. This required small-to-big tweaks in the Monta Portal with very powerful results. You can check out what we have improved and built for you below!
Spot Pricing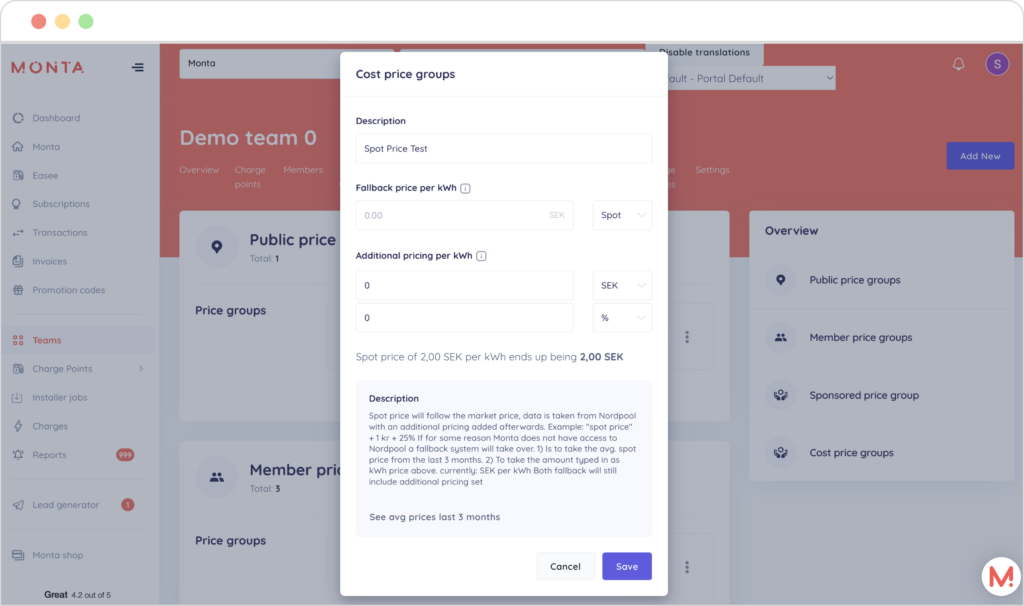 In today's market, high volatility prices are making operating charge points and setting prices a nearly impossible task. The old-school solution of fixed pricing per kWh just doesn't cut it anymore; it sets operators up to incur losses or end up with unhappy users.
To solve this, Monta developed a spot pricing solution. Operators can charge their users based on the spot price and an add-on premium of their choice: fixed, percentage, or both.
Users will pay the real-time price of electricity, and then the profit (premium) margin the operator has selected. This makes the transaction between provider and consumer fairer and more transparent.
Spot Pricing is available to you In the Monta Portal under Teams > Price Groups.
By activating spot pricing, you'll face less work and save time: prices don't have to be manually corrected if the electricity price spikes or drops, and employees won't need to be taxed for overpayments or reimbursed later for underpaying.
See your revenues secured, and your customers happy thanks to fair charging prices and transparency!
Dynamic pricing based on the spot price isn't just a nice feature to have, it's a necessity. For more information on this game-changing feature read our full blog post.
A new field for invoice tracking: purchase order number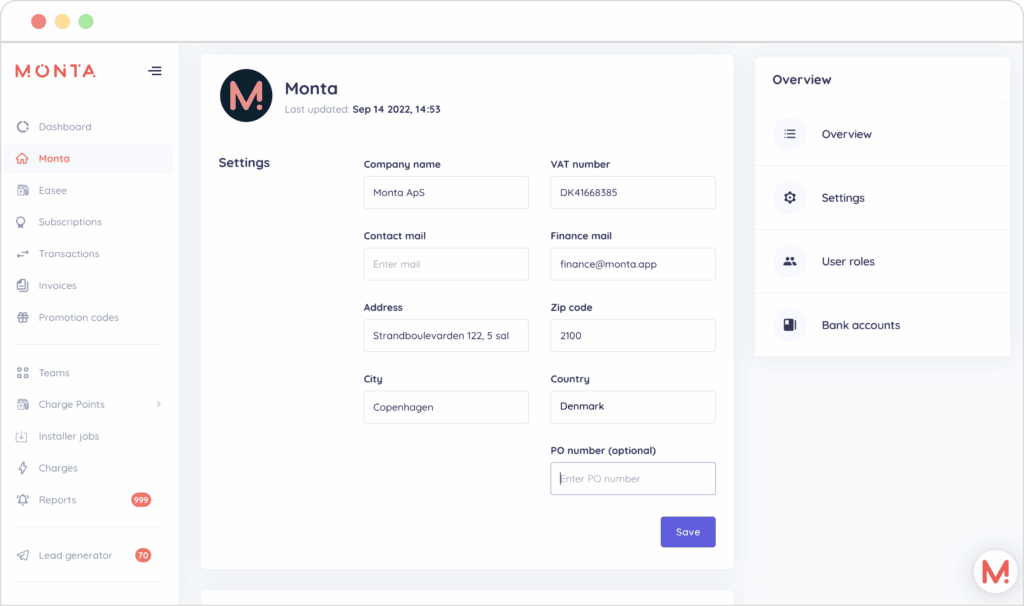 Are you facing any difficulties with linking your Monta invoices in your system? Are you using purchase orders in your accounting?
We have now added an optional field 'PO number' where you can insert your purchase order number.
Find this tool under, Teams > Settings, Home/Operator view > Settings.
A small but effective little addition that may help you to track and reference your Monta invoices better.
Refund transactions directly from the portal
Bottlenecks are a killer for any business, and we wanted to ensure we didn't become one for you when it came to refunding your customers on charging transactions and others. At Monta, we would rather empower you to act faster and on your own.
That is why, from now on, refunds can be made directly from the portal. Simply specify the refund amount or a percentage of a certain amount. Find this option under 'Settings' in your Teams or in your Home/Operator view.
Earn more control in your day-to-day work, especially when handling customer requests; this improves your customer satisfaction by permitting you to act fast on complaints.
You make the decisions on refunds. Now, you have full power over it.
No more confusion when setting up idle fees
With Monta, partners can price their charge points with the highest flexibility. No matter how good intentions may be, setting up idle fees to cover a certain cost for yourself, for example a parking fee, can result in charging users extreme (and therefore unfair) prices.
Given that high prices are the #1 reason for unhappy customers, especially when considering a volatile environment such as the current high electricity prices, we made a tool to help you out.
To give you peace of mind so that you don't turn off customers and help guide you better in setting up those fees with Monta's newest flexible pricing set up, you'll be notified in real-time and guided towards the maximum amount that you can ask for that fee.
You can set up idle fees in your Team under Price Groups.
No more guesswork. Rest assured that you can still tack on fees. The only difference is that we give you a hint if it's too high, so you avoid customer conflicts and keep them happier.
As the industry grows, EV drivers get more educated and are therefore demanding a fairer and transparent solution for pricing. We hope our constant improvement in terms of pricing will help you respond to their needs and grow sustainably.
Charge point integrations - New models added!
We have added 8 new charge point models this past month, integrating us with 223 models in total now. You can view the full list here. If your charge point is not on the list, place a request here.
—
Tell us what you need
Our product is here to serve you. Hence, if you have any features in mind that you need in the Monta Portal or if you have any improvement ideas, please let us know! You can head over here and place your feature request, give feedback, or to upvote ideas from fellow Monta users! We love hearing from you.