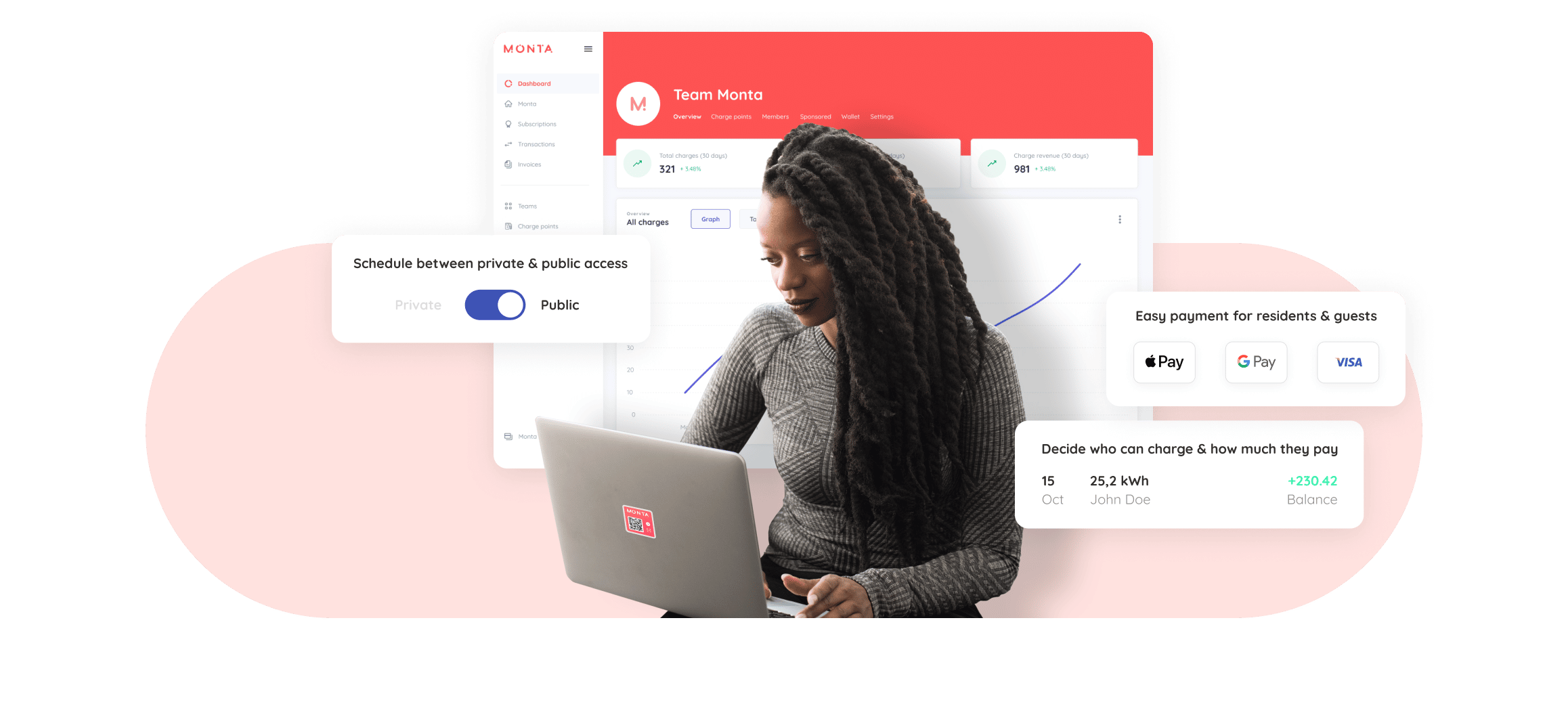 Have you ever wondered what makes Monta different from all the other solutions out there? If you have, keep on reading.
The truth is, this can be a bit of a tricky question. Many charge point management systems tout their many features. But given our ambition at Monta, we often ask ourselves: is our competition doing something similar and if yes, how can we differentiate ourselves?
Find here a detailed breakdown of how we stand apart.
After a full review of our competition, it is clear: while many competitors offer different parts of what Monta does, no one is offering the entire range of features at the same quality and price as we do. Next time you are asked what sets Monta apart, just remember Monta's 5 F's: flexible, free-spirited, a complete package solution, fair and future-proof.
Flexible
Monta is hardware agnostic. Even though many claim to be hardware agnostic, there is no transparency in the market. No competitor has a full list of their supported charge points online. Monta supports over 200 charge point models. Find our supported charge points and our roadmap for charge point integration. We have nothing to hide!

Monta users set the terms when sharing their charge points and EV drivers decide how they want to charge. No other solution offers the same amount of autonomy and flexibility in setting prices for different charge points and user groups, nor scheduling availability or accessibility. That means: with Monta you decide how you make profit from your charge points. Also, EV drivers can set up their charging preference: if they want to charge when the cost of electricity is lowest or when energy is greenest.
Free-spirited
We are not tied to anyone; no CPO, hardware or car manufacturer, roaming providers, or anyone else. While we are always open to partnerships and love to see other companies shine, we are a wholly independent software company and adapt our platform to your needs.

Option for site owners to manage charge points themselves. In most cases, operators cannot transfer control of the charge point to site owners after setting it up. What does that mean? One word: dependency. For example, if a company sets up a charge point, it will always depend on having an operator take care of basic settings. In contrast: Monta allows you to walk on your own, once the charge point is set. With us, you have true freedom in how you want to do business.
Full package
We are a true end-to-end solution. Our competitors may specialise in serving certain types of customers but we don't differentiate and always adapt to serve all players in the EV ecosystem. Some providers might promote a slightly larger roaming offer or a unique load balancing formula, but no one offers the end-to-end solution of the highest quality as we do. You can even do direct service agreements with your clients if that's how you want to set up your business. With Monta, you can be sure that you are offering a superior solution to all of your customer segments.
Fair
Don't break your budget with us. We know that many of our competitors charge a major upfront fee. We do not. We keep our prices low and fair. Since we focus entirely on fees per charge point used, our solution is far more scalable for companies of any size. Besides, because we are truly hardware agnostic, you can keep your setup cost low by choosing the charge point model that fits your budget. You are also not forced to buy any charge keys to give access to charge points; a QR code or our app is all you need.
No hardware integration fees. Our competition typically asks for a fee from charge point manufacturers to integrate with their backend software. We never do. In our eyes, being integrated with different charge point brands is a win-win situation for everyone.
Future-proof
In a world of too many apps and systems, choose one that does it all and adapts to the ever-changing market and technological requirements in the EV industry and beyond. Find true flexibility to adapt to the challenges of today and what might come tomorrow. That is our offer.
We are precisely like no other EV Charging platform.
Because we do it all - and more!