What is an EV fleet?
Electric vehicle adoption is now fully underway. Both private individuals and companies are replacing their old internal combustion vehicles with EVs at an increasing speed. As companies are beginning to care more about the environment they are replacing their traditional forms of transporation with EVs for their fleets.
What is EV fleet management?
EV fleet management is the process of managing a pool of commercial electric vehicles. This could be anything from delivery service vehicles, car rental companies, or corporate vehicles. The purpose of electric vehicle fleet management is to oversee all vehicle fleets and assess performance and behavior. Fleet management helps organisations increase productivity, reduce costs, and ensure compliance across their entire fleet operation.
Fleet managers oversee a number of tasks, including vehicle maintenance, driver management, and route planning. They can also implement programmes that increase productivity, decrease instances of waste, and oversee fuel/electric usage and fuel/charging costs.
When it comes to fleet management software, the ability to get real time data, historical reporting, and predictive analytics is something you'll definitely want.
Why should you switch to an electric fleet?
Transitioning your fleet to electric vehicles is about more than just investing in green energy.
As more and more electric vehicles (private and commercial) enter the market, fleet electrification is becoming increasingly feasible. With the growing popularity of electric cars, it's never been easier to make the switch. While there's a lot of hype surrounding environmental responsibility, there are also many other considerations to think about before making a final decision:
Safety comes first!
Whether you're a small business or a large corporation, safety should be your top priority. Electric vehicles are generally considered safer than traditional ones. This is because an electric vehicle goes through additional safety certifications on top of established safety testing and standards requirements.
EVs cost less to maintain
Electric vehicles (especially battery electric vehicles) cost less to maintain because they have fewer moving parts. There are no spark plugs, oil changes or transmission fluid flushes needed. And since there is no internal combustion engine, you don't have to worry about a seized or misfiring cylinder.
Electricity equals lower fuel costs
Another benefit of driving an EV fleet (even if we talk about plug in hybrid vehicles) is lower fuel costs compared to gas-powered vehicles. Studies have shown that electricity costs less than half as much to travel in an EV than a gas vehicle. The main reason is that the average cost of electricity is less than other fuels. Electricity rates are also more regulated and transparent, making it easier to plan ahead with them.
Moreover, technology is helping increase the transparency and predictability of those costs thanks to features like Monta's Dynamic pricing.
The combination of these elements makes EV fleets more cost-effective over the lifespan of the vehicle, helping you improve your bottom line and making for more predictable operating costs.
The key advantages of successful fleet electrification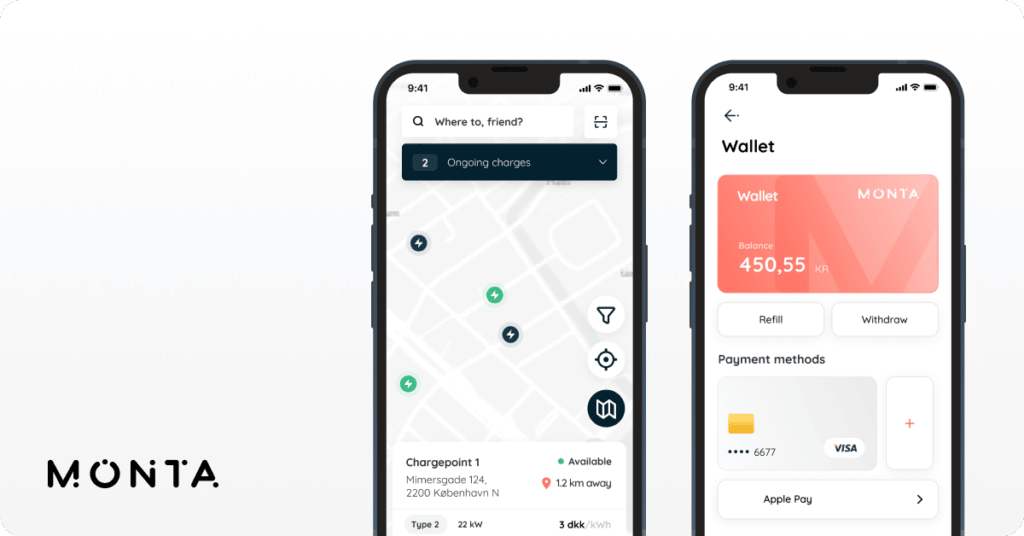 The transport industry permeates almost every business sector in one way or another, and for any business, an efficient transport component is not just a way to optimise costs but is often a matter of survival.
EVs offer the flexibility to charge up virtually anywhere, while allowing you to raise the bar in terms of energy management. This is one of the greatest advantages of electric vehicles compared to traditional vehicles, which are relied on internal combustion engines and are restricted by petrol stations' location and access.
As a fleet manager or fleet management company, you can provide EV charging stations both at your corporate location and at your drivers' personal homes.
Fleet managers are in need of finding appropriate solutions to manage their electric vehicle fleets. With fleet electrification you will be able to track, manage, and control all the elements of your electric vehicle fleet in a way you have never been able to do before. All the information you need will be seamlessly integrated in one place.
More specifically, here are some of the main benefits of fleet electrification:
Easily find charge points
The fundamental need of an EV fleet manager is to have a way for their employees to easily find charge points. Especially if EV charging is not available at the business' location. This can be done with a simple app that shows all the charging stations in the area. The app should also show whether or not the station is available and how many charging spots are open.
Finding charge points in the Monta app
Monta has access to 225.000 charge points across Europe, with more being added every day. Through our partners, fleet members can access and charge at a larger selection of charge spots, as they can take advantage of some that might otherwise be part of private sites.
Manage payment
Once employees have found a charge point, they need to be able to pay for their charging. For the most part, this can be done with either a physical charge key or a virtual wallet.
With Monta, the company's wallet then allows teams, employees or charge keys (the EV equivalent of a gas card) full or limited access to the wallet. The company has full control over the wallet, how it's used and can always keep track of payments.
For more ad-hoc payments, Monta allows you to pay with virtually any method, from Apple and Google pay to credit card.
Invoicing and administration
Another big need for EV fleet managers is invoicing and admin. Fleet operators need to be able to accurately track how much each employee is charging and then generate an invoice accordingly. This can be a big challenge, especially for larger fleets.
There are a few companies that offer invoicing services specifically for EV fleets. These companies typically have a detailed and easy-to-use online portal that makes it quick and easy to generate invoices for each electric vehicle fleet.
One perk of using an EV charging platform like Monta is to stay in full control of your fleet while eliminating tedious admin tasks. Among these, the ability of your company to go into a minus (negative) balance if you ever forget to top up your wallet. We do this so that your employees never get into trouble.
Not to mention the benefits of relying on a platform which supports smart charging and lets you know when you can charge your electric vehicle fleet with both the minimum total cost and carbon footprint.
Sponsored charge points
Lastly, companies might want to sponsor charge points for employees if they install their charge points at home. This would allow employees to charge their EVs cheaper than on the road, which would save the company money in the long run.
Aside from that benefit, a platform like Monta would also enable your employees to share their charge spots with other employees or just random people. So not only are you offering a perk that benefits the employee and the company, but with time, your charge point network will grow.
Manage your fleet of electric vehicles with Monta
Taking full ownership of your electric vehicle fleet is much easier than you think as long as you choose the right ally for your journey.
Monta supports the charging needs of electric fleets of all types and sizes. Keep your EV fleet on the move with our complete EV fleet management solution!