It's been three months since we launched the Monta PowerBank Beta Program and we couldn't be more thrilled with the progress we've made. Every day, we're getting closer to our goal of future-proofing the EV ecosystem and making it more sustainable, with the results of our beta program speaking for themselves.
The results are in
With 3300 residential charge points signed up for the program across Denmark and Sweden, we were able to assess the impact we could have on the electrical grid through PowerBank. Charging activity has been primarily carried out during the night and, on average, we were able to aggregate 3MW of electricity demand during those hours, amount which can be paused in case an imbalance is detected. That's equivalent to turning off the power for 2250 homes in an instant!
But that's not all. We've seen peaks of up to 8MW during some nights. To put that in perspective, 1MW is enough electricity for 750 homes at once. So when we're seeing peaks of 8MW, we're talking about enough electricity for 6000 homes. That's a significant amount of power that we're able to help the grid with when an imbalance is detected.
So, why does this matter? Well, preventing blackouts and stabilising the grid are crucial for our daily lives. We rely on electricity for everything from charging our phones to running our businesses. Without it, we'd be lost. By participating in this program, we're not only helping to ensure that we have a stable supply of electricity, but we're also contributing to a more sustainable future. It's a win-win situation for everyone involved.
It's important to note that these impressive results are based on the participation of private residential charge point owners in Denmark and Sweden who usually charge their electric vehicles during the night. While this has a significant impact on stabilising the grid during nighttime, we recognise that the grid needs assistance 24/7. As we explore the potential of pausing EV charges during the day, we're also looking into ways to expand the Monta PowerBank program to reach more locations and users. One potential solution is to connect to PowerBank chargers that are being used during the day, such as those in workplace parking lots and other similar locations. By doing so, we can increase the available power during peak times and make an even larger impact on the grid.
A better future starts here
The signups include charge points located in five different bidding areas, which span Denmark and Sweden. These areas are DK1, DK2, SE2, SE3, and SE4, each with its independent electricity market in which we can participate. This means that we can help stabilise the grid in five different markets, making a significant impact on the overall sustainability of the energy ecosystem.
As part of the Monta PowerBank beta program, each charge point that signed up has been receiving 0.15 DKK/kWh, up to a maximum of 50 DKK per month in credits. We're grateful for the support of our beta testers and we are happy to report that almost all of our users have reached the 50DKK credit limit, which is not surprising considering it takes only 333 kWh per month for charging to reach this limit - less than the average energy charged per user in a month. This is a testament to the program's success and the willingness of our users to be part of the solution to their country's energy problems.
Making an impact on the grid, day and night
Looking ahead, we plan to include business charge points in the program. This will enable us to increase the available power during the rest of the day when people use these chargers when they arrive at work or during the day. By expanding the program, we can make an even larger impact on the grid and help ensure a reliable power supply for everyone.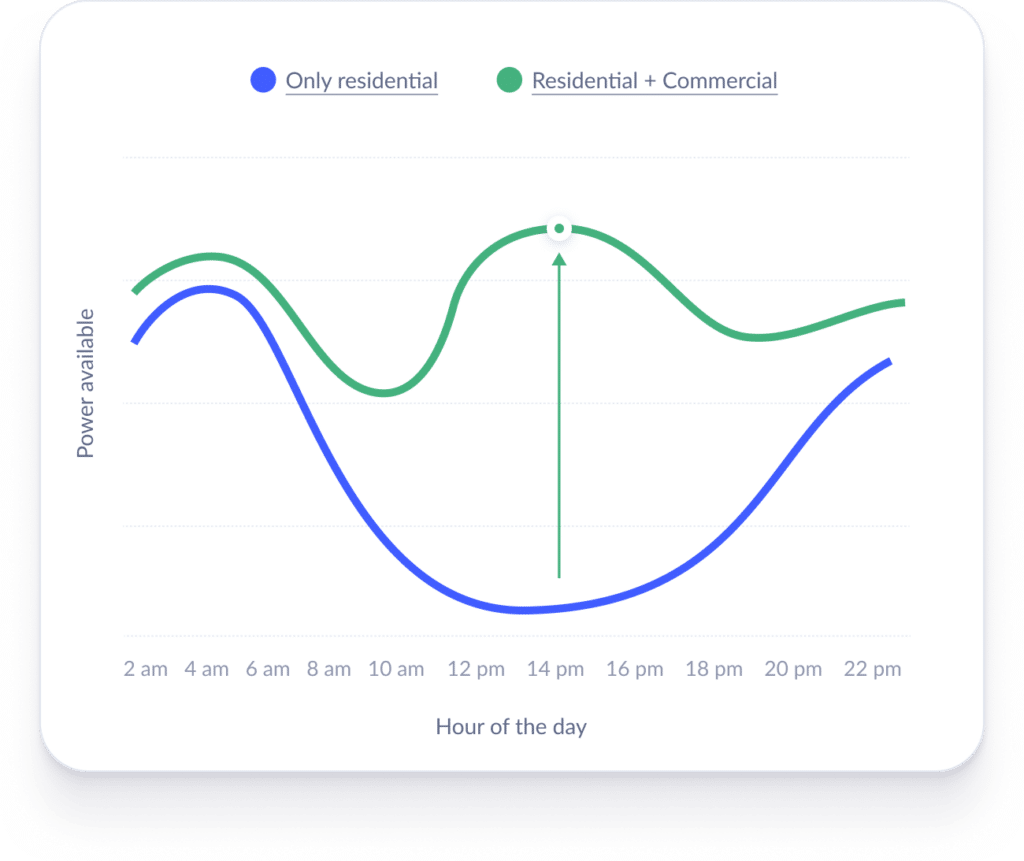 From testing to learning
We've learned a lot from testing the Monta PowerBank beta program so far. Participating in grid services and flexibility markets requires delivering precise data on live consumption at each charge point. While this has resulted in a considerable increase in data transfer between Monta and the charge points, we are able to handle the volume of messages and are working closely with different hardware manufacturers to improve the way we communicate updates with their charge points.
The testing of stopping ongoing charges has been carried out in Monta's lab and nearby charging sites, to make sure we can guarantee the response times required by flexibility markets and check each charge point's compatibility with this feature. We have not detected any issues that may affect the charging process, however, we want to test pausing ongoing charges on a larger scale and with a wider variety of EVs in the following months.
A simple way to contribute to a greener future
The Monta PowerBank program is important because it's the first step towards a more sustainable and developed grid. By briefly pausing and then restarting your charge when the grid is going through an unstable moment, you're helping your community and earning Monta Wallet credits on top of that. It's a small price to pay compared to the rewards that come from it. With increasing volatility and unpredictability in electricity generation and consumption, there is an increased possibility of blackouts or outages that can affect the lives of many. By participating in the Monta PowerBank program, you're helping to prevent those blackouts and making a real difference in your community.
We're excited to see what the future holds for the Monta PowerBank program, and we're grateful to everyone who has joined us on this journey towards a more sustainable future. Together, we can make a real impact on the grid and ensure a reliable power supply for generations to come.