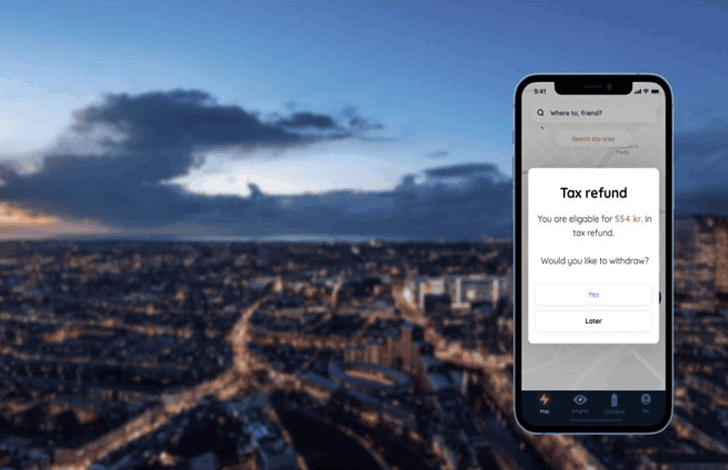 In Denmark, EV drivers are eligible for a tax refund if they charge their EV at home. It's an incentive from the government to get more people to drive EVs. EV drivers get 1.10 kr (0.10 GBP) back per used kWh for charging their car. Often it takes around 3, 6 or even up to 12 months to get the tax refund and the process is complex for most companies. That, however, has now been automated in Monta. Great news for both EV drivers and companies handling the payment.
Automated payment, overview and flexibility with Monta's new unique feature for Danes. Good for Danish EV drivers and business, offering tax refund on electricity.
This is how tax refund works today
Plenty of Danish EV drivers take advantage of the tax refund option. In short, Danish EV drivers get money back from the electricity they use to charge their cars. Often, the price is around 1.10 kr./kWh (0.10 GBP). You can't do it alone as a private individual but if you have an agreement with a company like Zappmobility, they will make sure you get your money back
The way it works now, you are eligible for the tax refund every 3td, 6th, or 12th month. Companies handling the payment have to manually go through every customer and their usage. It's complex and time-consuming for the business and it takes a long time before you as an EV driver get your money back.
We've now changed that! We've made it easy for you as an EV driver to get your tax refund whenever you see fit. And we've even made it easy for companies handling the tax refund to automise their work.
This is how we've done it
As soon as you've made a service agreement with a service provider that offers a tax refund via the app and has integrated your charge point with Monta, you're good to go. At the moment you can get a service agreement with Zappmobility for 75 kr a month which includes:
Service agreement for your charge point
1.10 kr./kWh in tax refund
No commitment. Cancel anytime
Do you have a charge point with Wifi or a sim card and if it's connected to Monta, reporting, billing and payment happen automatically (as long as it's online). If you have a charge point, which isn't online, you have to via the app send your service provider a picture of your electricity meter. Your service provider will then approve your payment.
That means you'll get instant payment whenever you want it. You don't have to manually pay the bill to your service provider because everything is handled through Monta. You can decide if you want the entire amount inserted into your bank account or only a part of it.
4 reasons why you should use Monta for a tax refund
Decide when you want your tax refund inserted into your bank account
Keep track of how much tax refund you're entitled to
Leave rigid payment dates every 3. 6. or 12. month behind
Choose the subscription that fits your needs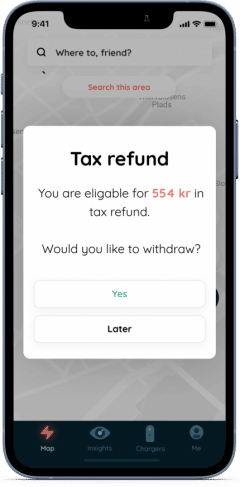 Sounds interesting? This is how you get started
It's easy to get started. As soon as you've downloaded the app in the App Store or Google Play and connected with your charge point do the following.
press the little gear in the top right corner when you're in the "Chargers" menu. Press "Subscriptions". Remember, you need to have created your charge point in the app. It's easy and free.
You'll then see an overview of businesses offering tax refund. Click on the business you want to subscribe to.
Then click "Subscribe" to begin the subscription.
That's it! Now you can keep track of your tax refund straight from the app and decide when, where and how much you want to withdraw.
And don't forget that Monta offers also a series of unique features. Features that are continuously developing with the help of our users.
FYI! Not every charge point model has the neccesary gear for handling tax refund via the app. It is always a prerequisite that the charge point's usage can be read precisely.
How does it work for businesses?
Through our Admin Panel, service providers can get the full overview over customers who has a subscription. In the panel, service providers can approve payments one by one of bulk several. What used to take months is now done with a few clicks. Those charge points with Wifi need no attention. Everything here is fully automated.
Are you offering tax refund as a service? Talk to us today
Are you also struggling with manual tasks, when tax refund is due? Hit us up today and explore how we get you on our platform. It releases incredible amount of time and gives you room for further growth.
Write us a info@monta.app or use the contact form.