Effortless EV charging for your community
Optimise your property for residents driving electric cars with Monta's reliable and convenient home EV charging solution. Our CPMS simplifies charger maintenance, automates billing and payments, and adjusts pricing and access to your needs.

Get started
Quickly find what you're looking for:
Elevate your property with Monta's
EV charging solutions
Here's what you can expect:
Ease of use
Monta's CPMS has a user-friendly interface that makes it easy to manage charging stations and energy usage easily with a centralised system, reducing complexity and streamlining the charging process.
Flexible pricing
Set the prices you want for charging and collect member fees from residents using your chargers.
Versatile charging solutions
Deliver a seamless and user-friendly EV charging experience by providing your residents with multiple ways of accessing your chargers: via the Monta app, tagging an RFID card, scanning a QR code, or using the Auto-start feature.
Sustainability
By offering EV charging solutions, you support eco-friendly initiatives and reduce your carbon footprint.
Scalable solutions
Expand your charging infrastructure as demand grows with our scalable solutions, ensuring that your property can support an increasing number of EV drivers.
Smart solutions for
smart property managers
From remote management and monitoring to automated billing and invoicing, Monta makes managing your chargers as effortless as possible. Our user-friendly dashboard puts all the information you need at your fingertips, making it easy to always stay on top of your charging stations.

Remote maintenance
Our Monta platform helps make EV charging simple and more efficient. With our self-healing algorithm, admin work can be reduced significantly, allowing you to delegate installation or maintenance tasks with just the click of a button.
Basic settings, troubleshooting, and remote actions including firmware updates can also be done remotely on the portal or app.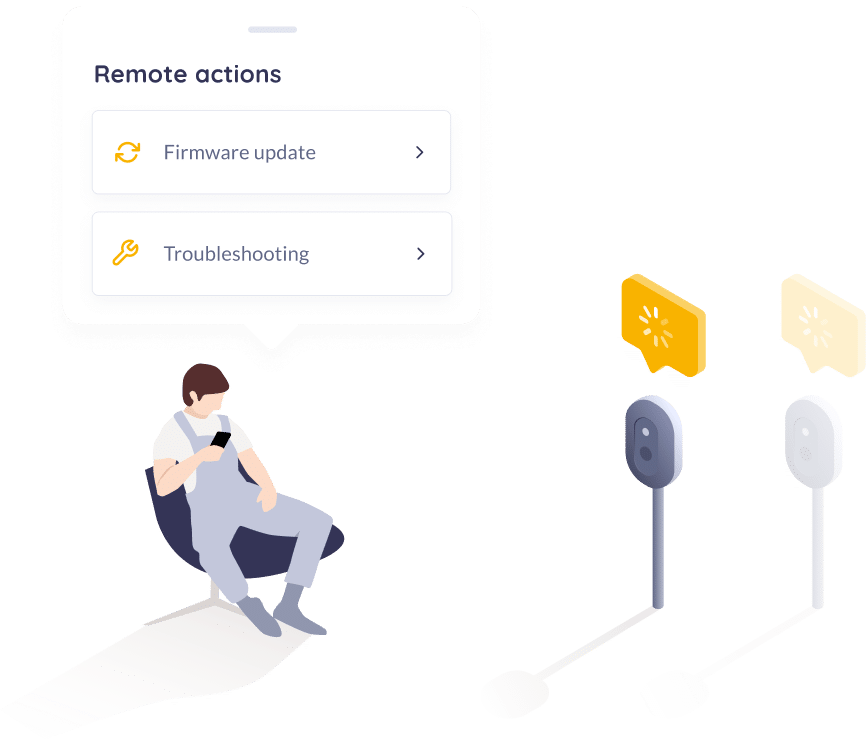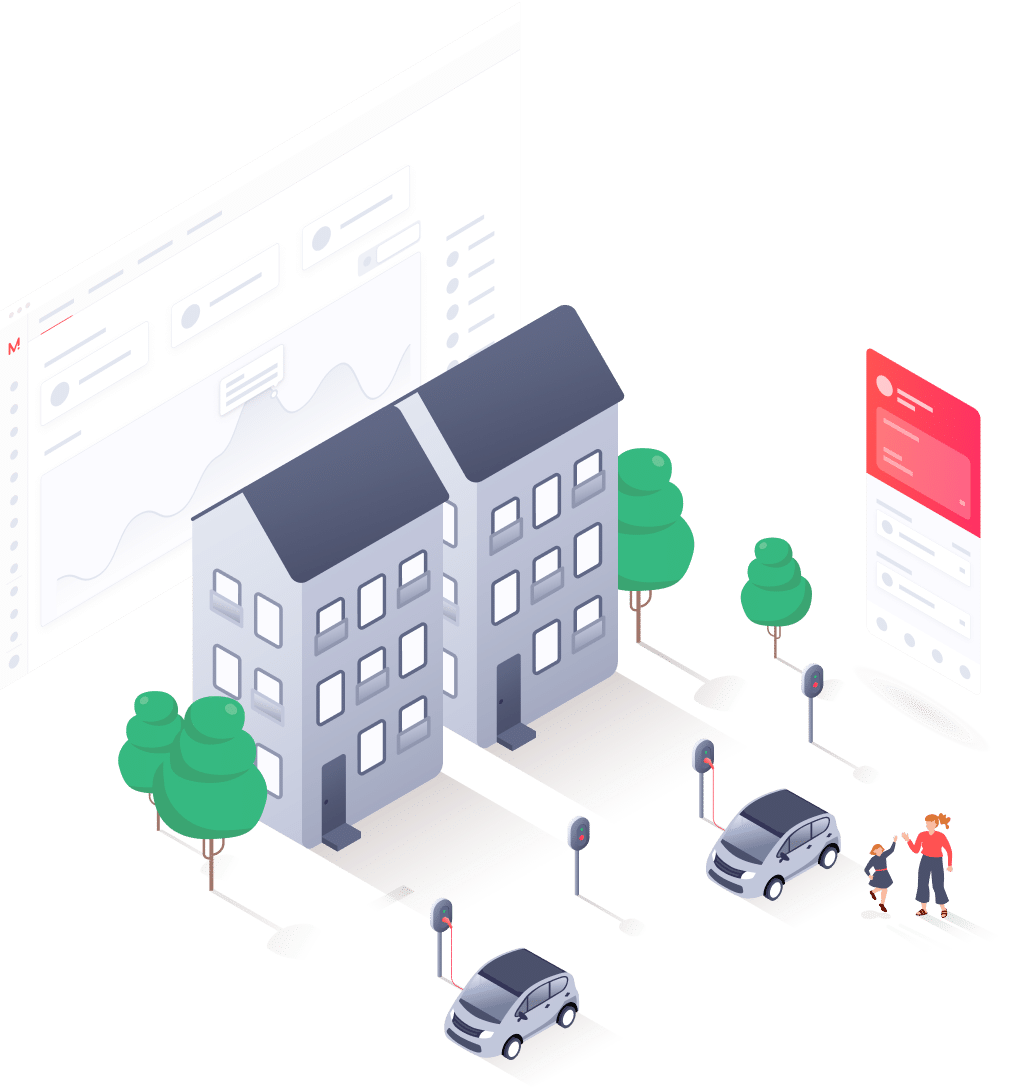 Portal for you, app for your residents
The Monta app for your residents enables convenient charging from their smartphones, while the Monta portal gives you full control over access and pricing.
With Monta's integrated platform, each of you can efficiently manage your EV charging needs and keep track of your costs and consumption.
Let residents
charge
Giving your residents access to charging has never been simpler. You can add members to your chargers and tailor pricing and accessibility as you please in just a few steps.
Add residents to your chargers
Enable your residents to access your chargers by sending them an invitation link.

Customise accessibility & pricing
With Monta's Schedules feature, you can easily decide who can access your chargers (residents or public users), when they can access them, and at what price (e.g., different times during the day, weekdays, or weekends). Moreover, you can automate these changes to ensure a smooth and seamless experience for all users.

To further simplify the charging experience, you and your team can enjoy a tap-and-go charging process with RFID charge keys.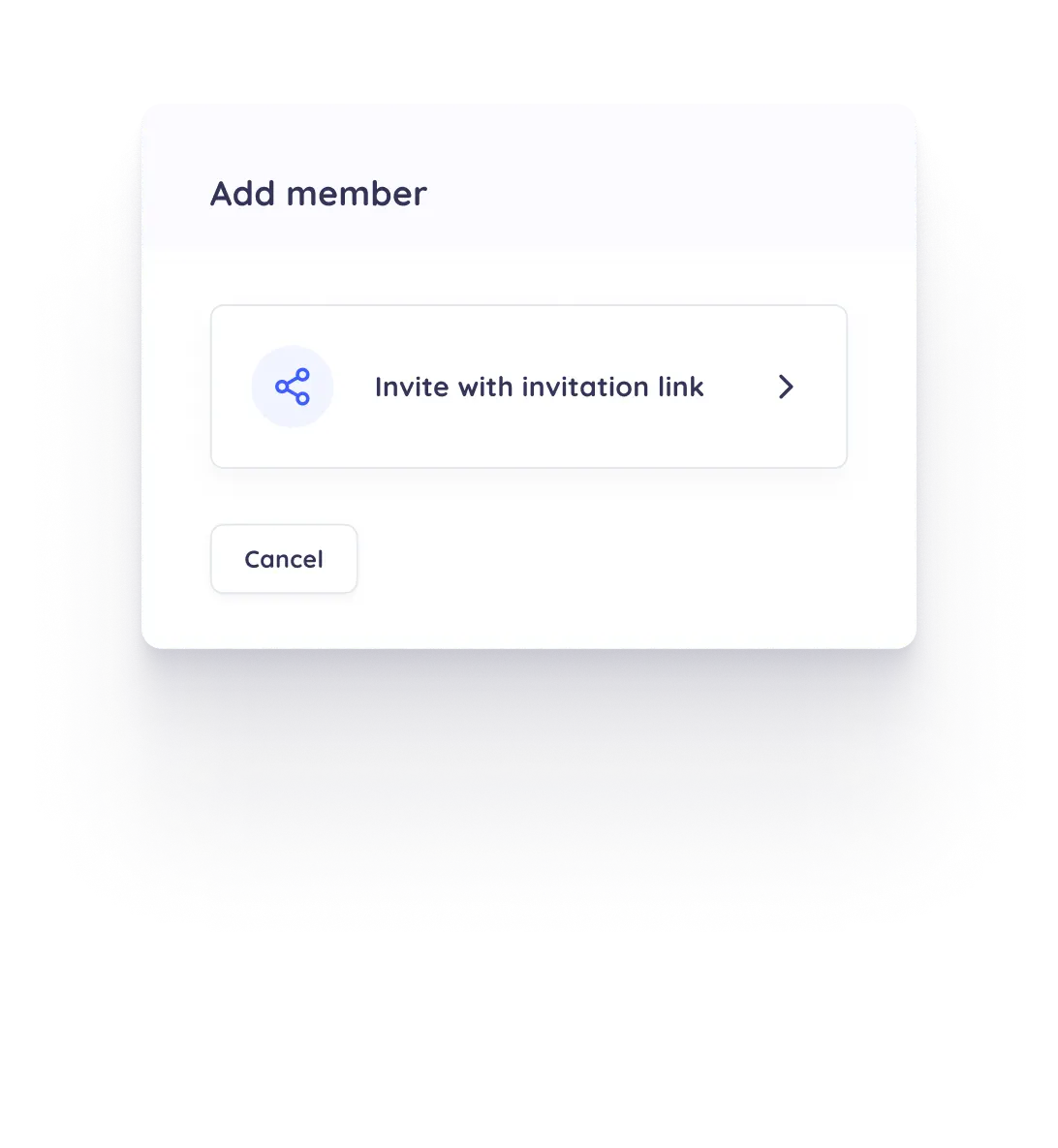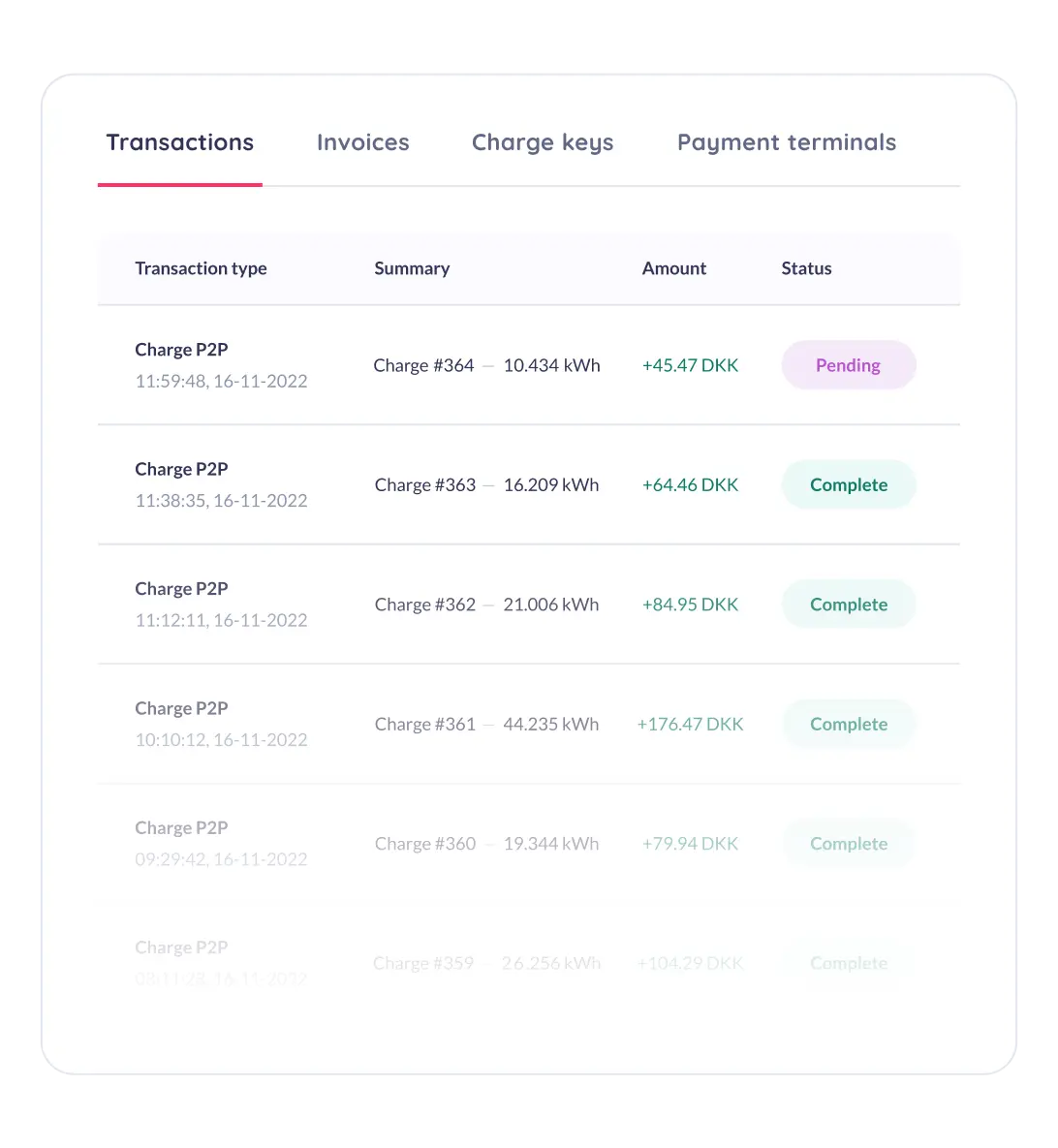 Turn your chargers into
revenue
Provide your residents with the freedom to charge their EVs at home while giving yourself a profitable source of income. Customise prices, set member fees, and join our roaming network to maximise your investment.
Automatic payments and invoicing
Monta's automated system includes accounting, invoicing, and payment tracking features that keep track of all charging sessions and payments made.

For added convenience, EV drivers can pay using a range of options, including card payments, Apple Pay, Google Pay, and multiple mobile payment apps, as well as charge keys and payment terminals.

With Monta's Schedules feature, you can easily decide who can access your chargers (residents or public users), when they can access them, and at what price (e.g., different times during the day, weekdays, or weekends). Moreover, you can automate these changes to ensure a smooth and seamless experience for all users.

To further simplify the charging experience, you and your team can enjoy a tap-and-go charging process with RFID charge keys.

Customisable price setting
With Monta, you can tailor your charging pricing to your specific needs. Choose between a fixed kWh or minute rate, or set up Dynamic pricing with min/max thresholds to ensure your electricity costs are always covered.

You can also add network tariffs, profit margins, or additional fees at the start, middle, or end of each charge session for added flexibility in pricing.

Expand your reach and create a new stream of income by adding your chargers to the Monta Roaming network. Doing so allows for greater visibility among a wider audience and makes your charge points available on other roaming apps, as well as on popular navigation apps such as Google Maps, Apple Maps, TomTom, and Here.

Offer the
best-in-class

EV charging experience

Transform the way your residents charge with Monta - the ultimate solution that offers simple and smart EV charging, wherever they need it. From multiple payment options and convenient features, Monta has everything your residents need for top-tier charging.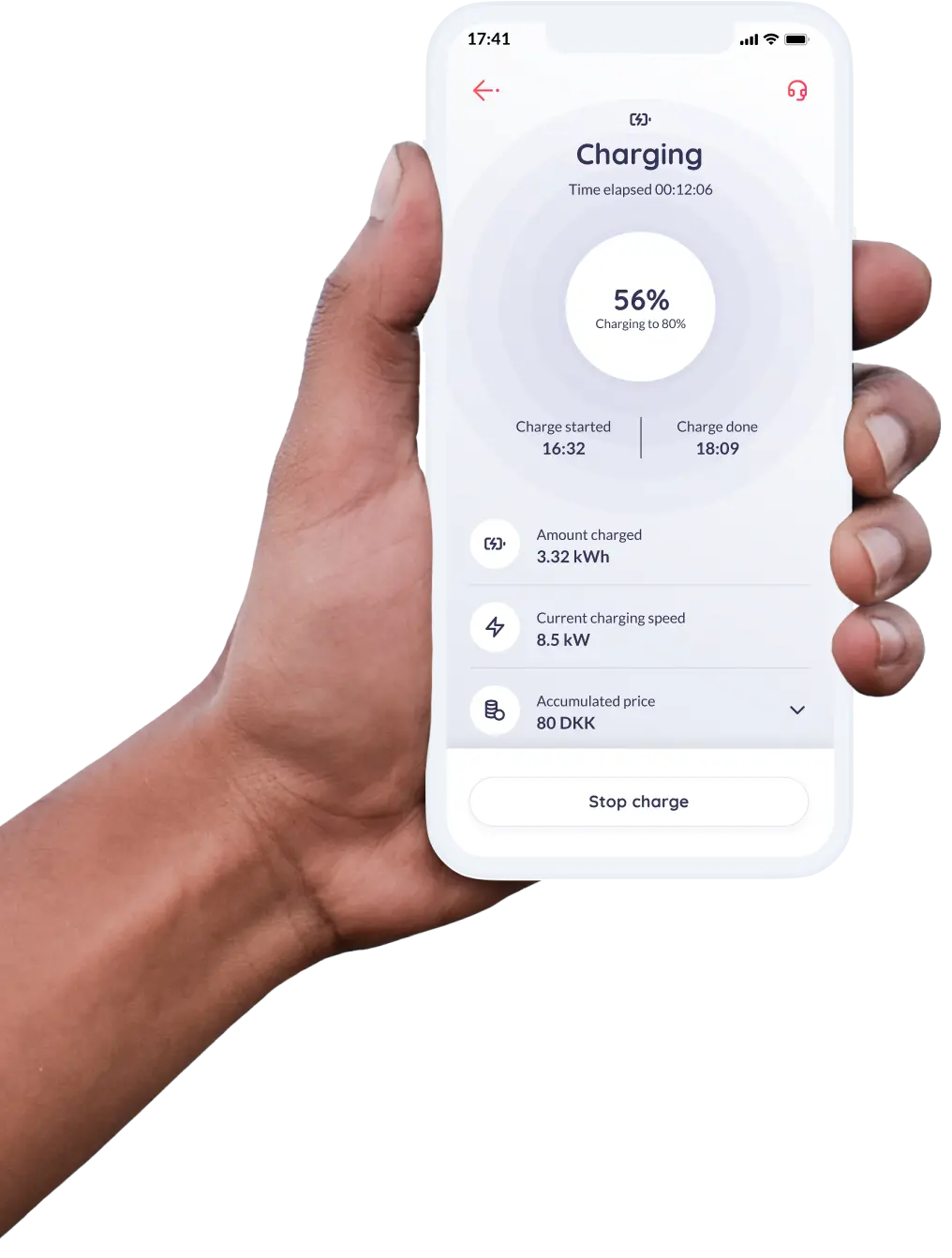 Unrivalled EV charging experience
Monta's exceptional successful charging of 97%, exceeding the 85% industry standard, makes charging at home, work or on-the-go effortless for our 200K+ loyal users.

Consider enabling our SmartQueue and SmartBooking features to optimise charger utilisation while giving your residents the flexibility to choose when they want to charge.

Drivers can have access through the Monta app and charge keys and can even charge without downloading the app using QR stickers and app clips.

Car integration
By integrating their cars with Monta, residents can unlock advanced features that simplify and automate (home) charging, making it more convenient than ever. This integration provides drivers with a range of benefits, such as insights into charge states, charging schedules, rates, and other useful statistics.
Auto-start charge
Residents can automatically charge their cars for the exact amount of power needed by simply plugging in their cars.
SmartCharge
Your residents can customise their home-charging preferences using SmartCharge, allowing them to reduce both their carbon footprint and charging costs. With this feature, they can select their preferred settings (e.g., lowest cost, cleanest energy source, etc.) for each charge.
Usage & Consumption
To gain full insights into consumption and charging costs, you can specify your electricity price based on the electricity bill, enabling you to accurately track spending every time your residents charge.
One do-it-all EV charging app
With the Monta app, your residents can access charging anywhere they go, whether at home, work or on the road. They'll enjoy a range of useful features and the ability to locate over 400 000+ public chargers via Google Maps, Apple Maps, TomTom, Here, and in-built car navigation across Europe.
Earn charging credits with PowerBank
Monta's PowerBank feature allows for temporary pauses of ongoing charges during an electrical grid imbalance, preventing blackouts. By participating, you can receive credits in your Monta Wallet based on the electricity used to charge your EV. This feature is currently available only in Denmark and Sweden but will soon be expanding to other regions in Europe.
Learn more about PowerBank
Don't listen to us, here's what our
customers

have to say:

Fantastic! I'm used to using mainly the Kia app, but many others as well. Kia is okay but some are totally useless.
Monta's app on the other hand is spot on! All other apps should follow suit.
Finally, a charge app that adds EV charge value.
Reliable and easy to operate. Good pricing. Excellent charger.
Easy home charging and on the go roaming! Great user interface, so simple to connect to home charger and uses all the great features. Great rates on the roaming networks too, loving it so far!Monta's app on the other hand is spot on! All other apps should follow suit.
Amazing ev charging app, easy integration with the hardware you have on hand and easy sharing with the rest of the household, keep on doing an amazing job!
Great App, nice and simple to use and navigate.
I use Monta to manage my charge point at home for full benefit of smart charging, sharing with friends and manage my cost in great detail. On the road I can easily use Monta for public charging and over time compare my usage and cost home vs on the road charging. I love it.
Finally, a way to see the full network of charge points and use all of them without having to sign up for several operators. It also makes travelling with an EV so much more convenient! I am a real fan!
Easy to use charging app. Cool feature with dynamic prices that follows the actual electricity prices hour by hour. Will definitely use Monta as my primary charging app.
Easy to use and covers everything. Super app! I always find a public station, but I can also smartly control my charger at home. I even get the reimbursement for charging from my employer via the app, directly after each charging process. It doesn't get any more transparent than that.
Very handy and easy cool app.
App easy to use and step by step instructions. Was charging car in minutes.
Get your chargers
up and running

in no time

Monta simplifies the process of setting up your EV chargers. With a wide range of charger and EV models to choose from, our system allows you to customise your charging solution according to your specific requirements and budget.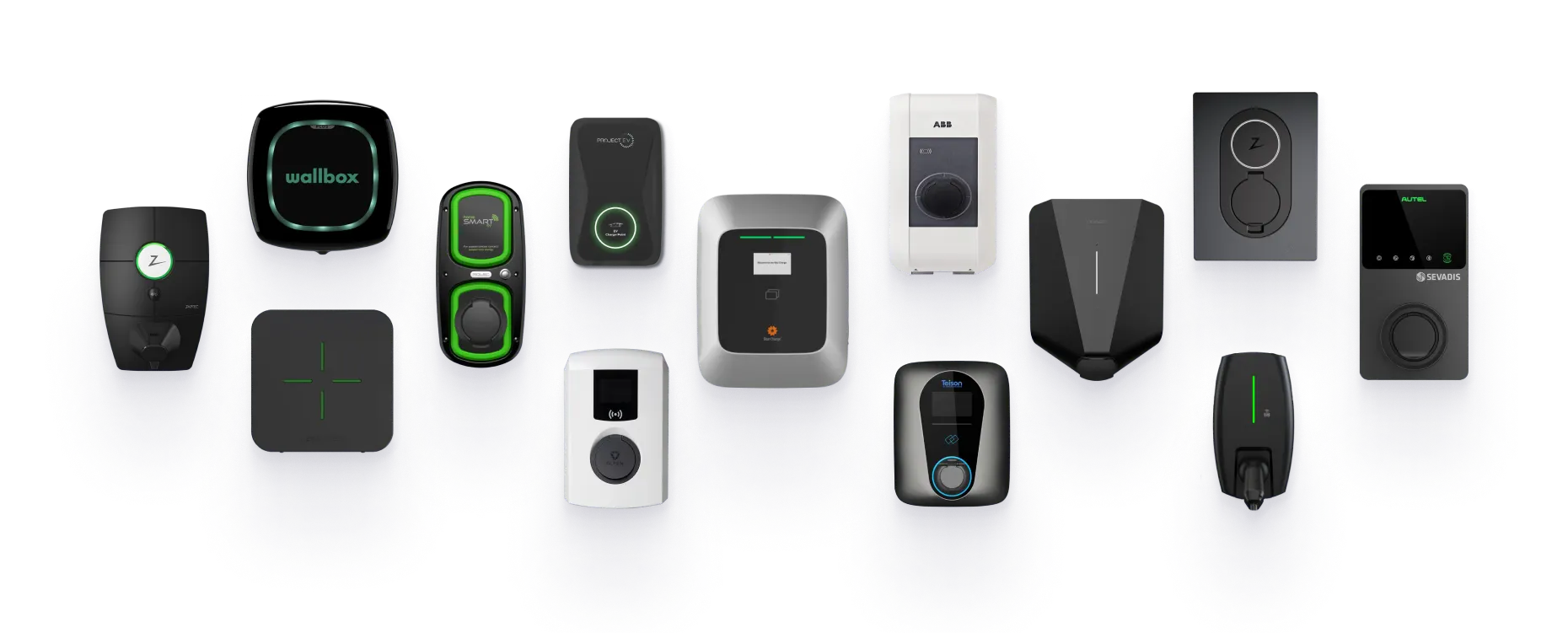 Choose your preferred hardware
Monta integrates with over 350 AC and DC charger models and 100 EV models, giving you a wide range of options to choose from that best fit your needs and budget.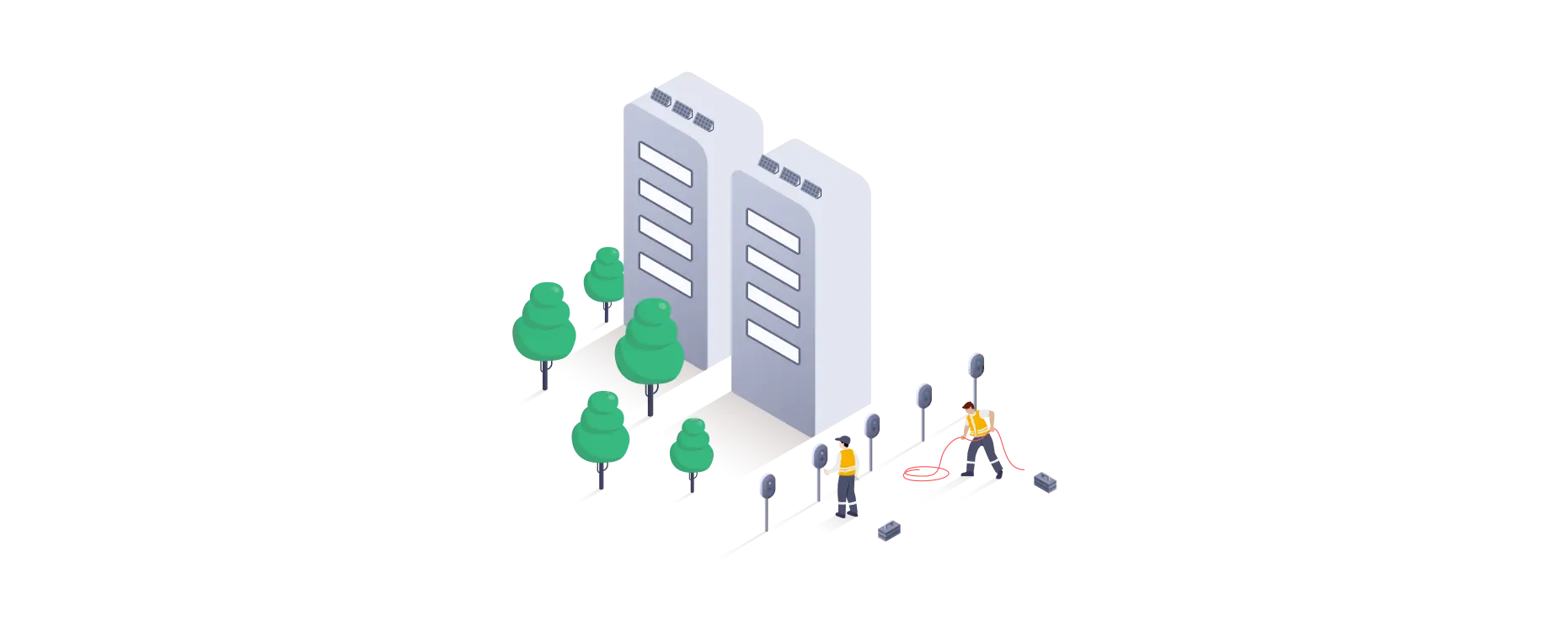 Find the right installer for the job
If you're in need of an installer to set up your EV chargers, don't hesitate to get in touch with us. We can provide you with recommendations to ensure a smooth and efficient installation process.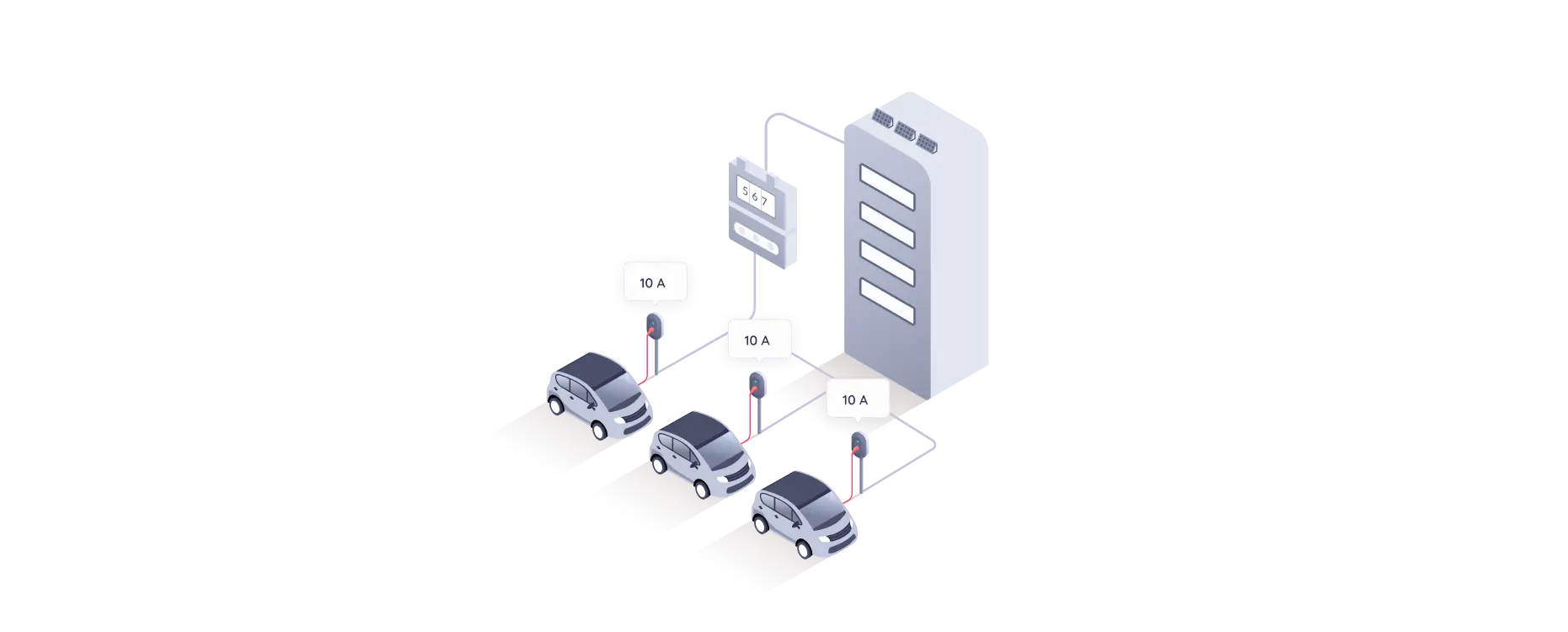 Set up load balancing
In addition to ensuring efficient energy distribution between your chargers, Monta's Load Balancing feature supports different types of load balancing, further maximising the efficiency of your energy usage.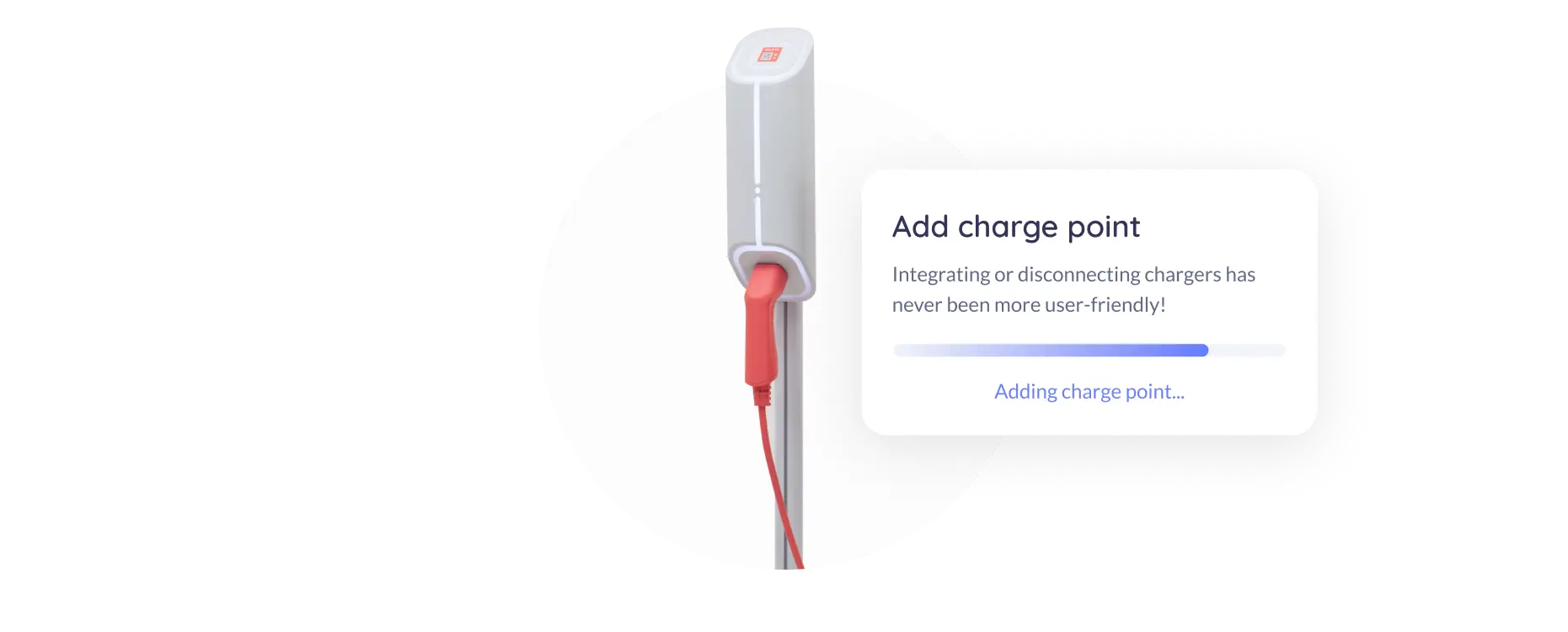 Scale with ease
When partnering with Monta, the Powered by Monta chargers come pre-installed with Monta software, simplifying the installation process and featuring built-in connectivity options.
Scale up or down fast and conveniently with Monta's user-friendly controls, which enable you to easily add or remove users, integrate or disconnect chargers, and simplify your overall management process.
Always there to help you succeed
Choose how you want us to support you.
Ensure quick support
Provide your residents with 24/7 access to our team via email or chat, ensuring exceptional support and timely issue resolution.
Help Center
Access our free self-help material for you and your residents via the Help Center and Monta Academy.
24/7 Customer Support
Count on our highly-rated customer support system, which includes 24/7 support, priority support, or a dedicated Customer Success Manager.
What is the Monta Academy?
Explore Monta's features and functionalities at your own pace with our comprehensive self-study online courses available at the Monta Academy.

The Monta Academy offers a wealth of tools and resources necessary for effectively managing and supporting your business operations on the Monta Portal. These courses are available for Pro, Business, and Enterprise plans, ensuring that you can customise your learning experience to meet your specific needs.

Why choose Monta's CPMS?
All-in-one EV charging solution
Set up, manage, and operate chargers from one platform.
Low effort, maximum results
Monta has all the tools and features you need to set up new charging stations, manage pricing and billing, and track usage and performance, everything with automation in mind.
Easy as 1, 2, 3
Add members, set the charging price, and give access to your chargers.
Unmatched flexibility
Offer multiple payment options to your customers and customise pricing and accessibility.
Effortless charging and our self-healing algorithm
Eliminate charging hassles for your residents with SmartQueue and self-healing algorithms.
Highly advanced & customisable pricing system
Customise your EV charging prices to cover costs and increase profits, with no manual calculations. Read more
Get your charge points live in under 2 minutes
The fastest way to set up charging sites of any size. Read how
Stay future-proof
We're always on top of new industry regulations and offer features others haven't even thought of yet.