New research ranks the
most EV-friendly holiday
destinations
UK drivers have been steadily adopting EVs at a growing rate. Electric car sales in the UK have increased year on year and 16% of new car sales in 2023 are now fully electric vehicles, only 11% of new car sales were electric in 2022. This growth is expected to continue, especially with freer supply of semiconductors in 2023.
But how EV-ready are UK drivers when it's time to pack their bags, put on the Out Of Office, and head off on holiday?
Revealing
UK attitudes

to EV holidays

In a brand new study with market research institute YouGov, we have taken a deep dive into the opinions of UK EV drivers and those considering an EV as their next vehicle to understand their attitudes, frustrations, and demands for the EV industry.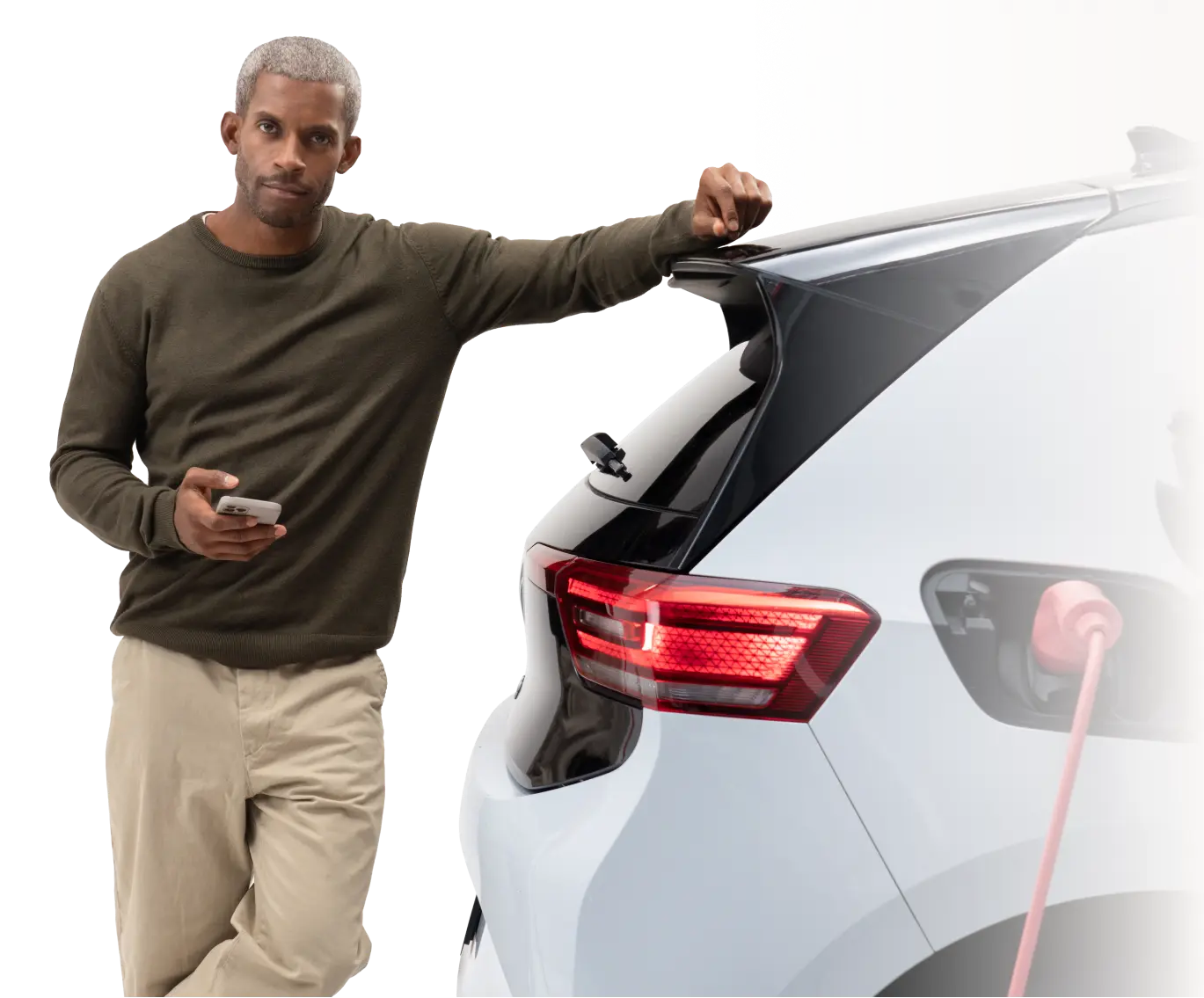 57% of Brits want to drive electric on their holiday*
What's out there: reviewing
regional charging availability
We've also undertaken independent research into holiday charging availability. We've reviewed the holiday accommodation options in each county to understand how demand is matched by supply and see just how easy it is to vacation in an EV across the UK.
UK drivers want to drive electric on holiday at home and abroad
The YouGov survey results indicated that EV drivers and considerers have a strong preference towards EV friendly accommodation while on holiday. The survey revealed that 57% of EV drivers would prioritize staying at holiday accommodation that offers an EV charger and only 17% of drivers said they wouldn't prioritize an EV charger when staying at a hotel / holiday let.
Results based on multiple choice responses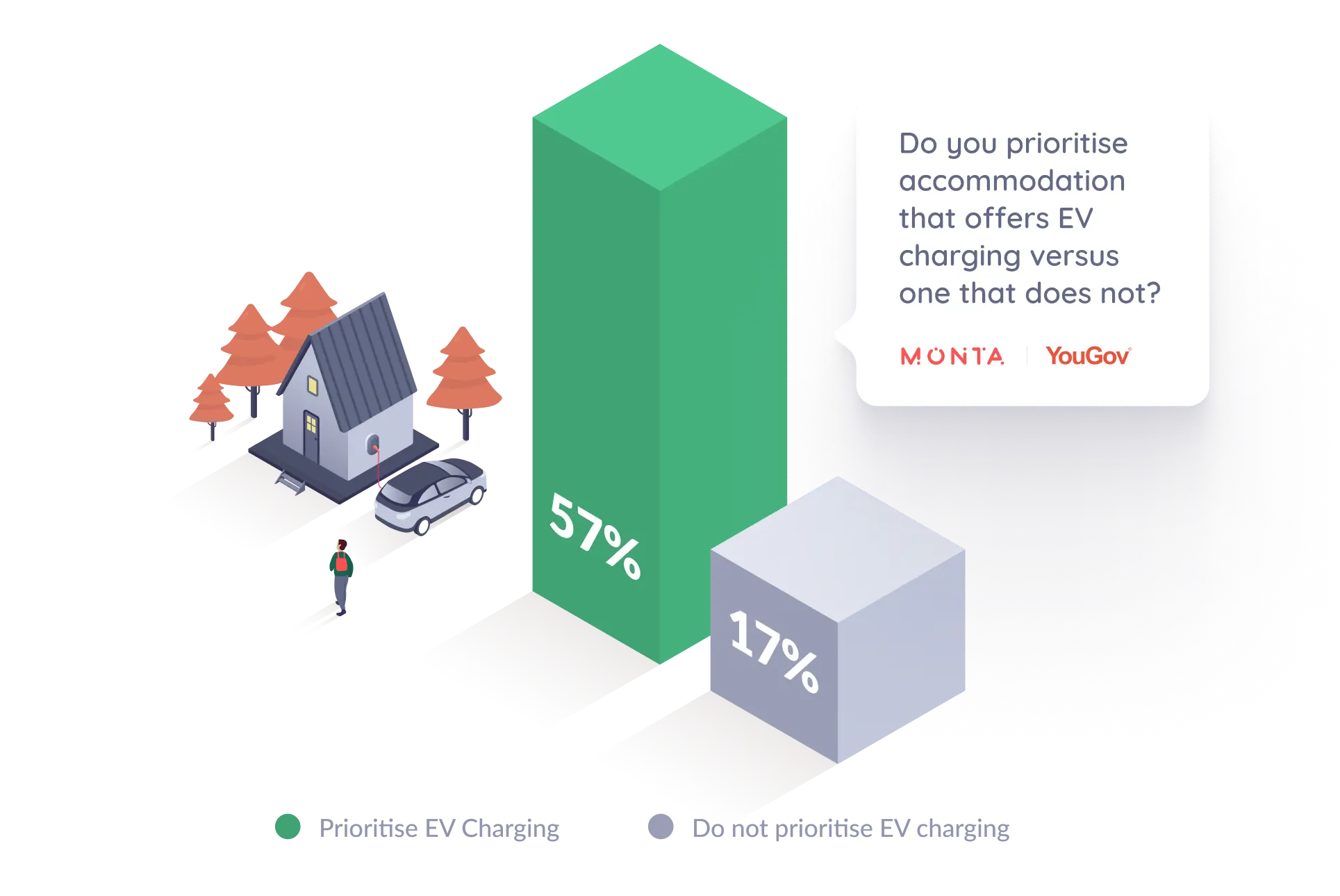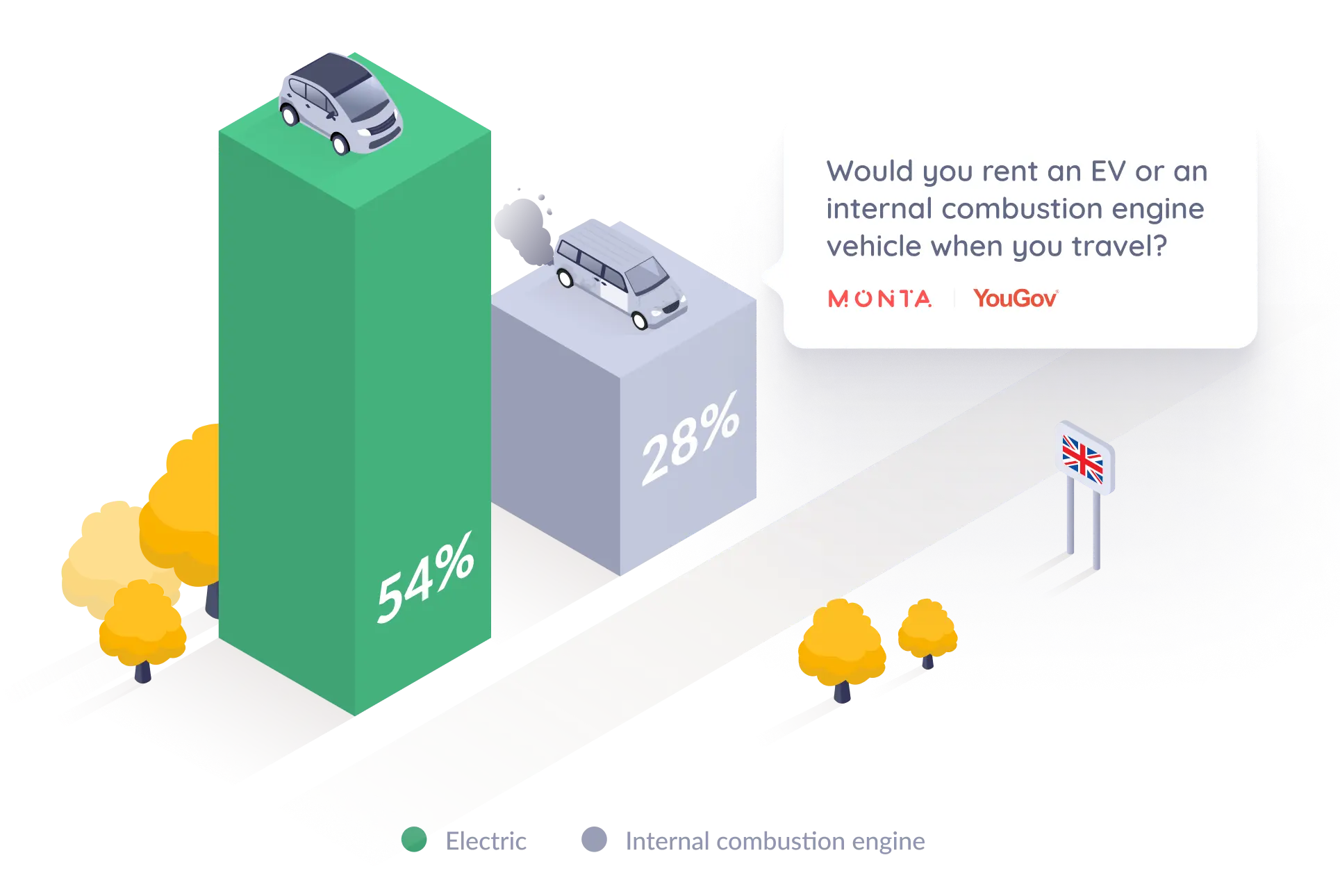 EV drivers and considerers were also keen to rent an EV when travelling. 54% of current EV drivers and those considering an EV said they would rent an EV while traveling in the UK and conversely only 28% of EV drivers would consider renting an ICE vehicle in the UK.
Results based on multiple choice responses
When questioned further 50% would even consider renting an EV when traveling abroad with only 34% of EV drivers and considerers saying that they would switch to an ICE vehicle when renting a vehicle abroad.
Results based on multiple choice responses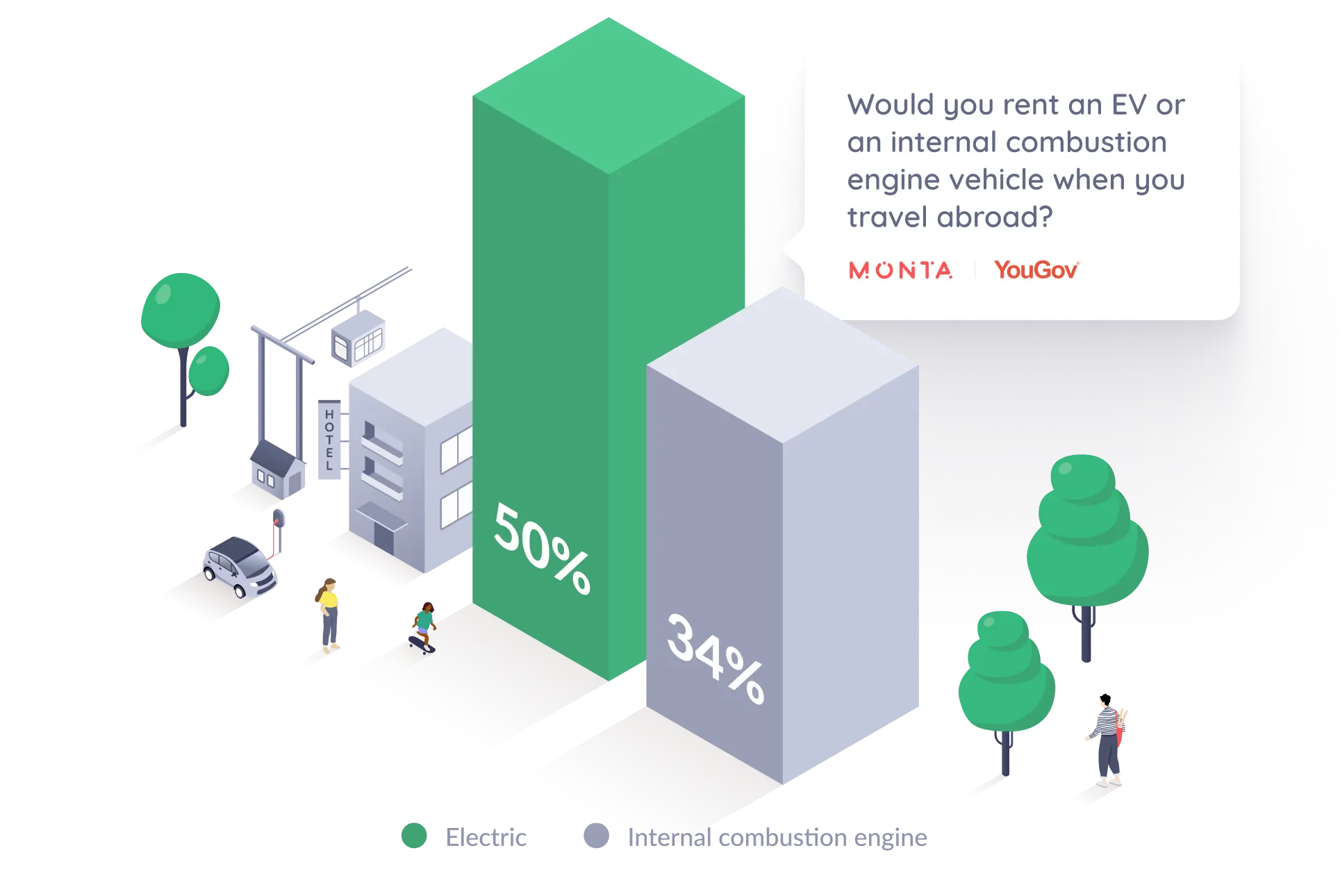 British EV drivers prefer electric even on holidays, but do holiday providers offer enough infrastructure for stress-free EV travel? Consider this: you travel 250 miles to a quaint town, ready to check in, only to find your EV battery at 5%. If your hotel offers charging, you're sorted. If not, it's a scramble to find the nearest fast charger. A significant opportunity lies ahead for holiday providers to ensure seamless charging experiences.
Where to go and where to steer clear of as an
EV tourist
We've analyzed availability data from the UK's most popular hotel and holiday rental accommodation platforms to learn the best spots for EV drivers. We reviewed multiple online travel/booking platforms and identified how many accommodation options there are available in each county and how many of them offer EV charging as a service. We then calculated the percentage for each area to reveal the best and worst places across the UK to travel for a UK EV staycation.
UK holiday charging infrastructure lagging behind
Unfortunately our data found that, on average, only an underwhelming 2.46% of holiday lets in the UK offer an EV charger on site. We also researched France and Germany which featured EV charging in 3.73% and 6.96% of their accommodation options respectively. So with the UK dramatically under indexing vs Europe, where should you vacation as an EV driver in the UK?
Scotland: the best electric staycation
Aberdeenshire and Selkirk stand out as the top counties where you're likely to find an EV charger at holiday accommodations, with Aberdeenshire leading at 6.35%. Scotland overall overperforms the UK with 2.53% of accommodations offering EV charging. The nation's robust EV infrastructure, featuring 145 public chargers per 100,000 people versus the UK average of 59.9, makes it an ideal sustainable staycation destination.
Visit Scotland
even proposes EV-friendly itineraries allowing visitors to enjoy culture, history, and whiskey on a single charge.
Take note, though, that lodging options in both counties are limited, potentially leading to early bookings. Regrettably, areas such as Sutherland, Ross, and the Shetlands have a data set too small to include in our guide. Still, Orkneys barely made the list with an average of 0.66% of accommodations featuring an EV charger.
Finding more available rooms and available EV charging
Looking at counties with more accommodation options (1500+) Hampshire, Leicestershire, and Oxfordshire were all decent options with Hampshire leading the back at 4.26% of accommodation options offering an EV charger. Leicestershire and Oxfordshire offered 3.95% and 3.34% respectively, both well above the UK average.
All three counties are relatively centrally located and great options no matter where you're driving from in the UK.

Fancy an island vacation? Why not the Isle of Wight?
The Isle of Wight indexed quite strongly in our research with around 3.5% of accommodation options offering an EV charge point. The island is only 23 miles long from Bembridge to the Needles, which means the average EV could drive back and forth across the island 10x before needing a charge - it's a great choice for an EV staycation. The Isle of Wight was also pretty average in public charger prevalence, with around 56.1 chargers per 100,000 population, meaning that topping up on the go should be relatively easy.
So if you fancy soaking up some sunshine at Alum Bay, catching a wave at Compton Bay, or watching the sailing at Cowes Week, the Isle of Wight is a great spot for EV drivers.

London has the highest availability although EV driving might still be tricky
If you're looking for the highest concentration of EV charging accommodation, London has c.157 accommodation choices that report access to an EV charger. However this is out of a whopping 8,496 accommodation options checked. So while EV charging might be more prevalent in London, competition for your accommodation might be more fierce.
It's also unsurprising that such a low percentage (1.84% according to our data) of London hotels and holiday lets offer EV charging as the capital has a broad range of affordable and flexible public transport options.
Our advice, take a train to London instead, catch a tube around town, or hop on a bus. If you're going electric in London, consider an e-scooter or an e-bike. Public transport is a great way to see the city without worrying about traffic and fulfilling your sustainable staycation needs.

Destinations that need a little more planning
The counties of Kent and Essex both stood out as woefully lacking in EV charging accommodation. Both counties have over 6000 accommodation options, but with only 1.22% and 1.39% of options offering EV charging in Kent and Essex respectively.
While both counties offer some of the best UK beaches, it's hard to advise an EV staycation in Margate, Whitstable, or Frinton-on-Sea, with so few private EV charging options.
Essex in particular might be a county to avoid when considering an EV staycation. According to
government EV public charging data
from October 2022, Essex features an average of 25.7 public EV chargers (both rapid and slow) per 100,000 citizens. The UK national average was 59.9 EV chargers per 100,000 citizens. Unfortunately Essex seems to be lagging in public charging infrastructure and 'guestination' charging infrastructure, meaning that EV drivers might want to stay clear of the county for a stress free staycation.
Want to offer EV charging to your guests and visitors?

It's easy to get started

Get started
Methodology
*The survey was conducted by the YouGov analysis institute. A total of 4531 UK citizens aged 18+ were interviewed using CAWI methodology during the period of 6 - 13 March 2023.
We've collected data from online booking platforms on how many accommodation options they have + how many offer EV charging and calculated the percentage of each area. We've taken the total amount from each platform and divided it by the number of included platforms to find the overall average for each area. The reasoning is that the same accommodation option can be available on multiple platforms. Areas with less than 100 accommodation options or where only one booking platform could show results are not part of the research.