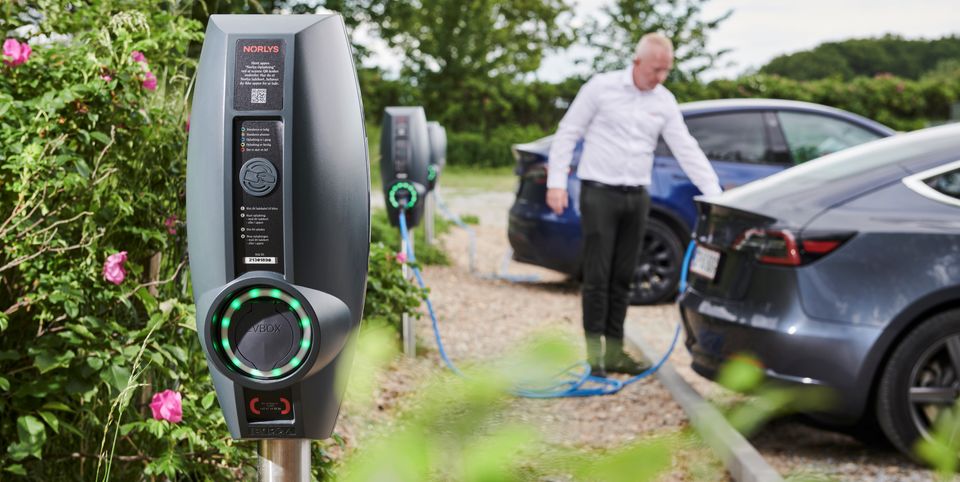 | | | |
| --- | --- | --- |
| Installing 300.000 charge points over the coming years | Building their e-mobility business on top of Monta's software | Aims to become the market leader for individual, business and public charging |
Energy giant Norlys, with its billion-dollar investment and ambitions to acquire 300,000 customers, has plunged into the competition in the charging infrastructure market. Norlys is consolidating their e-mobility unit and has chosen Monta as their e-mobility partner.
Monta's software is the platform upon which Norlys is building their new business unit, consisting of 3 parts: charging solutions for individuals, businesses, and public charging. With Monta's platform, Norlys receives a complete package, enabling them to tailor their offerings to their diverse customers.
"We aim to be one of the market-leading providers of charging solutions and infrastructure, at home, at the workplace, and on the go," says Mads Brøgger, director of Norlys Energy, pointing out that this was one of the reasons for choosing Monta.
For Norlys, excellent customer service means everything! And with Monta's CPMS, which is both innovative and user-friendly, they can offer the industry's most flexible charging solutions, whether for private individuals, businesses, enterprise solutions, or public charging with Monta.
"Our goal is to become an attractive choice for customers, making it easier for them to make an understandable choice. This includes significantly better prices than today. It also means that we need to help equip customers to make informed decisions. Naturally, there will still be many first-time buyers of electric cars over the next ten years," Mads Brøgger concludes on why they chose Monta.
About Norlys
Norlys is Denmark's largest energy and telecom group. Norlys owns the Netselskabet N1 and is headquartered in Silkeborg, with locations in Aarhus, Aalborg, Esbjerg, and Copenhagen.