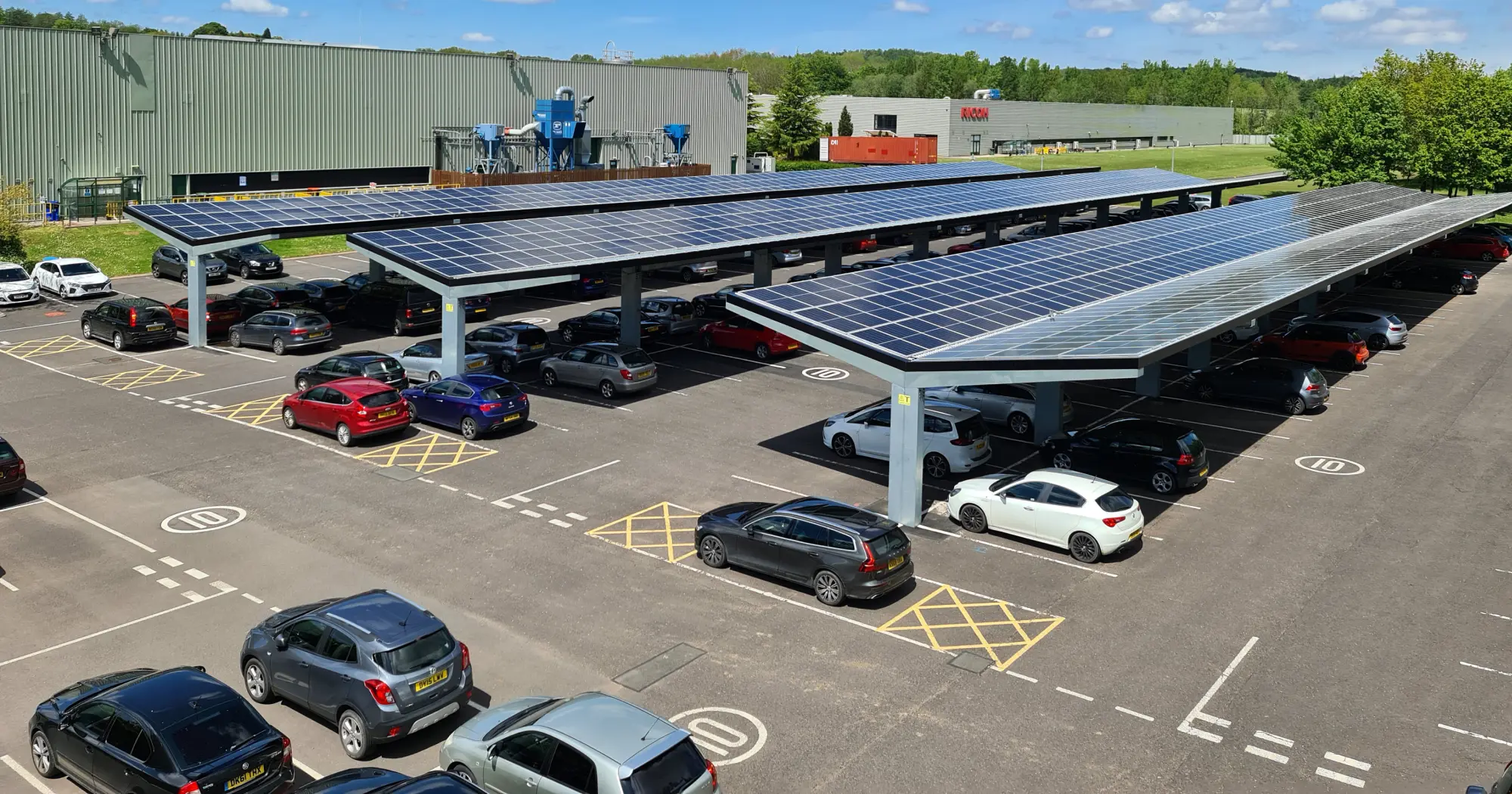 Ricoh, a global Japanese owned print large scale printer business, wanted to extend their sustainability strategy in their Telford production office with a flexible EV charging solution.
| | | |
| --- | --- | --- |
| Powered by on site solar | 10 charge points at the Telford factory | Ready to add extra charge points when needed |
| Aligned with sustainability strategy | 1 hardware brand | Reduced admin and data ownership |
As a company, Ricoh strive to meet the most rigorous sustainability standards. They have been recognised as one of the top 3 vendors in IDC's Sustainability Index, and have received an Ecovadis Gold sustainability rating annually since 2014. Ricoh's CEO Jake Yamashita said
"Any company that doesn't contribute to the achievement of the Sustainable Development Goals (SDGs) will be ignored by the market, and will go out of business. Companies in the future will be evaluated not just by their financial performance, but also their contribution to addressing these social challenges".
For Ricoh, sustainability is integral to the future of their business.
Owning energy consumption to meet sustainability goals
At the Telford factory in 2021, Ricoh installed a solar farm with over 3000 solar panels which provide 100% of the factory's power over the summer months. Ricoh wanted to install EV chargers to complement their renewable energy strategy and to provide EV charging for employees and visitors.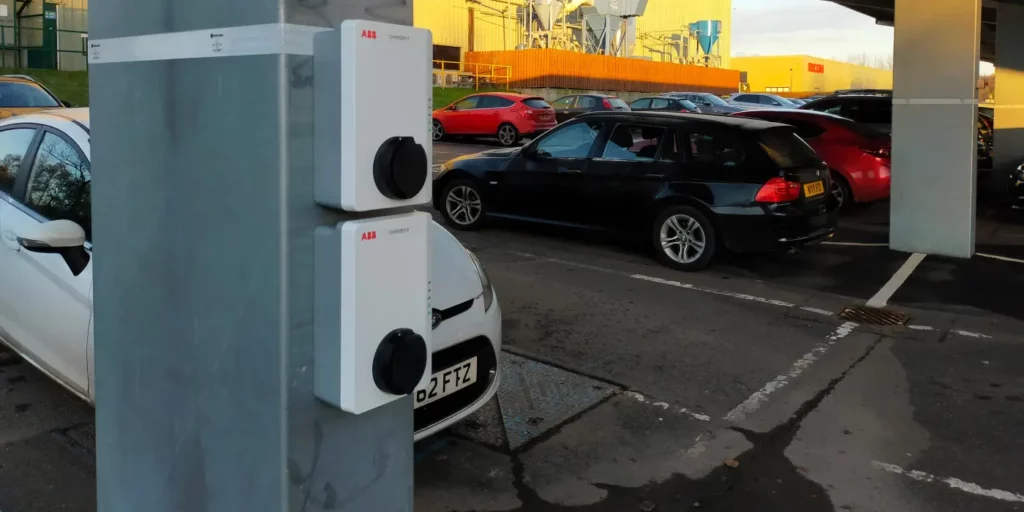 Ricoh installed 10 ABB EV chargers across their factory car parks. 8 of the chargers sit under a solar panel topped car port, 4 of which are accessible to visitors and the other 4 are reserved for the future pool car Evs. The 2 remaining chargers are reserved for the leadership teams.
Ricoh selected Monta as their software provider as Monta provide reliable consumption data capture which can be easily exported and reported on as part of a sustainability strategy.
"Understanding the impact of EV charging on our Telford facility is easy through Monta's platform. The data is accessible and intuitive to understand. There is a breadth of training available to help new staff get up to speed quickly" says Matt Surmacz, Building Services Facilities Engineer at Ricoh.
The data will be used as part of Ricoh's overall reporting on energy emissions and efficiency.
Showcasing sustainability to visitors
Ricoh's Telford facility houses their Customer Experience Center which displays Ricoh's broad product range to visitors and customers. By providing EV charging as a service to site visitors and customers, Ricoh can showcase their sustainable values while providing a free charge. Ricoh are not charging visitors for their energy use, but do need to keep a record of the energy used to cross charge internally and ensure their internal budgets are accurate.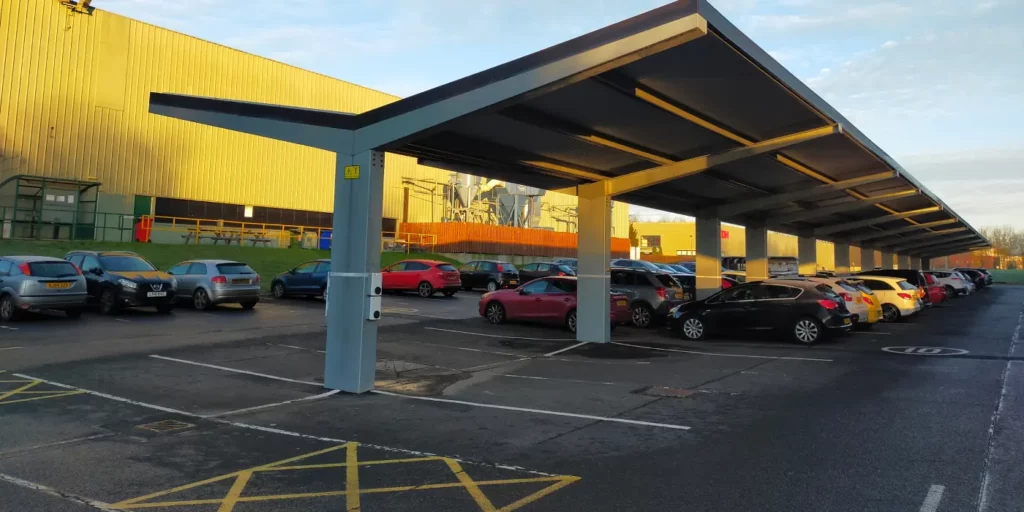 "As EVs become more mainstream, it's important for Ricoh to provide charging to our guests. As we're a large business, we want to be sure that we can track our spend across departments and manage budgets responsibly. Monta makes this easy to manage and removes any additional administrative requirements from our staff." says Matt Surmacz, Building Services Facilities Engineer at Ricoh.
Monta's platform also gives Ricoh the flexibility to add a cost for charging in the future if their approach or strategy changes.
Ready for growth and expansion
Ricoh are always looking to the future, so a key USP of the Monta platform for them was the ability to add new charge points to their offering at any time with ease. With more car parking bays identified for new charge points already, Ricoh are prepared for every eventuality.
Choosing the right partner
Monta were recommended to Ricoh by their hardware and installation provider ABB. "It was great for us to find a partner that was recommended and established in this new space." said Matt Surmacz, Building Services Facilities Engineer at Ricoh.
"Monta's 6 week onboarding process was quick, clear, and responses to queries were similarly speedy. It was great to work with such a friendly and remote based team."
Monta's UK based business provide UK specific knowledge to support the centrally based remote team.
"We're proud to support partners like Ricoh who are leading the way as purposeful business leaders. It's great for us to find like minded partners who use our services." said Alok Dubey, Country Manager UK at Monta.