Stay in control

of your at-home EV charging experience

Unlock the true power of your EV charger with Monta. Our smart charging adapts to grid demand, energy prices, and your preferences to boost efficiency. Track charging habits, save money, and avoid hidden fees with the Monta app for an unmatched charging experience.

Intelligent technology for
at-home charging
Here's what you can expect:
Flexible EV charging setup from the start
Monta is compatible with a wide variety of EV charger models. You can customise your setup to meet your specific EV charging needs. Powered by Monta chargers come with Monta software pre-installed to speed up the installation process for you.
Tech for saving time, money, and the planet
SmartCharge lets you automatically charge when energy is cheapest or greenest, helping you save money on your electricity bill.
Remote control
Conveniently monitor and control charging remotely with the Monta app.
Smart integration
Connect Monta with your home energy management systems to optimise energy usage across your home.
Forward-thinking innovation
Monta helps you stay up-to-date with evolving EV technology and standards, ensuring you can continue to use your charger for years to come.
Custom charging for your
lifestyle
Thinking about installing an EV charger at home? It doesn't get easier than this. Charge at home according to your lifestyle.

Simply get a charger, customise it, and start charging.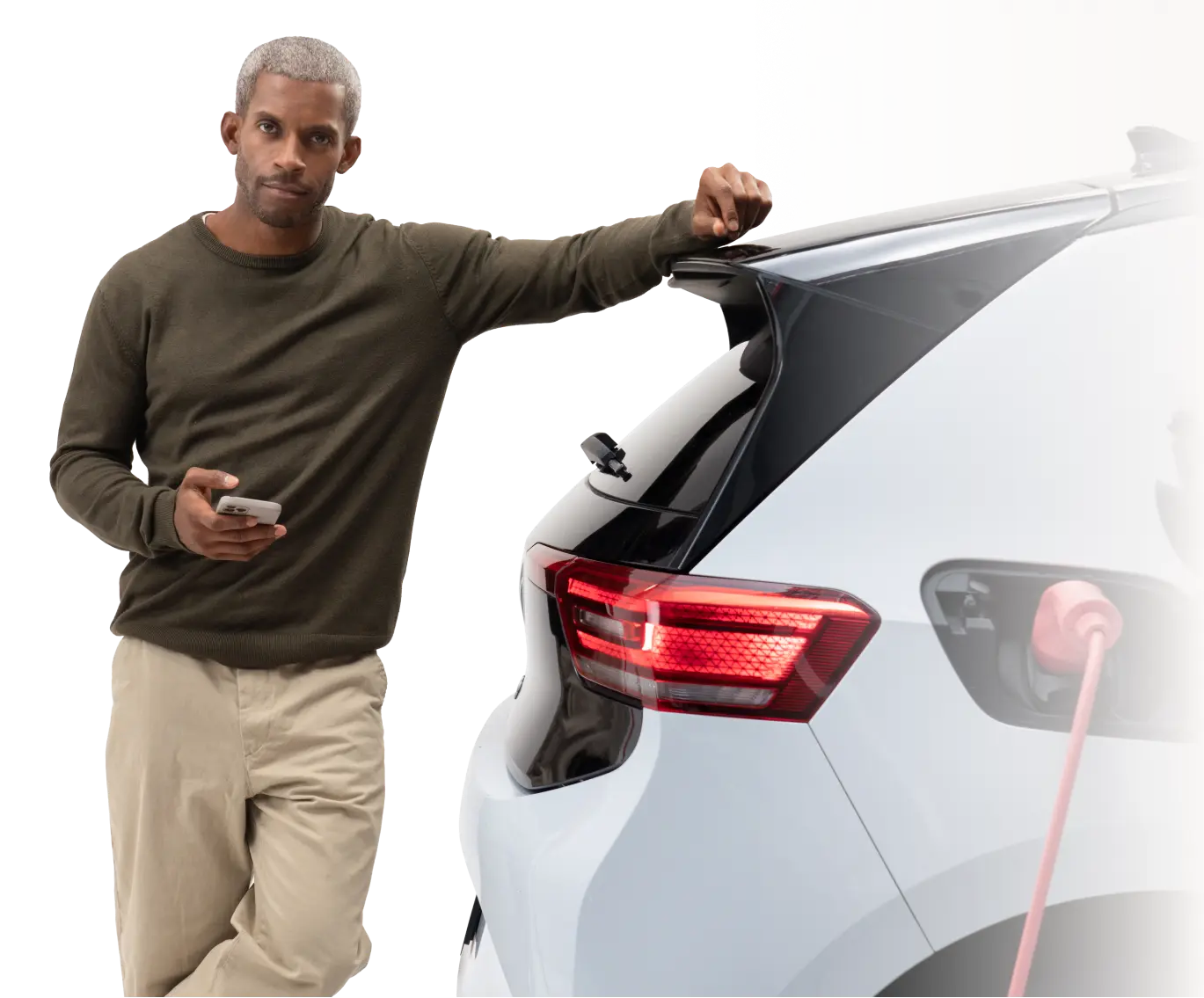 Create a seamless setup from go
Monta makes home EV charging effortless from the start. With a wide selection of EV charger models to choose from, you can create the perfect setup for your home-charging needs.

Choose your preferred hardware
We integrate with over 400 AC and DC charger models and 100 EV models, so choose whichever model fits your needs (and budget) best.
For an extra boost of convenience, Powered by Monta chargers come with Monta pre-installed to speed up the installation process for you and get all the Monta magic out of the box.
Find the right installer for the job
Looking for a qualified installer to set up your EV charger? We have a list of certified and reliable installers who can get the job done.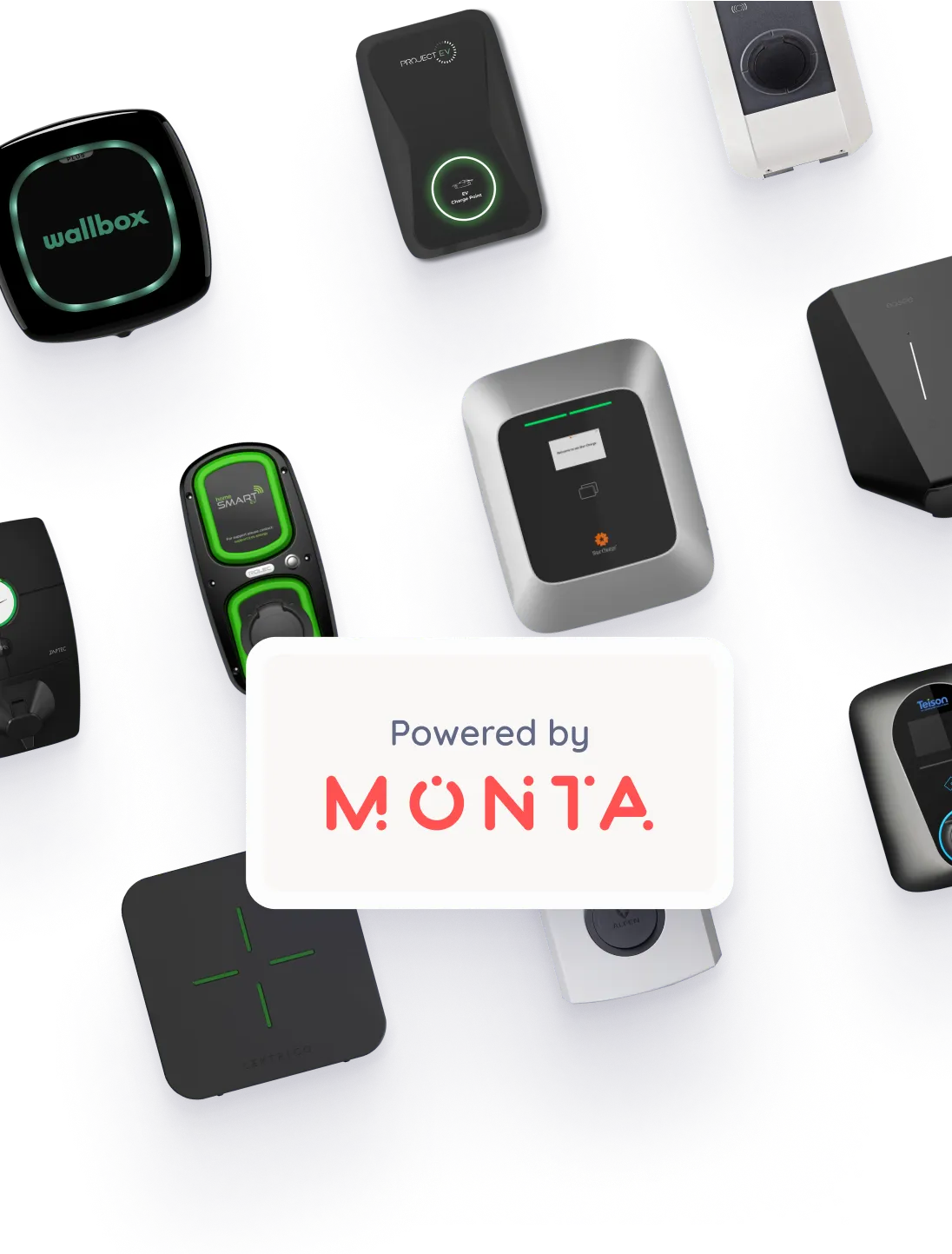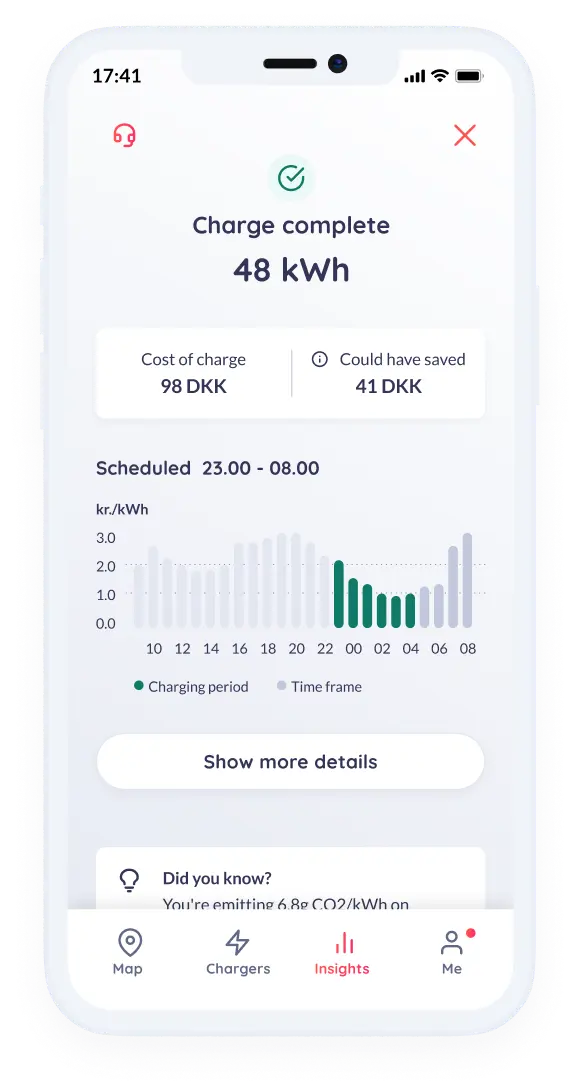 Smarter charging

, right at your fingertips

Enjoy the convenience and ease of home EV charging with Monta. Easily plug in your vehicle and use your smartphone to schedule, monitor, and control your charging process according to your preferences - wherever you are.

Reliable charging
Our 97% successful charging rate beats the industry standard of 85%, ensuring you won't return to an uncharged EV when you need it most.
Remote maintenance
Keep admin work low with our self-healing algorithm and delegate installation or on-site maintenance tasks to installers.
Do basic settings, troubleshooting, and remote actions including firmware updates on the portal or on-site via the app.
More than just an EV charging app
With the Monta app, you can track your spending, see the electricity price forecast, and understand your consumption, whether you're charging at home or on the road.
You can also customise your home-charging preferences by adjusting features and settings as you please.
Smart home integration
Personalise your home charging experience with Monta Public API. By integrating your charge point and vehicle data into your home system, you can monitor house meter values, adjust to sunlight levels, manage energy usage, or consider energy prices when charging at home.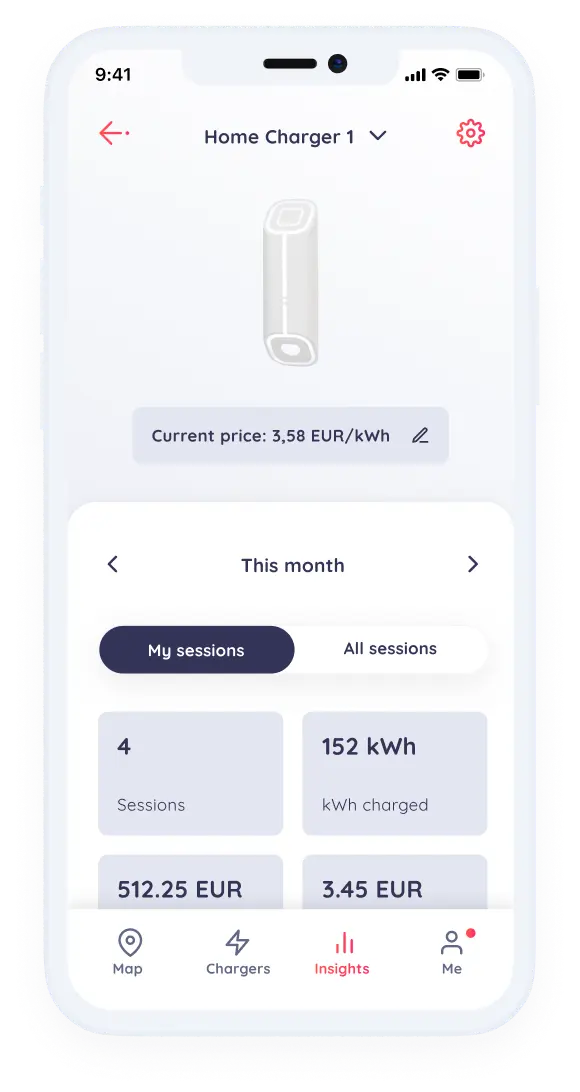 Stay on top

of your spending

Enjoy full visibility of your consumption and charging costs on the Monta app, all while getting the most out of your EV and keeping those energy bills low.

Charge smarter, greener, or cheaper
Customise your home-charging preferences using SmartCharge (e.g., save money, reduce your CO2 emissions, opt for renewable energy, or a mix between them).
By taking this one simple action, you can simultaneously reduce your carbon footprint and charging costs.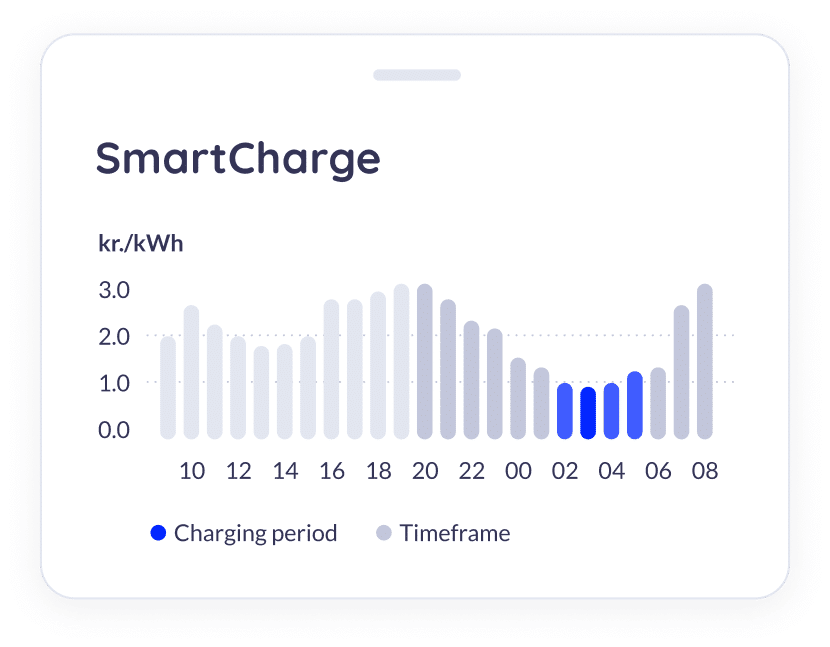 Earn charging credits with PowerBank
Monta's PowerBank has the ability to pause ongoing charges temporarily in the event of an imbalanced electrical grid, which can help prevent blackouts. As a result, you may receive credit in your Monta Wallet depending on the amount of electricity used to charge your EV.
This service is currently only available in Denmark and Sweden, but will soon be available in other European countries.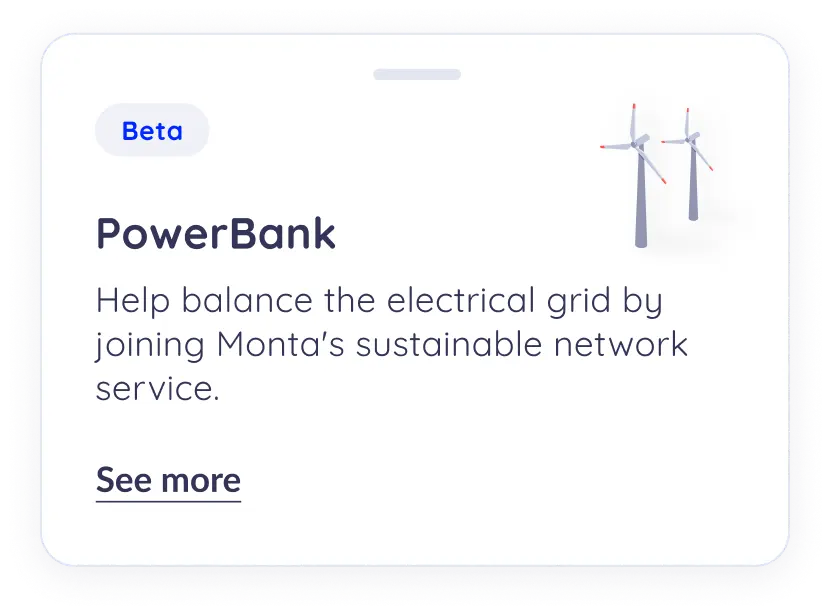 Usage & Consumption
You can specify your electricity price according to your electricity bill to see the exact spend when charging at home.
Get full insights into your consumption and the costs of charging - both at home and when using public charge points - in order to help you through the energy crisis and improve your charging habits.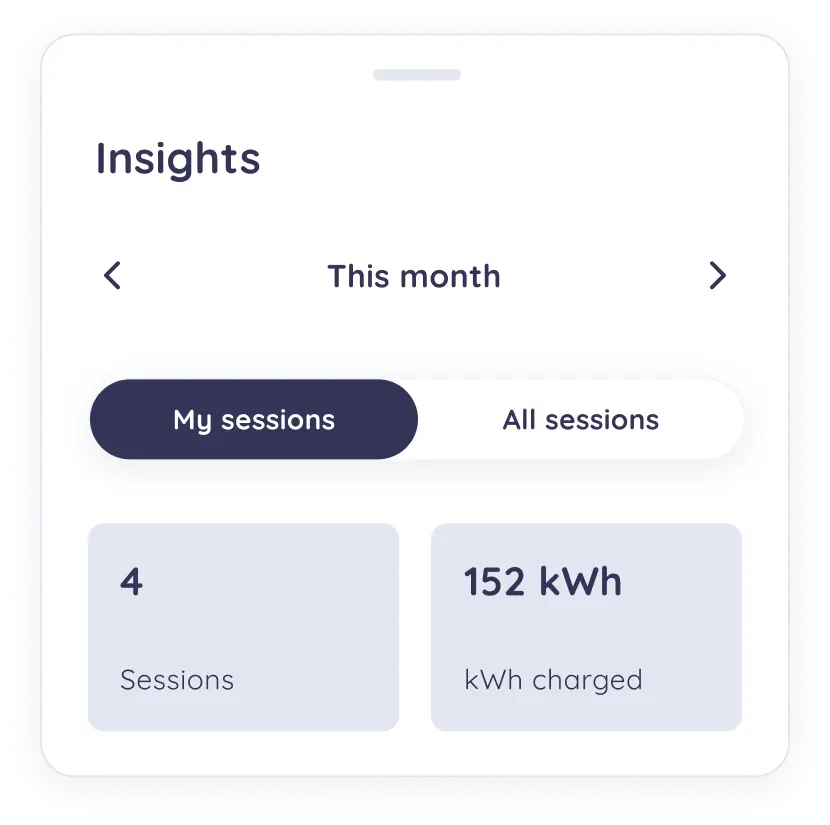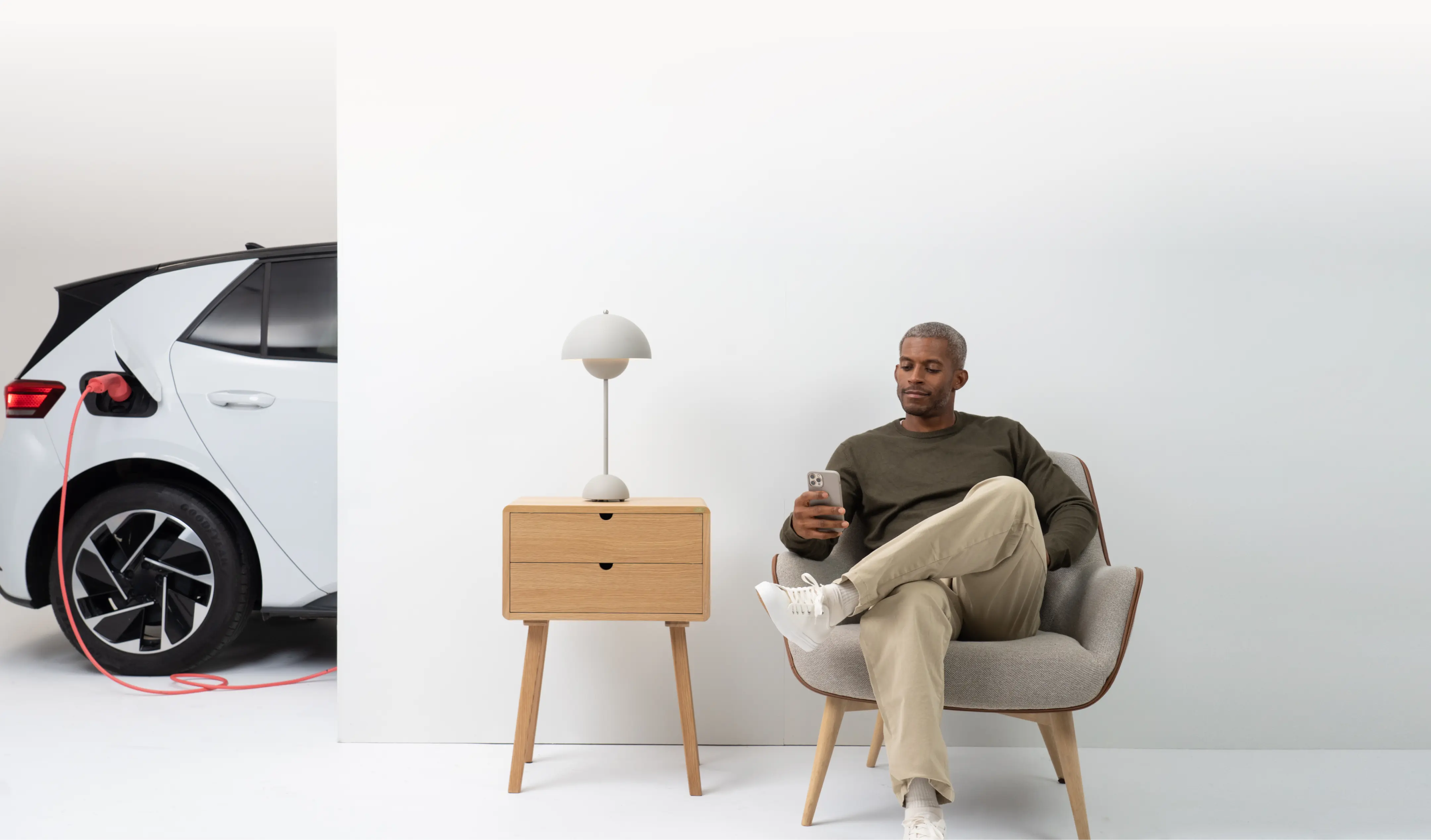 Made for
busy lifestyles
EV charging has never been easier with Monta - from Auto-start charge to multiple payment options, Monta simplifies the charging process so you can charge with confidence no matter how busy your lifestyle is.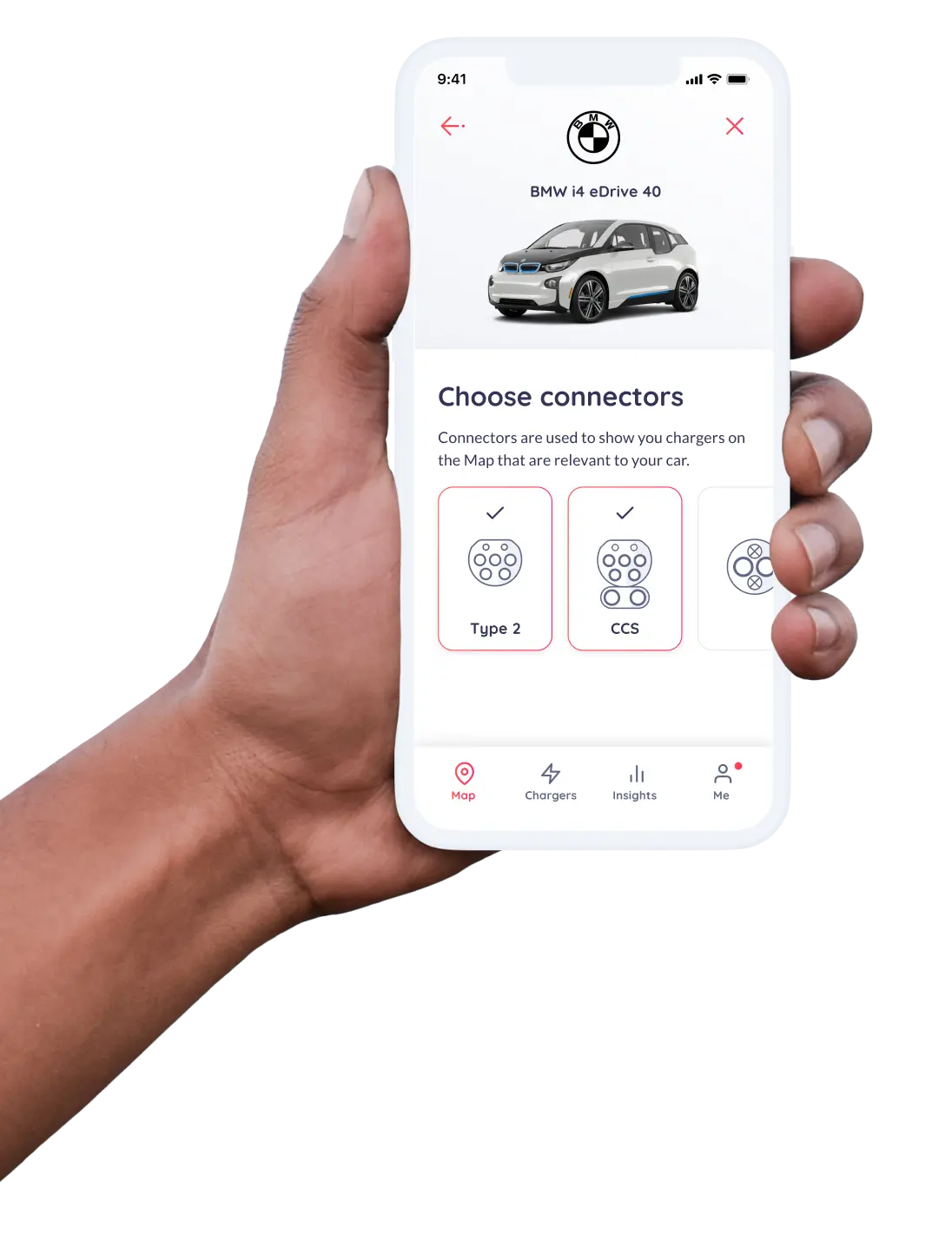 Car integration
Integrate your car with Monta to unlock new features that make charging at home convenient, easy, and automated.

Get insights into the state of a charge, scheduled charges, charging rates and statistics, plus much more.

Auto-start charge
Charge effortlessly with Auto-Start charge. Just plug in your car and it will automatically start charging with the exact amount of power needed, at your preferred time - without needing to use Monta.
Multiple payment methods
You and anyone using your charger can pay via card, Apple Pay, Google Pay, charge keys, payment terminals, and multiple mobile payment apps.
Charge keys
Add an RFID charge key to your Wallet to enjoy a tap-and-go charging process.
Your charger, your rules
With Monta, you can make sure your home charger is only for the people you choose. With customisable access and pricing, you can share your charger in a way that's right for you and your loved ones.
Customise accessibility and pricing
You have the freedom to choose who can access your charger (such as members of your household or the general public), as well as the price and time restrictions for that access (for example, certain times of day or specific days of the week).

Add users to your charger
Give your family, friends, or neighbours access to your charger by sending them an invitation link.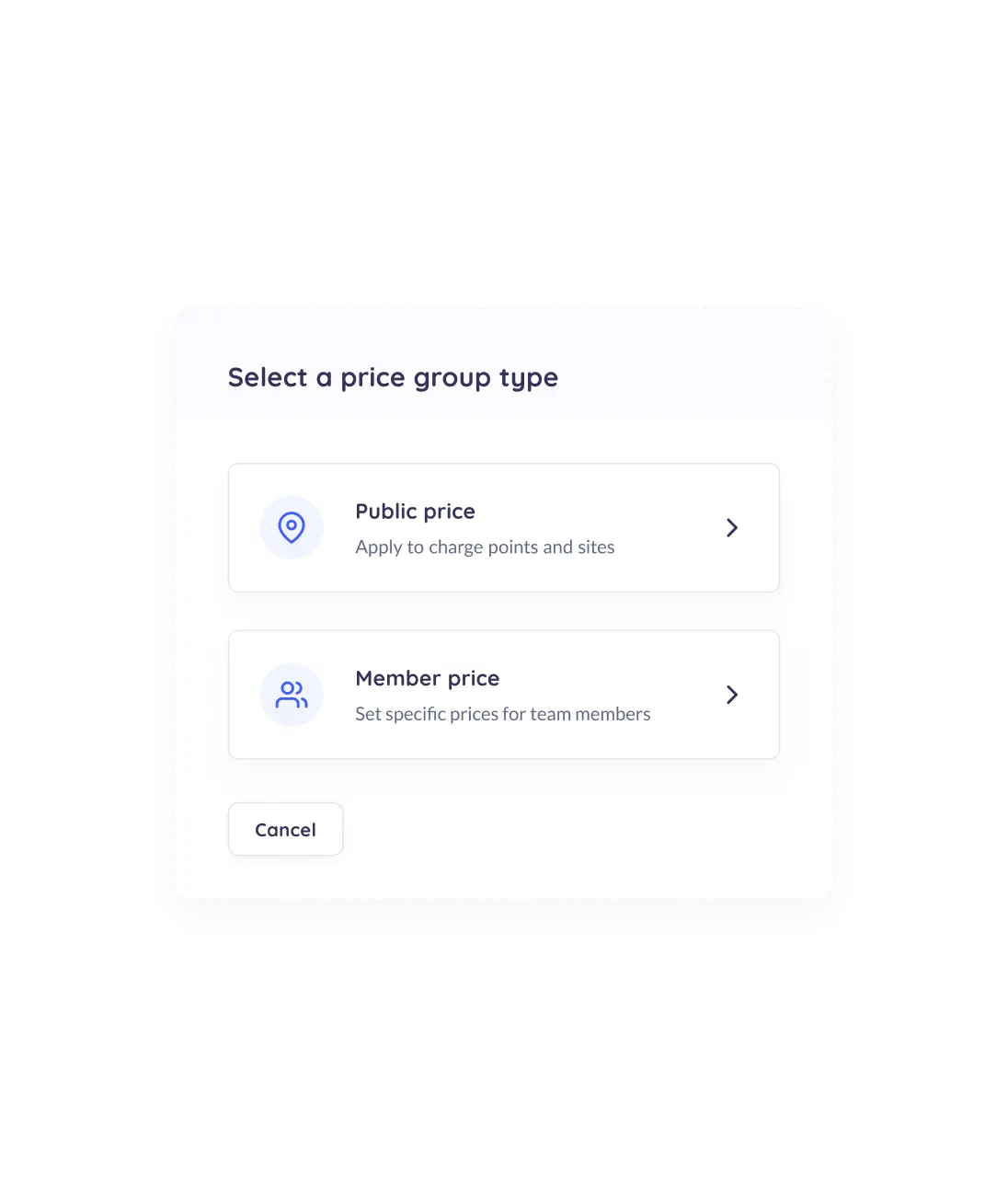 Get support around the clock
Choose how you want us to support you.
We always let you know when there are any incidents you should know of in advance.
Help Center
Get free self-help material via the Help center.
24/7 Customer support
Reach out to us 24/7 through either email or chat.
Helpful guides and tips
The Monta Help Center is a valuable resource for EV drivers looking to charge with Monta. There you can access guides on how to set up your charger, understand features, and troubleshoot issues. By helping yourself first, you'll be able to get the answers you need faster and more conveniently. Check it out to stay informed and make the most out of your EV driving experience.

Visit the Help Center
Connecting the dots with Monta
One app to do it all
Manage and customise access to your charger and track costs and insights for a better home-charging experience.
Manage 3 charge points for free
Our Basic plan allows you to manage up to 3 charge points free of charge.
Easy as 1, 2, 3
Set the charging price and give friends and neighbours access to your charger.
Never worry about an uncharged car
Monta's self-healing algorithm and 97% successful charging rate guarantee your EV will always be charged and ready.
Get your charge points live in under 2 minutes
The fastest way to set up any charger.
Stay future-proof
We're always on top of new industry regulations and offer features others haven't even thought of yet.