PowerBank
Supporting grid stability has never been this rewarding.

Register your charge point now through our app or portal and start earning credits in December.
What is
PowerBank

?

PowerBank is the first step towards a more sustainable and developed grid. It is Monta's preventative solution that detects imbalances in the electrical grid and briefly pauses current charging sessions to prevent blackouts.

With PowerBank, charge point owners are helping their community by preventing blackouts and earning Monta Wallet credits as a reward. It's a smart way to keep the electricity flowing smoothly while supporting the transition to EVs.
The problem

Electricity consumption is vital for our daily activities, from powering our homes and offices to operating our cars. However, several factors can create imbalances in the electrical grid, potentially leading to blackouts or outages.

Outdated grid infrastructure

The current electricity grid was built many years ago and is struggling to keep up with the increasing electricity demand.

Fluctuations in energy demand

Unexpected spikes can overload the system, leading to blackouts, whereas excess energy can be wasted without proper storage capability during low demand.

Availability of traditional energy resources

When there is a shortage of traditional energy sources, power plants may be forced to scale back or shut down, leading to a strain on the grid and potential energy shortages.

Unstable renewable energy supply

The unpredictable nature of renewable energy sources like solar and wind power has made electricity generation more volatile.

This combination of factors, along with overconsumption, significantly raises the risk of sudden outages and blackouts that can impact large areas in a matter of seconds.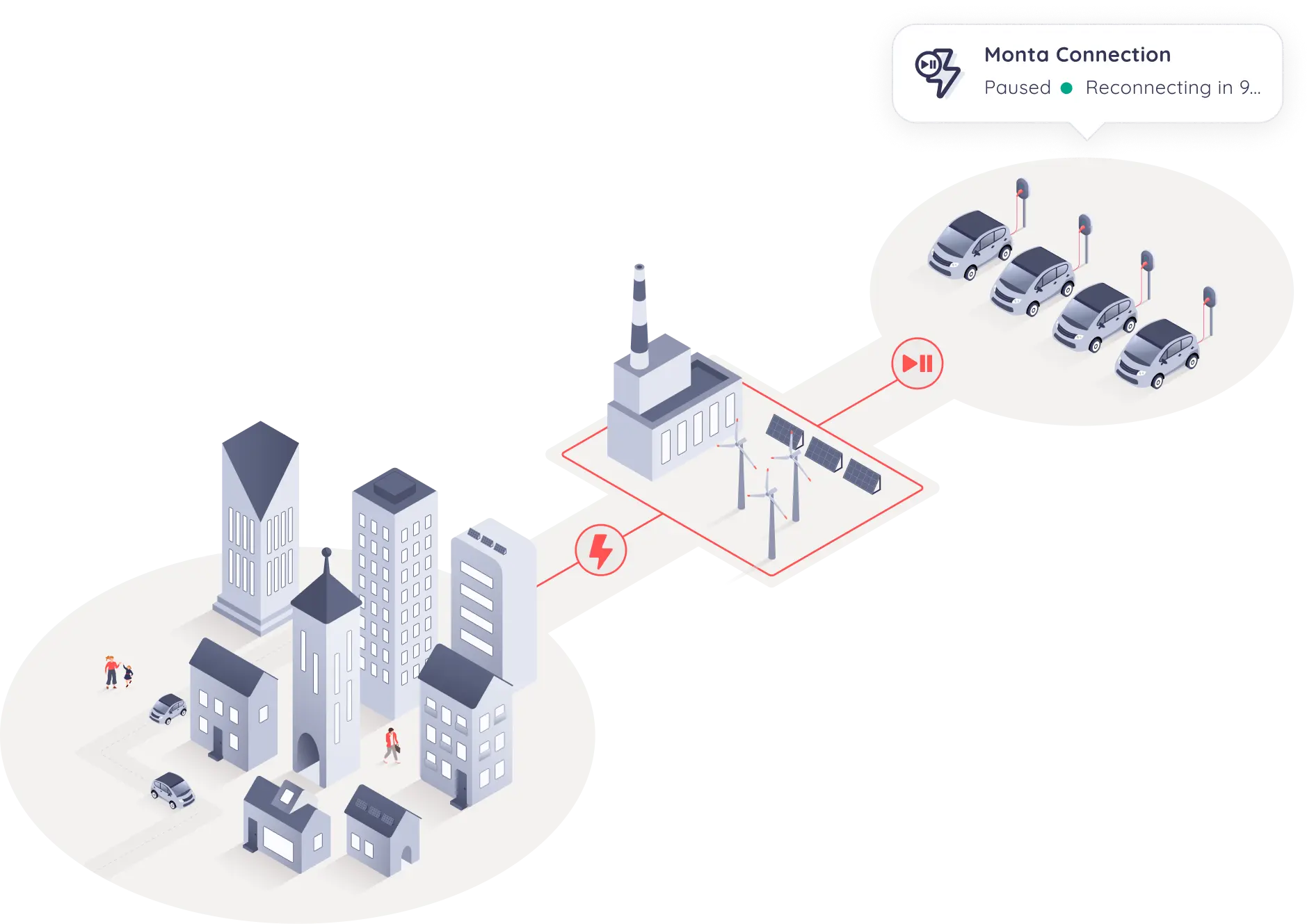 What is Monta's solution?

PowerBank connects multiple charge points to the grid system, allowing Monta to manage charging activities by briefly pausing and resuming EV charging in response to grid imbalances. This way, PowerBank helps distribute and alleviate stress caused by the fluctuating production and high consumption of electricity, preventing power outages.

Find out how the PowerBank beta program went in Denmark and Sweden
here
.
What can PowerBank do for you?
Monta's PowerBank lets you be part of the solution for a more sustainable and developed grid while earning Monta credits along the way. All you have to do is allow Monta to briefly pause and then restart charging sessions on your charge point when the grid is going through an unstable moment. As simple as that.

Contribute to a sustainable electrical grid

With PowerBank integrated into your charge points, you create a resilient energy grid, mitigate potential blackouts, and support grid stability.

Earn Monta Wallet credits

You earn Monta credits for each kWh charged. You can earn up to 5 EUR a month per charge point in Monta Wallet credits. Earnings vary based on the market's electricity price and are received after each charge. The credits can be used for charging in Monta's Roaming network, paying subscriptions, or purchasing items such as SIM cards, QR stickers, RFID cards, and more in the Monta Shop.

Want to be one of the first to
try out PowerBank?

PowerBank will be live in December, so don't miss your chance to be one of the early users in the UK and Ireland. You can already sign up your charge points through the app or portal!

FAQ
Do I have to pay for PowerBank?

PowerBank, like any other Monta feature, is free and subscription-free. You will need to simply opt in to access PowerBank and start helping to balance out the grid.

For how long will my charge be paused?

The duration of the pause is difficult to estimate and can vary depending on grid conditions. The pause will not affect the overall charging experience of the vehicles using your charge points - charging will simply be delayed temporarily until the grid imbalance is resolved.

Why are we doing this?

It is Monta's constant goal to future-proof the EV ecosystem. With increasing volatility and unpredictability in electricity generation and consumption, there is an increased possibility of blackouts or outages that can affect the lives of many.

Monta's solution to the issue of power outages is simple: detect the imbalance of the grid, temporarily pause your ongoing charge, and we can all prevent blackouts.

How does PowerBank benefit me?

By welcoming you as a user of PowerBank, Monta is empowering you to be part of the solution to your country's energy problems by allowing us to pause and restart the charging of electric vehicles when the grid needs it most.

In exchange, you can receive Monta Wallet credits, depending on the amount of electricity used for EV charging.

Is PowerBank available for every charge point?

In the UK, there are two types of grid services: slow and fast. All charge points are capable of supporting the slow services by scheduling charges outside of peak hours. For fast services that require quick pauses, please check the compatibility of your charge point
here
. We are actively collaborating with our hardware manufacturing partners to ensure compatibility across all charge point models.
Does PowerBank work everywhere?

We are currently working on enabling PowerBank in different locations. As of today, it is available in East Denmark and Sweden and will be soon launched in the UK and Ireland.

Power up today, unlock rewards tomorrow, and support a more sustainable future.