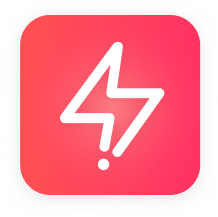 In-Between Charges
The perfect podcast to listen to while waiting for your EV to charge, hosted by Mike Hawkes and Kevin Spangenberg from Monta.

Listen here
Listen for free wherever you get your podcasts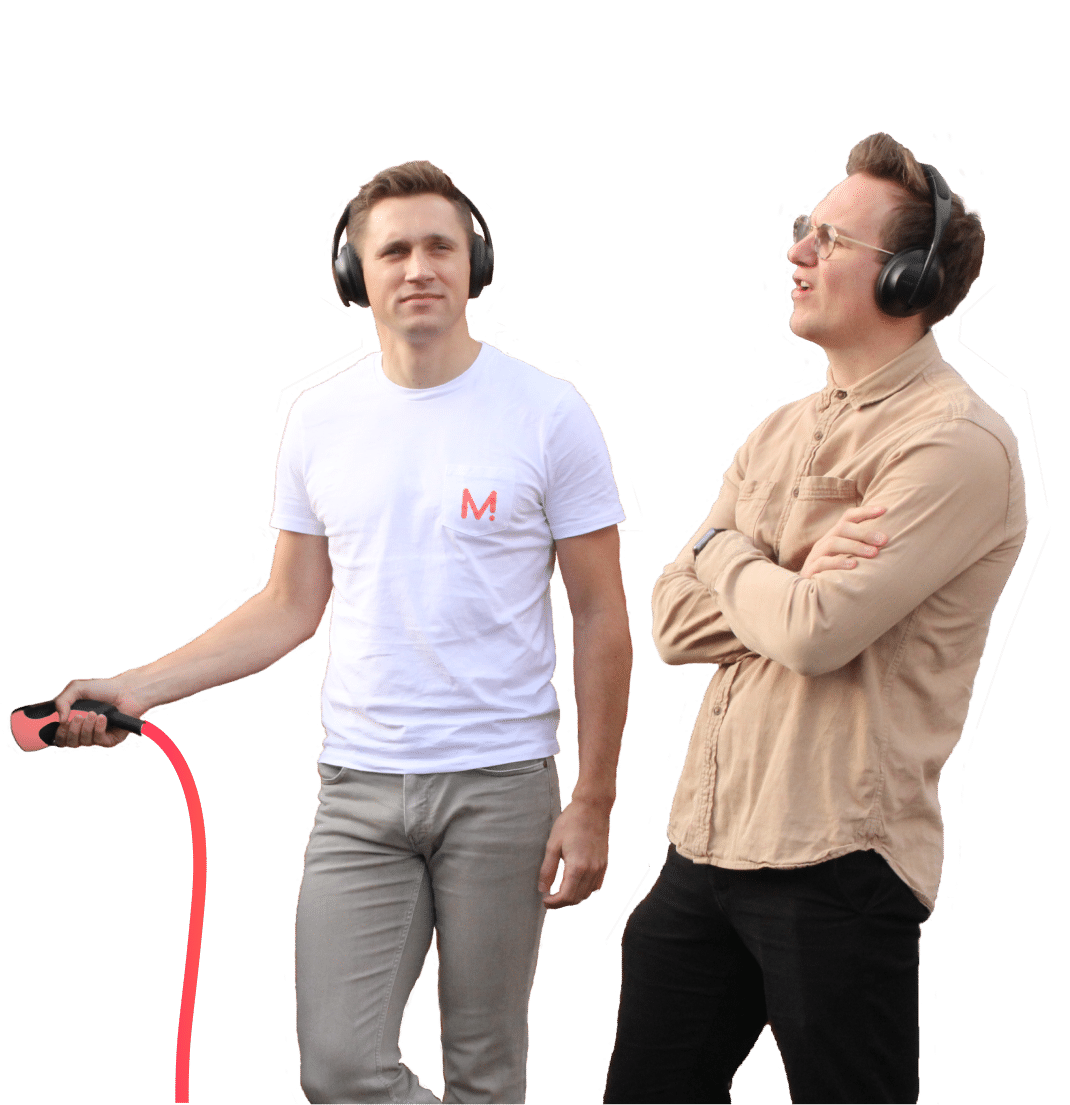 Charge up with the
latest episode
Mike and Kevin bring you all the information about what happens in between charges, behind your charge points and behind the scenes of the EV ecosystem. Hear from leaders and experts in the EV and transportation industry who will discuss the hottest topics around EV's and EV charging.


All
episodes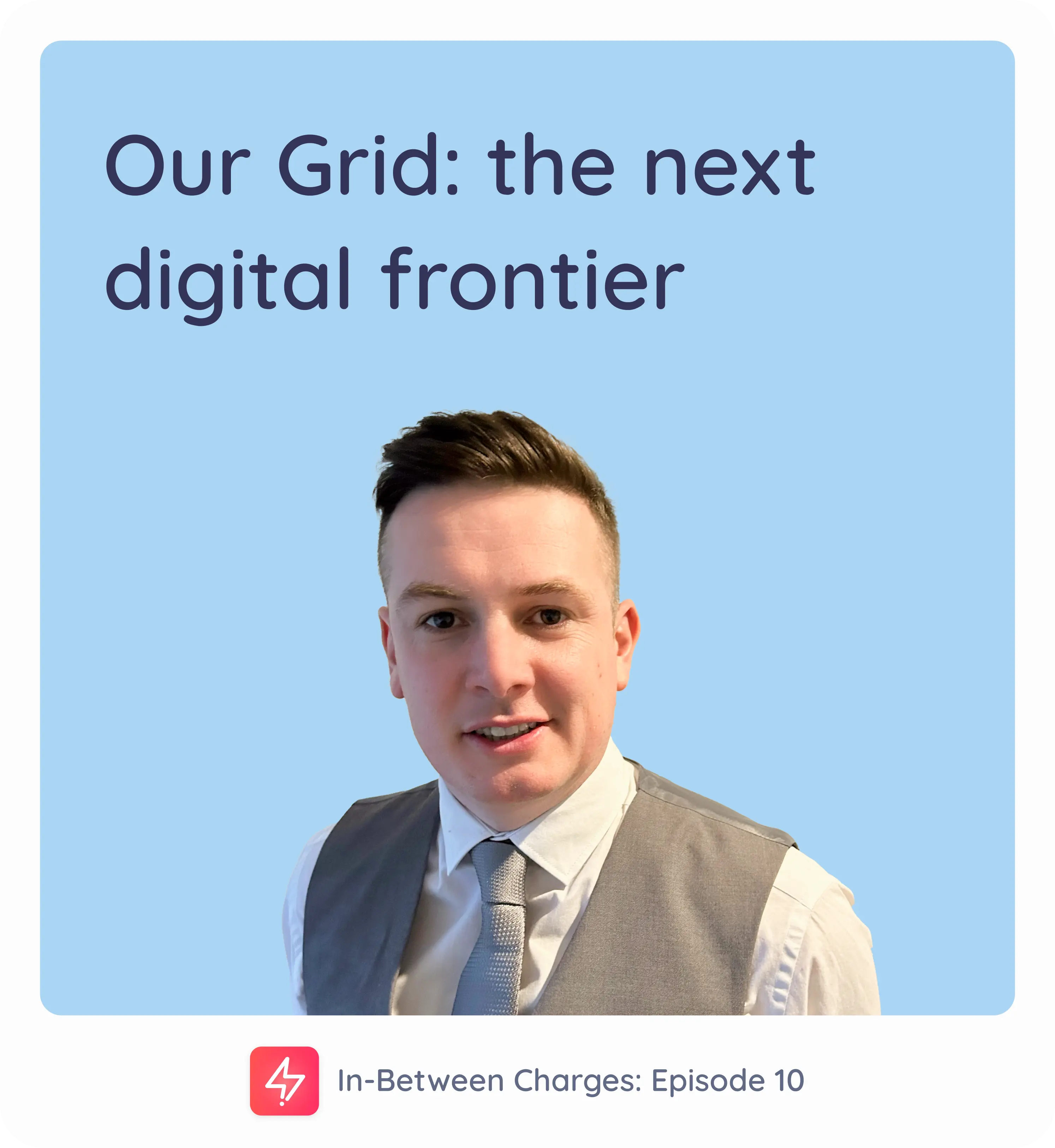 Episode 10:
Our Grid:
the next digital frontier,
with Michael Kent from GridBeyond
On the last episode of season 1, Mike and Kevin uncover a hidden gem from the largest machine that man ever made: grid service schemes.

You might be asking, what on earth are these schemes? In short, they make the grid more sustainable by providing flexibility in the amount of assets that can help support it, opening up new opportunities for businesses to make a profit. In long, listen to the episode ;)

With the help of Michael Kent from flexibility service provider GridBeyond, we explore a series of new tools that have come up during this stage 2 of the electrification revolution. Michael, as Head of EV solutions, is responsible for the growth strategy and deployment of EV related solutions for grid and flexibility services. From connections to charging, infrastructure, aggregation, and energy market access, the list goes on.

Come with us and learn more about the ABCs of grid services for businesses, go through the different stages of the electrification transition, get an intro to V2G and where that service is going to, a peek into the American grid, and the importance of B2B collaboration in the electrification and EV space.

And stay till the end to learn more about season 2!

Read more
Episode 9:
Charging up that hill: Strange things are happening in the EU.
With Lucie Mattera from ChargeUp Europe.
This episode has another knowledgeable and influential guest joining the conversation! We sat down with Lucie Mattera. Lucie is the Secretary General of ChargeUp Europe, a trade association that represents the interests of the EV charging industry in front of the European Commission, and is responsible for publishing the yearly State of the Industry report.

Between the State of the Industry report and the long-time coming Alternative Fuels Infrastructure Regulations (AFIR), there's a lot to unpack when it comes to EV charging regulations in Europe, standards and frameworks that different countries have adopted and lessons learned from these. Lucie runs us through some of the latest highlights from the report (did you know that even if the EU reaches their target goal of EVs on the roads, the total demand on the electricity grid would be only 4%?), how different counties are preparing to face AFIR, and even different pricing strategies and how that affects an open market policy.

Join Mike and Kevin as they sit down with Lucie and listen to them break down the twists and turns of EV charging in Europe, run us through how EU standards are set and best practices, and discuss whether there should be a right to charge (or is that Kevin's American spirit coming through?).

Read more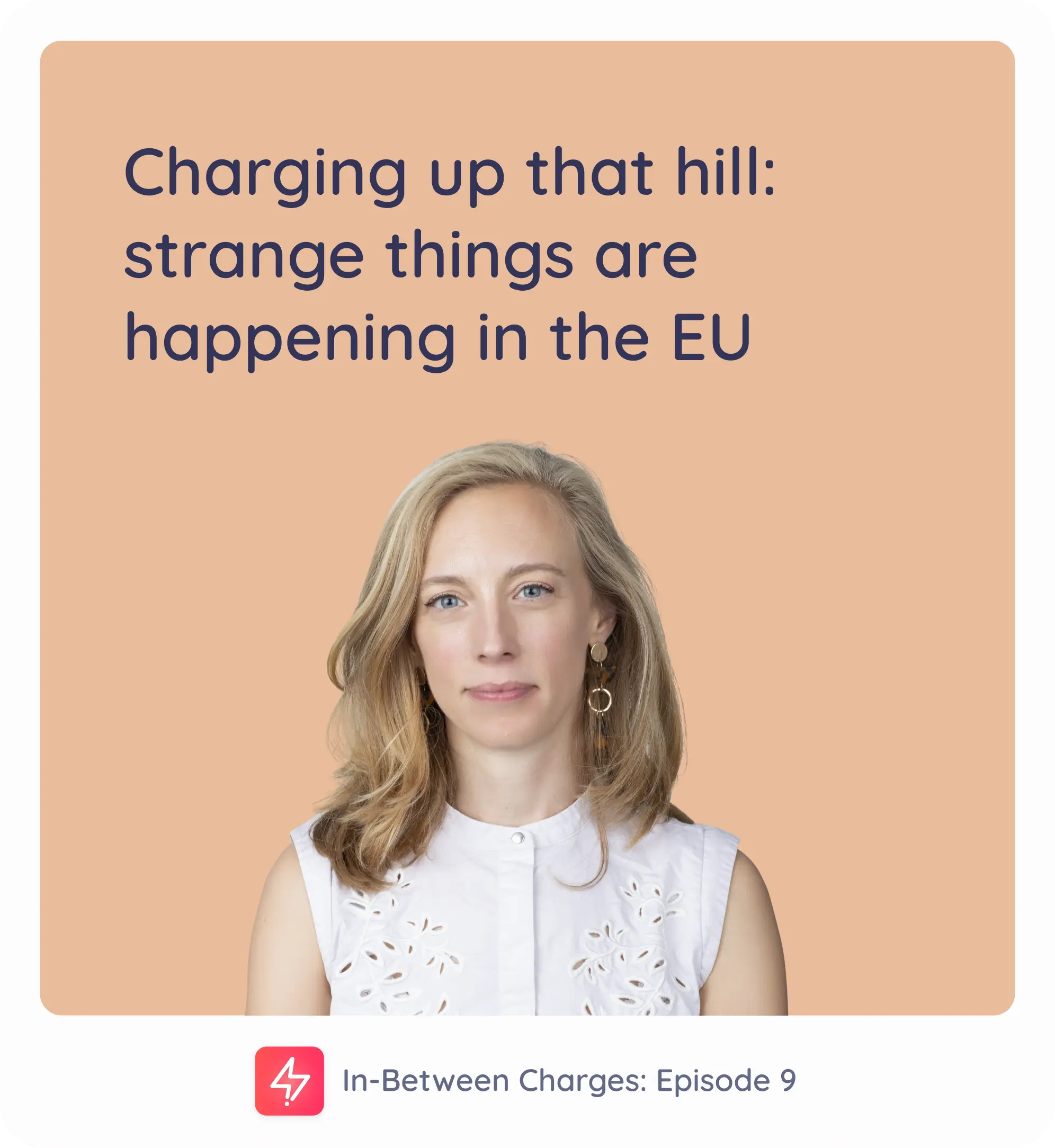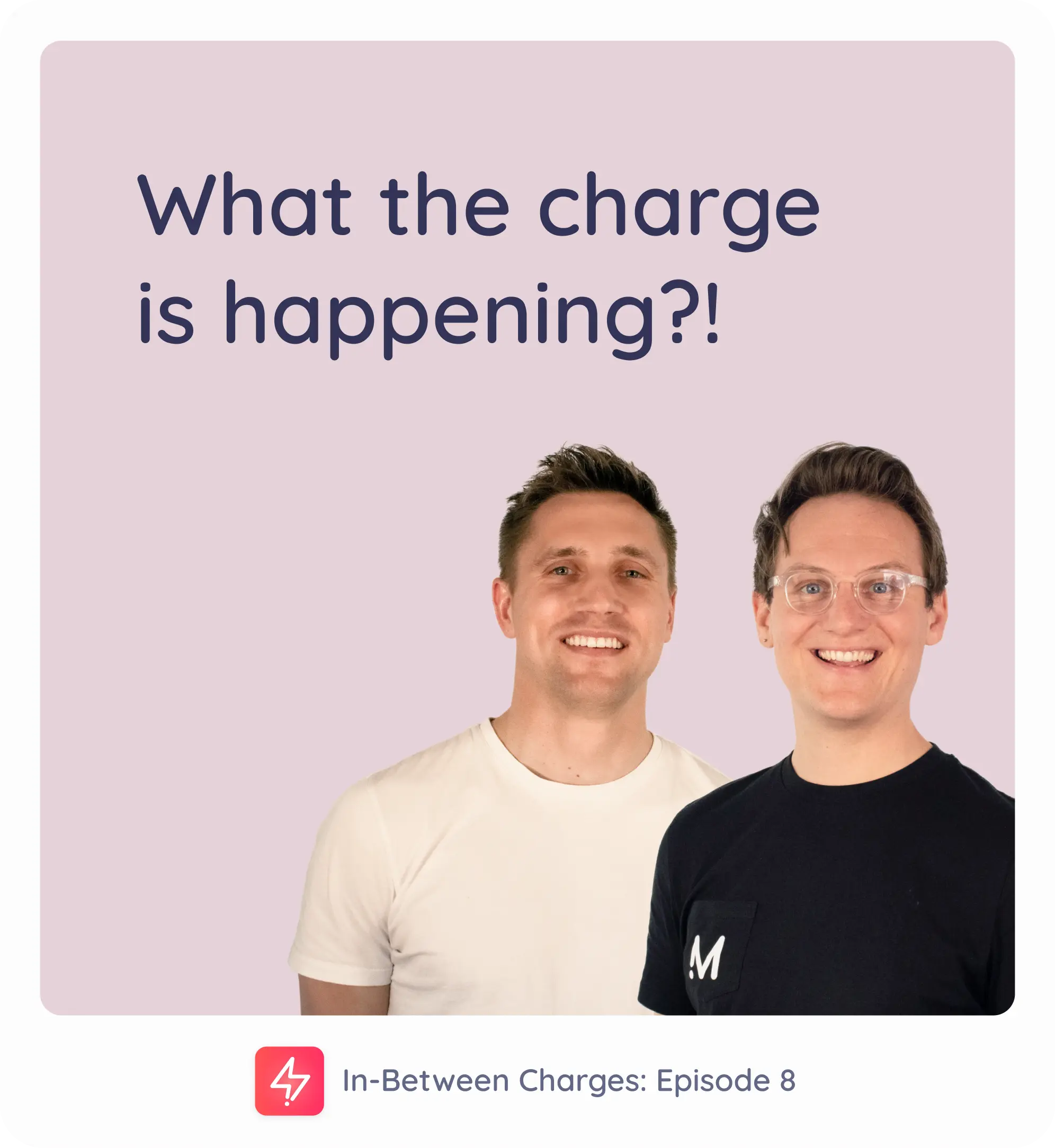 Episode 8:
Explain to me:

transition to EVs, range anxiety, grid connections and more.
There is no special guest on the show this month, but don't despair! More EV industry info and news are coming your way. Our hosts Mike and Kevin crowdsourced some listener questions and they are here to give you the answers.

Is range anxiety real? Aren't EV batteries really resource heavy?? Why is there such a disparity in EV adoption between the U.S. and Europe?!! We've got you covered.

Get to know the hosts better and learn about the industry mysteries and misconceptions on the latest episode of In Between Charges.

And if you think your CPO business name would be even better, let us know!

If you wish to jump to a specific episode section, here is the breakdown:

0:54 - What are some of the biggest risks to widespread EV adoption?
3:23 - Why is there such a disparity in EV adoption between the USA and Europe?
6:55 - What are some tips to make the switch from ICE cars to EVs?
9:27 - Aren't EV batteries really resource heavy?
14:22 - What are all these grid connection problems and how do they impact charging infrastructure?
20:28 - What is range anxiety and is it real?
23:41 - What are the main differences between the charging experience today and 5 years from now?
26:19 - If you could fix one thing from the EV industry by swinging your magic wand, what would it be and why?
27:55 - What is one of the gnarliest CP installs you've seen?
30:26 - If you were to start your own CPO business, what would it be called and why?

Read more
Episode 7:
Elon Musk, China and EVs.

With Benny Engelbrech (Former Danish Minister of Transport).
Denmark, like the rest of Scandinavia, is a nation at the forefront of the transition to electrification and e-mobility in Europe and the world. From public transport fleets to taxation plans for CO2, for years, Denmark has been implementing an extensive list of policies that promote an electric and sustainable lifestyle from the top down.

Different departments and leaders in Denmark have taken decisions to put the country in the place it is right now. One of these leaders in the race to net zero is our guest of the day - Benny Engelbrecht, Denmark's former Minister of Transport.

Benny has been in the room, leading and making these decisions. He talks to us about the taxation strategy and structures he put in place to push Danes towards EVs, why Elon Musk is the last person that should complain about government incentives, why Chinese batteries are not actually sustainable and what Europe should do about it. And a whole lot more.

Read more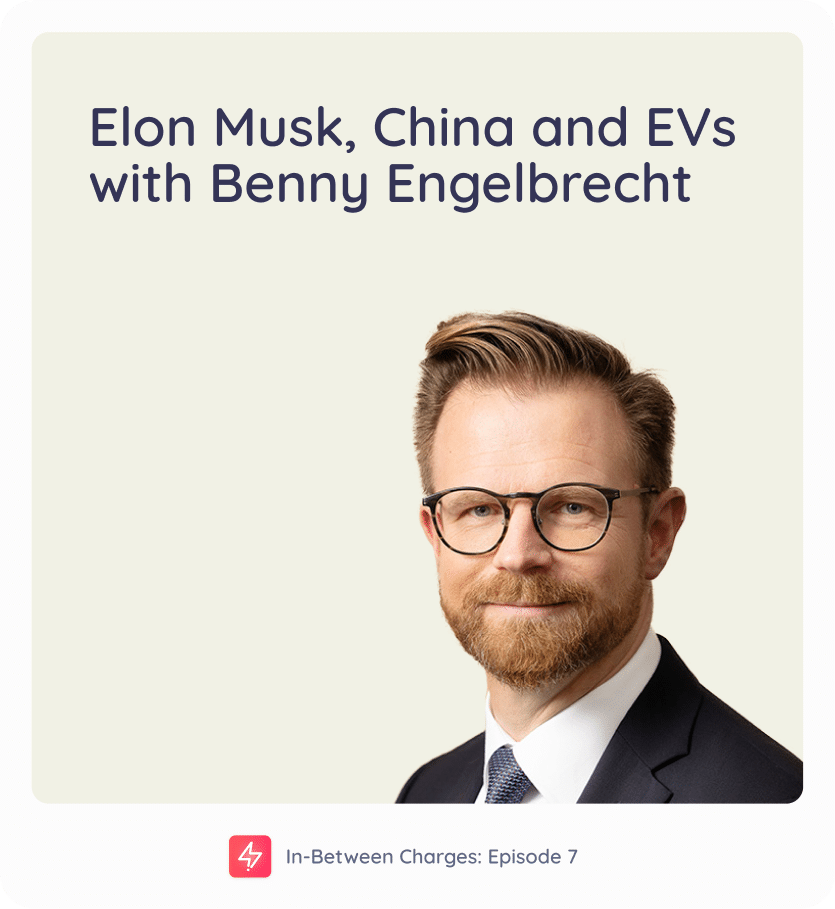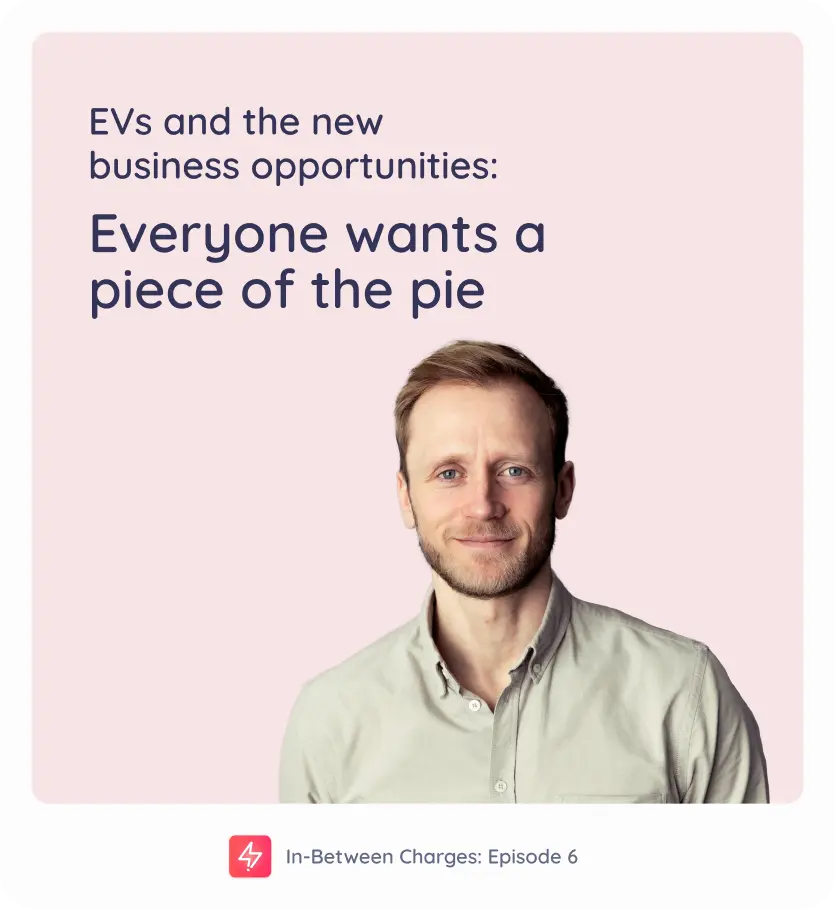 Episode 6:
EVs and the new business opportunities: everyone wants a piece of the pie.
With Henrik Langeland from Enode.
The role of electric vehicles in a cleaner future is undeniable. Their widespread adoption will lead to cleaner transportation methods and improvements in our air quality, especially in densely populated areas, where dependency on fossil fuels in transportation makes up a significant proportion of all CO emissions.

EVs open up a whole world of opportunities for how we consume, produce and interact with the energy market. The reason for those opportunities is the technology that EVs come equipped with. These new electrified platforms let designers and engineers re-think the design of the car and how consumers fuel and interact with their vehicles and their homes.

So today, we are joined by Henrik Langeland, the CEO and co-founder of Enode. He will give us a rundown of the current status for transport electrification, the hurdles to reach mass consumption, the role utility companies might play, and Enode's role in connecting all players involved.

Read more
Episode 5:
AFIR not, EV charging help is on the way.
With Aaron Fishbone (Special episode).
The need to quickly roll out EV charging infrastructure is a central topic across the EV industry - some say there's not enough, some say it needs to be more standardised, and some spend their days discussing how exactly to make EV charging a premium business and provide a great user experience.

Important discussions are taking place at the highest level of multinational organisations and governments, and soon we'll witness the final outcome around the alternative fuels infrastructure regulations, also known as AFIR. This regulation will mandate country by country commitments to installing public chargers giving CPOs and EV drivers clarity about what the charging experience must look like in the coming years...

Today we are joined by Aaron Fishbone. Aaron is the Director of Public Policy at Greenway, and the communications chair at Charge Up Europe. He will share with us his knowledge on the upcoming regulations, the priorities of a major charge point operator, and how to deliver the best experience at a public charge point.

Read more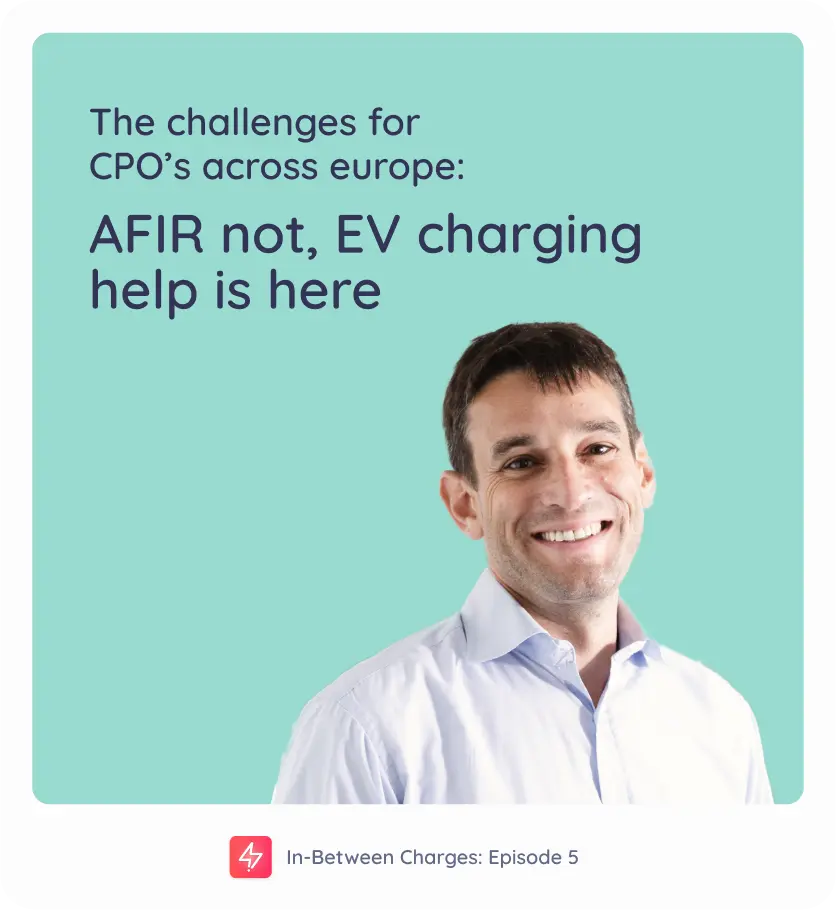 "We face these challenges because we are not yet a digital-first industry. The way it all started was completely the opposite. And now we need to become highly digital."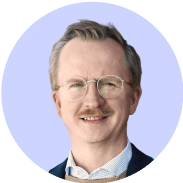 Christian Hahn
CEO, Hubject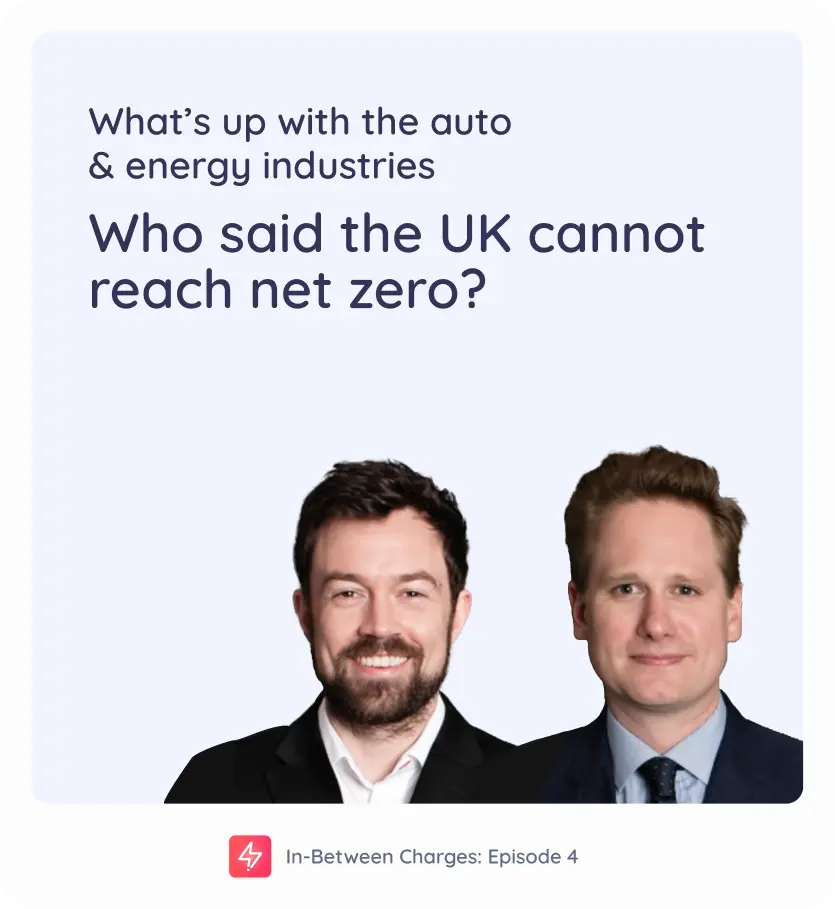 Episode 4:
Who said the UK cannot reach net zero?
With Joshua Partridge and George Mason from Bird & Bird.
In today's episode we dove into the impact of global net zero emission targets on two of the largest, and arguably most significant, industries in the race to net-zero: the automotive and energy industries.

We are focusing on the UK and discussing the contrasts to Europe to understand how both regions are faring, and what strategies they're employing to protect, transform and innovate in the face of challenging but necessary sustainability goals.

To do so we're joined by industry experts from Bird & Bird George Mason and Joshua Partridge. They'll be giving us some insight into new sustainability regulations in the automotive sector with a focus on the ZEV mandates, and a peak into the latest developments in the energy sector in the UK.

Read more
Episode 3:
EV roaming: The digital scale required.

With Christian Hahn from Hubject.
The new year is here and with it, Mike and Kevin are excited to chat about one of e-mobility's most misunderstood elements: roaming.

While the word "roaming" may bring to mind an exorbitant cell phone bill from that holiday abroad, in the EV industry, roaming means something different. It drives the electric mobility revolution forward by making charge points from different networks available to all EV drivers - no matter what app they use. Or at least, that's the ultimate goal. But there remains a lot of work to be done until we have a truly accessible and interoperable network of charge points throughout Europe.

Today they had Hubject's CEO Christian Hahn on the show. As the leader of Europe's largest roaming platform, Christian shares with us some industry insights and challenges, including how many solution providers don't yet see the benefit of opening their charging networks, how a lack of international standards can create headaches for your everyday EV driver and business owners alike, and the many misconceptions around why roaming is a critical component to widespread EV adoption.

Read more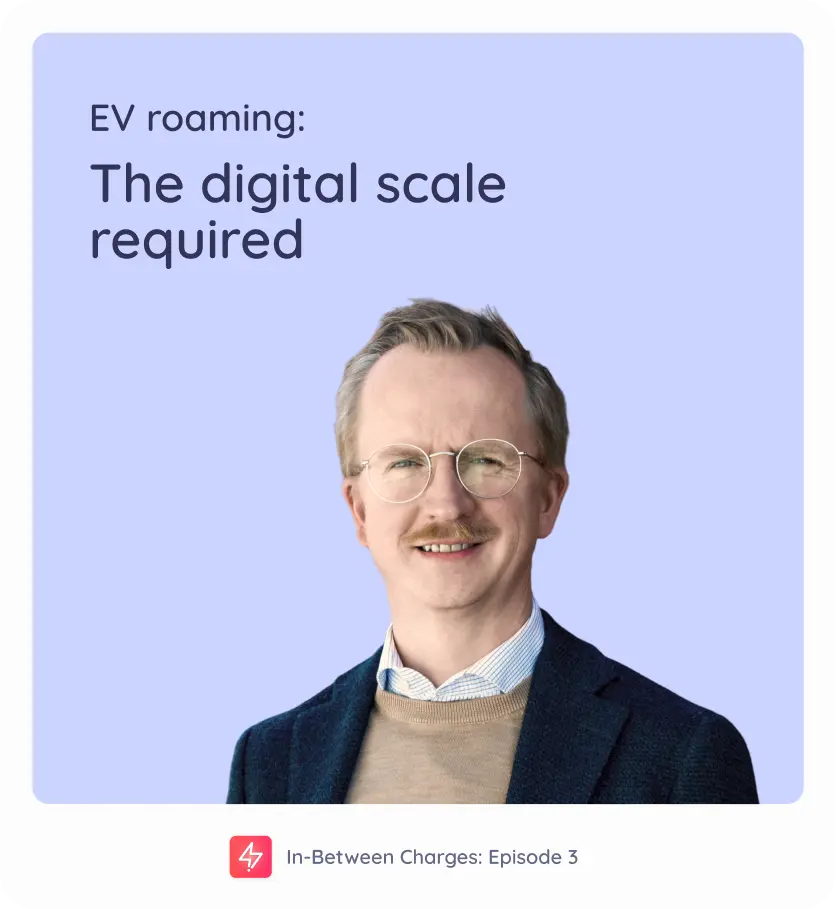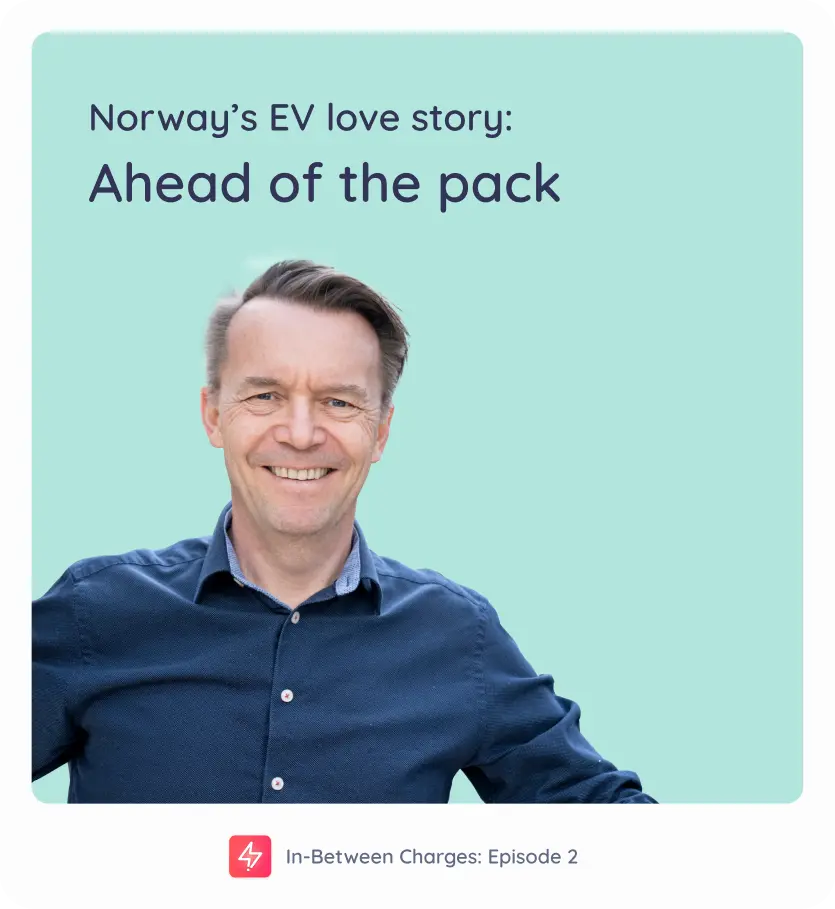 Episode 2:
Norway's EV love story.

With Jan Tore Gjørby.
Mike and Kevin take a trip up north to uncover the secrets of the EV capital of the world: Norway. Norway is head and shoulders above every other country when it comes to EV adoption, with over 90% of new vehicle sales being EVs

From removing those notoriously high Scandinavian vehicle taxes to purchase incentives, along with charge plug standardization and the promotion of charging infrastructure in even the most remote areas in the country Norway is doing - and has been doing - a little bit of everything to promote EV adoption.

Today they are joined by Norwegian EV expert and advisor for charging and battery technology, Jan Tore Gjøby. Jan breaks down the history of EVs in Norway, and explains how exactly these new technologies are able to thrive in some of the harshest weather conditions in the Nordics.

Read more
Episode 1:
Grid Expansion.

With Christoffer Greisen.
In this episode, we'll unpack how the grid - an infrastructure that took almost 150 years to build - has to be transformed and in many cases even rebuilt from the ground up to accommodate for the electrical revolution of large scale industries including transportation.

The kicker? This transformation needs to happen NOW. Is this even possible?

We brought in Christoffer Greaisen from Hybrid Greentech to answer this question and more! He'll help us understand the advent of new software, new storage technologies, next-gen tech, and all the nuances of the grid that will react and interact with the electric revolution.

Read more