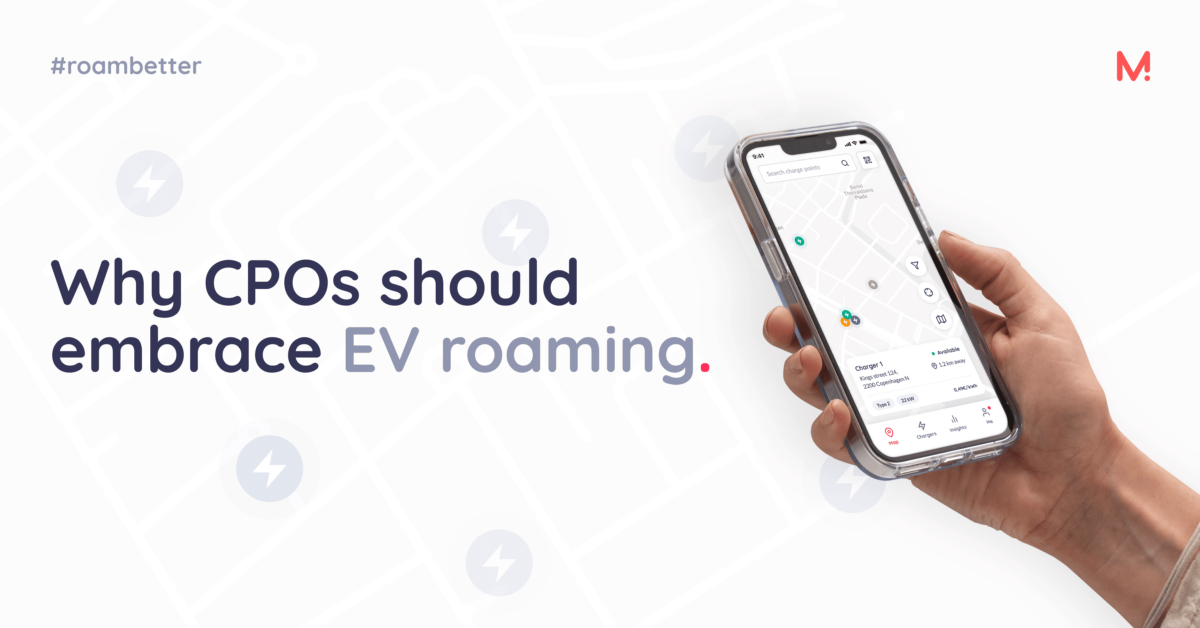 There are many factors highlighting the role of CPOs within the EV ecosystem. First of all, it's crucial for them to be ahead of the curve! That means becoming a roaming player, not just growing your home network. In today's competitive environment, CPOs can't afford to miss an opportunity to establish partnerships with other EV charging networks and increase their clients' options. By providing their clients with the possibility to charge across multiple networks, they get a bigger market. This means a higher ROI.
What is EV roaming?
You may remember the days of paying large fees on your cell phone bill after an international trip, when you "roamed" on another country's network. This principle is largely how roaming works in EV charging but without the hefty bills.
In the EV charging industry, roaming refers to the ability for EV drivers to charge their vehicles on the road at any charging station, in any country, regardless of the network those charge points belong to, using a single app, account, or payment method. This allows EV drivers to travel freely and have access to charging services at different locations without having to sign up for multiple charging networks or carry multiple cards or payment methods.
Why is roaming important for the EV infrastructure?
Expanding and investing in EV charging roaming networks is an essential step meant to overcome one of the biggest challenges faced by EV drivers today: the lack of a seamless and standardised charging infrastructure.
With EV charging, roaming drivers are no longer restricted to charging their vehicles at charging stations belonging to a specific network, but instead, have access to a network of charging stations that they can use with a single account or payment method. This means that EV drivers can travel and charge their vehicles with confidence, knowing that they can access charging services at any charging station without having to worry about compatibility, subscriptions, or membership issues. This is particularly useful for long-distance travel, where charging networks may vary between regions or countries.
By providing a seamless and standardised charging experience, EV roaming helps to remove some of the barriers that have been limiting the growth of electric vehicles and makes it easier for people to make the switch to EVs.
Why should CPOs be at the forefront of the EV roaming revolution?
In order to grow and develop the electric vehicle charging infrastructure, Charge Point Operators (CPOs) must be at the forefront of the EV roaming revolution. As CPOs are responsible for owning, managing and operating charging stations, they have the ability to shape the charging experience for EV drivers, making it more convenient, accessible and affordable. By embracing EV roaming, CPOs can increase the visibility and accessibility of their charging stations to a wider audience, attracting more EV drivers to their network and boosting the utilisation of their charging assets.

As a Charge Point Operator (CPO), it's crucial to stay ahead of the curve in an ever-evolving industry. By joining Monta's roaming network, CPOs can experience increased utilisation of their charging points, physical footfall at their location, and a higher potential for cross-sales. With Monta, CPOs gain valuable insights to make informed decisions on how to optimise their charging infrastructure and attract more EV drivers.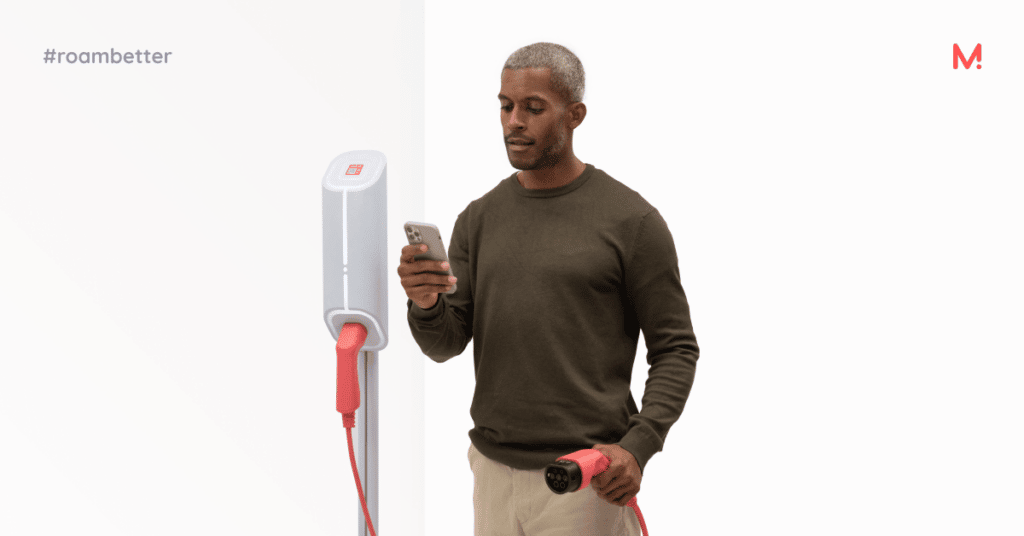 Integrating your charge points into a centralized roaming network
In creating a roaming network, multiple providers work together to achieve "interoperability," which involves the sharing of information between providers through EV roaming platforms. This is made possible through operators signing roaming agreements, which allow users to charge and pay at any public charge points.
Roaming networks are multi-layered, and at Monta, we collaborate with three different types of roaming partners:
CPO Partners: These are operators who have signed up to our Charge Point Management System (CPMS) and enabled their charge points for roaming. This partnership is beneficial to Monta as we have full technical control, allowing us to provide better features, quality, and coverage.
OCPI Partners: These are operators who are not using our CPMS but have made a bilateral agreement and integrated directly via OCPI, a protocol that enables a connection between CPOs and EMPs. It's worth noting that Monta can act as both a CPO and an EMP.
Roaming hubs: These are platforms such as Hubject or Gireve that allow their members to access various e-mobility partners (EMPs). These hubs create a centralized roaming network that is open to all members, enabling us to have access to more than 300,000 charge points around Europe.
Our CPMS integrates into directory services such as Google Maps and Apple Maps, and we also collaborate with partners who provide us access to these services. We recently signed a partnership with Cirrantic, who will be providing us with access to OEMs, enabling us to display our CPO's charge points in a range of different car brands.
Boost your charging point utilisation and revenue with Monta
The Monta roaming network is the fastest-growing community of EV drivers in Europe, offering CPOs and OCPI partners unique opportunities to tap into this growing market and increase their revenue streams.
One of the significant benefits of joining the Monta roaming network is the increased utilisation of your existing charging points. As a CPO, you understand the challenges of keeping your charging stations fully utilised, but with Monta, you can benefit from the growing community of EV drivers seeking convenient and reliable charging options.

Join the Monta network and contribute to a cleaner, more sustainable transportation system.
Roaming costs
At Monta, we believe in transparent pricing, and we strive to keep our prices low for EV drivers. When a Charge Point Operator (CPO) enables their charge points for roaming, we don't add any fees on top of the price that we get. Instead, we take a 2% transaction fee from the operator, plus an 8% roaming fee when they set their price for roaming. This fee helps us cover our costs and keep our prices low for EV drivers.
If the CPO's integration is through OCPI, their charge point will be published and activated instantly. If it's through OICP via Hubject, we'll update within 24 hours. We do everything we can to make sure that the EMPs (e-mobility providers) are behaving and sign bilateral agreements with roaming hubs to have price conversations. However, as we are not an operator, we do not control the price. We only facilitate the price between the CPOs and the EMPs.
We're committed to transparency, and soon, we'll update our Monta app to be transparent about the operator's price and whether we're taking a markup or not. We do not take a markup on the price that our CPOs set. Therefore, the price that you add to the CPMS (Charge Point Management System) is the price that EV drivers will see in the Monta map. Please note that we can't control the price in other EMPs' apps, but we share your price and do everything we can to ensure that the EMPs are behaving fairly.
Why Monta? The benefits of the Monta Roaming Network for CPOs and OCPI partners
Cutting Edge Functionalities: Monta's charge point management system is hardware-agnostic and easy to use, seamlessly integrating with your existing setup. The system supports OCPP 1.6 and allows for quick and easy connection to the growing network of charging stations. Our advanced Load Balancing feature optimises power distribution, and our DynamicPricing and schedule pricing features ensure fair pricing based on electricity costs.
Advanced Analytics to help you grow your business: Monta offers a comprehensive overview of your performance as a roaming provider, allowing you to see and monitor all of your roaming charge points and sites in real time. With instant ratings and reviews from roaming users, you can track the quality of your network and make necessary improvements. Real-time revenue tracking lets you stay on top of your finances, while detailed charge history provides valuable insights into the performance of your network. Additionally, Monta offers benchmarking capabilities to show you what good looks like and help you strive for excellence.
Boost Utilisation of Charging Points: By joining the Monta Roaming network, you can increase the utilisation of your existing charging points. This means that more EV drivers will be able to charge their cars at your location. This can lead to increased revenue for your business.
Attract Physical Footfall for cross-sales opportunities: Joining the Monta Roaming network can also bring physical footfall to your location. EV drivers will be looking for charging stations, if you're a part of our network, your location will be more easily discoverable by them. This can lead to increased visibility and exposure for your business. Do you have other products and services at your location? EV drivers may be looking for things to do or buy while they are charging their EVs. If so, you could attract more customers and increase brand awareness by including EV charging on your site.
Expand the EV infrastructure for everyone's benefit: By expanding the EV infrastructure through increased and more accessible use of roaming charging points, we can promote the adoption of electric vehicles for the benefit of all. This will lead to a reduction in air pollution and a decrease in the use of fossil fuels, creating a brighter future for us all. By democratising access to charging points, we can make the switch to electric vehicles more viable for a wider range of people, leading to a more sustainable future for everyone.
With over 300,000 charge points across Europe at your disposal, the Monta network provides easy access for yourself and all your clients to reliable charging. Check the complete coverage in our map, or experience Monta for yourself with a free demo account.
Already a Monta user? Check here how to enable roaming on your charge points.
What's next in Monta Roaming?
The new Roaming Portal for Charge Point Operators
The new Roaming Portal will empower CPO's to make informed decisions and leverage cutting-edge functionality to maximize the utilization and capitalization of their charge points.
The Roaming Portal will provide access to increased performance data, by bringing together data from different connections via OICP and OCPI. Users will be able to monitor utilization data and analyze the performance of different sites and individual charge points. In addition, the Roaming Portal will allow users to view user-generated content on charging point sites and charge points, including ratings and reviews.
Furthermore, the Roaming Portal will offer strong benchmarking capabilities on network pricing and quality, allowing users to compare their networks to other operators in real-time. This will help CPOs to detect possible failures and make improvements to their charge points quickly. With self-healing and troubleshooting components integrated into the Roaming Portal, users will be able to save time and streamline their operations.
Monta is currently seeking BETA users to help shape the product and make it even more valuable for CPOs. If you're interested in participating, please reach out to mama@monta.com.
Creating bilateral offers
Unfortunately, at this time, it is not possible for CPOs to create bilateral offers independently. However, CPOs can create bilateral offers through Hubject with our assistance.
We are continuously striving to improve our services, and with the development of the Roaming Portal, we aim to provide CPOs with full autonomy to create their own tariffs using the OCPI. This will be especially beneficial for larger CPOs who want to incentivize EMPs to bring in more volume at different price points. Although this feature is not yet available, we anticipate it becoming a possibility in the near future.
Plug&Charge: improving the EV roaming experience
Plug&Charge is a new project that is part of the ISO15118 and has the potential to significantly improve the EV roaming experience. Many people see it as the holy grail of roaming.
With Plug&Charge, if your hardware is capable and approved, EV traffic can be directed to your infrastructure without the need for drivers to take out their mobile phones. They can simply go to the access point and plug in. Your hardware will automatically recognize the vehicle certificate, start the charge, and process the payment through the Monta Wallet.
The key integration is when we fully integrate Plug&Charge into our CPMS capabilities, enabling our CPMOs to identify the vehicle certificate and start Plug&Charge. At Monta, we are developing an EMP version - Plug&Charge roaming - which will integrate into the Hubject ecosystem. This means that CPOs and OEMs that have enabled Plug&Charge will be able to roam via the Monta app. By this summer, EV drivers should already be able to take advantage of Plug&Charge roaming.
If you want to learn more about how you can maximize roaming and charge point utilisation, watch this webinar.