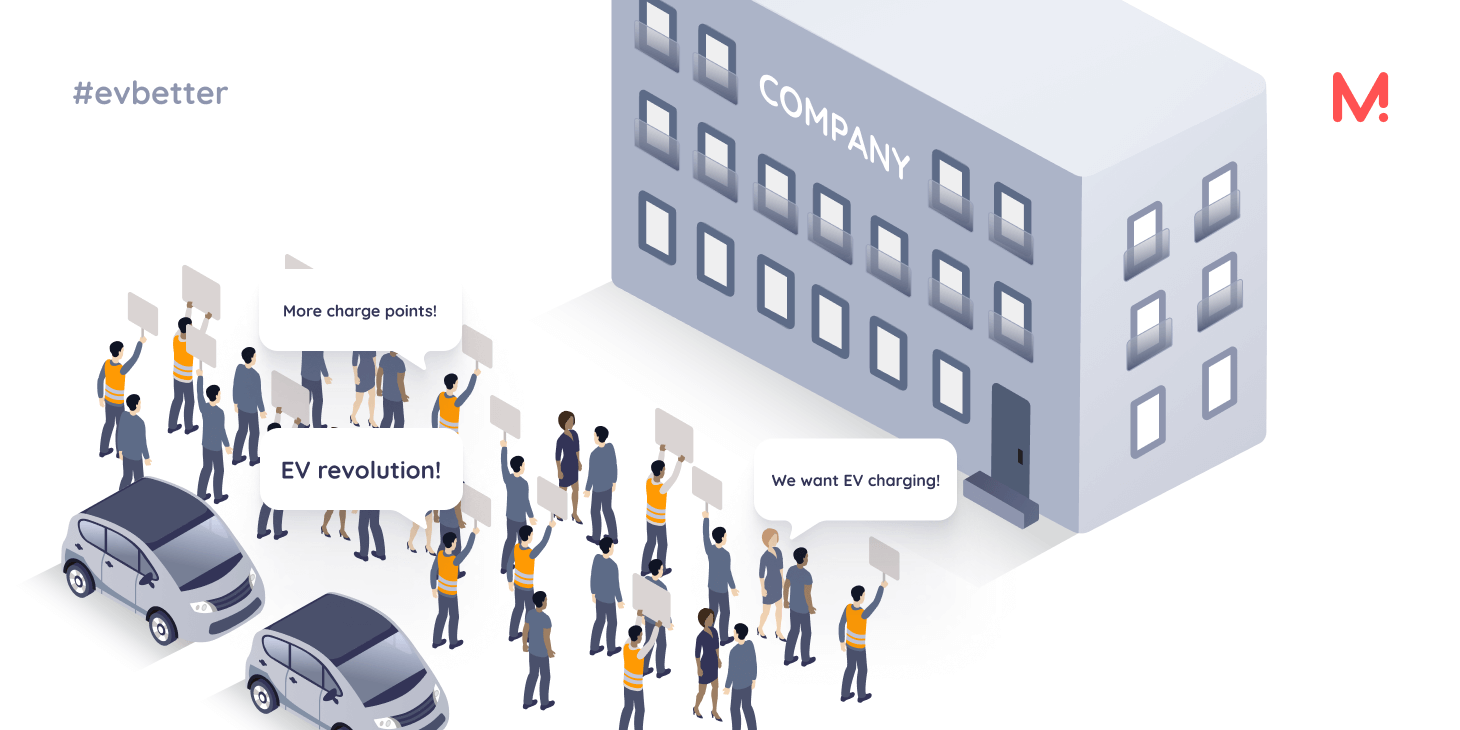 Why is workplace charging so important?
A YouGov survey commissioned by Monta revealed that over 52% of surveyed EV drivers did not have access to a charge point at their place of work.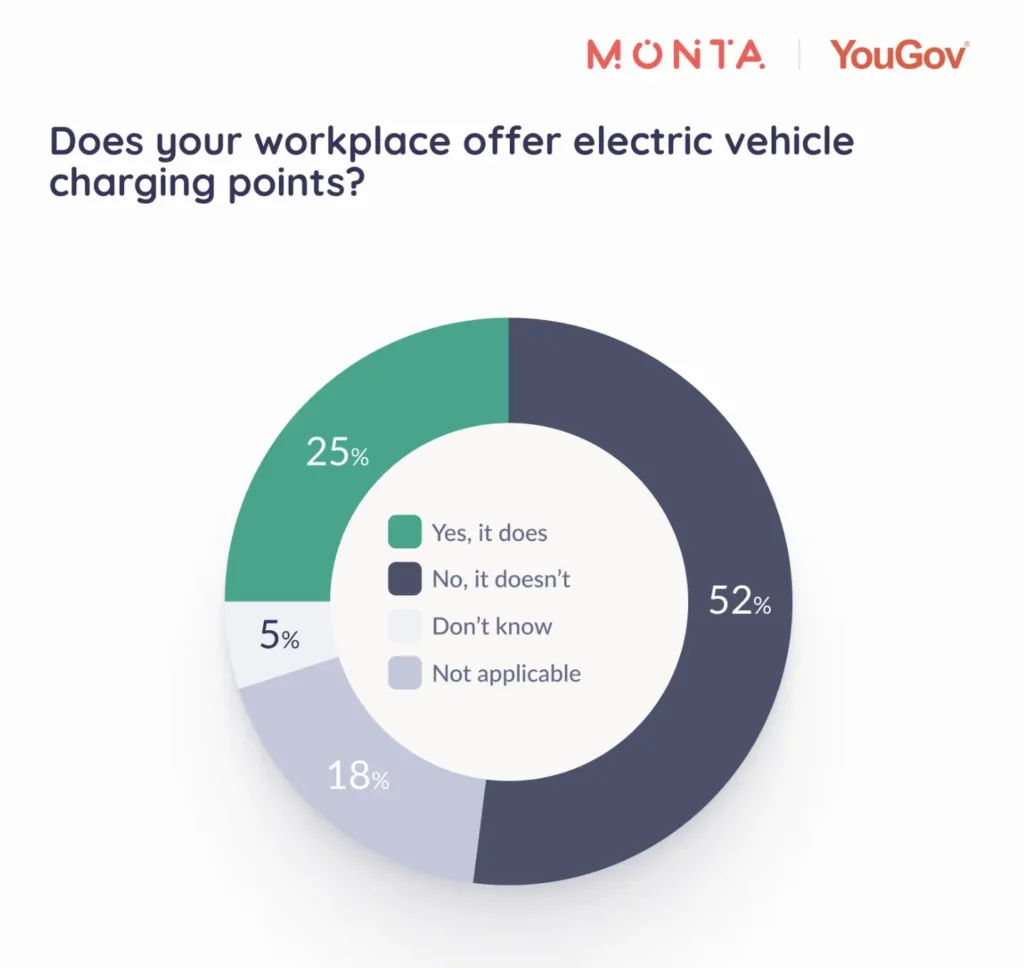 When questioned further, 82% of those drivers expressed a desire to charge their EV at their place of work. Just 25% of surveyed EV driver's workplaces have an EV charge point installed, as a result, only 10% of surveyed EV drivers reported charging their EV at their place of work.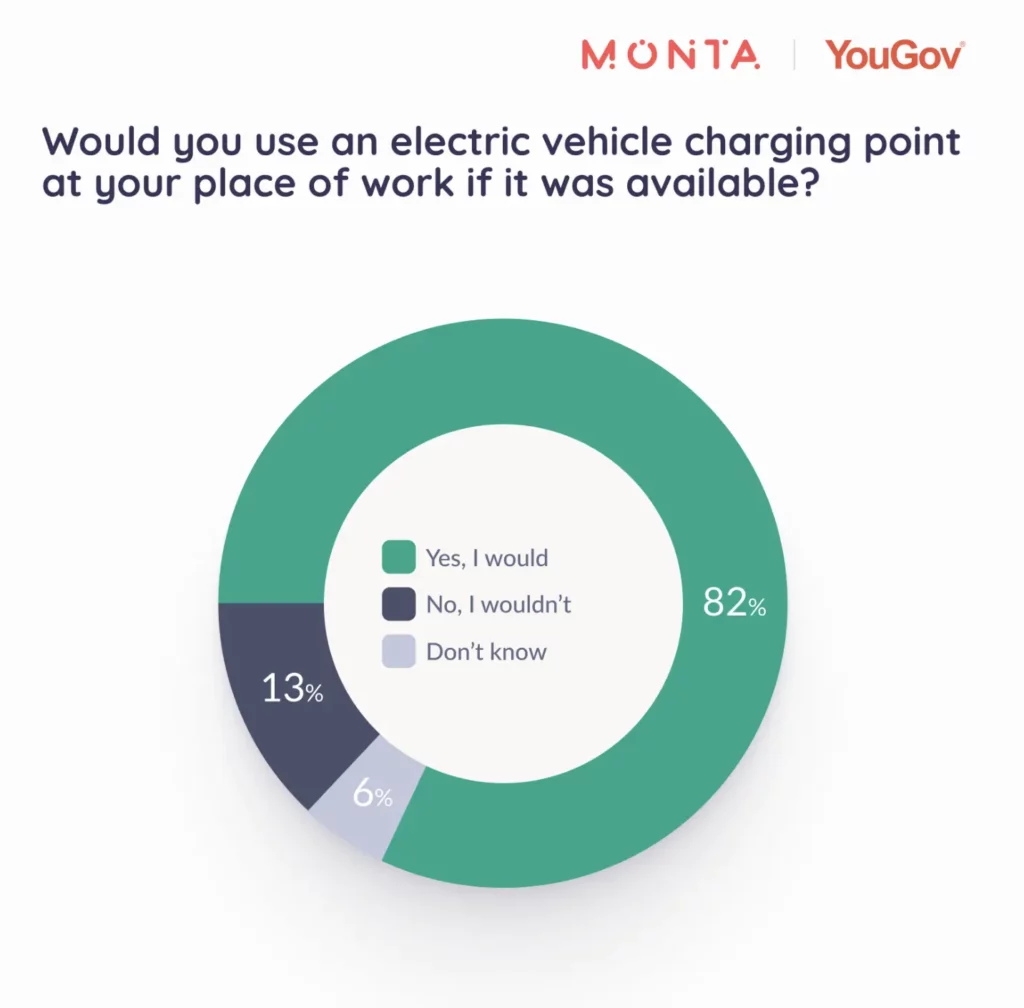 This means that when electric vehicle drivers are commuting to their office, they're having to charge at public EV charging stations, which can be expensive, or they're charging when they get home during peak hours. In order to reduce costs for electric vehicle drivers, workplace charging is necessary. By charging during working hours, drivers can charge at off peak times, in a convenient location, and drive home with a full battery.
Why are companies slow to install electric vehicle chargers at the workplace?
Charging at the office has always been a difficult topic. Most businesses have historically seen EV charging as too complicated, or an unnecessary cost. There has also been the concern that it would be too difficult to separate EV charging on their electricity bill to bill EV drivers for the energy they used, so some businesses have offered charging for free which negatively impacts employees who drive petrol or diesel cars.
While there are lots of barriers to installing an EV charging point at a place of work, there are many advantages.
Why should businesses want charging for electric vehicles at work?
Over the past few years there has been an increasing trend of employees working from home and employers wanting people to return to the office. If organisations want electric vehicle drivers to return to the office, they need to offer reliable charging. But that doesn't need to be free of charge - Monta offers the option to pay for a charge at charge point via Google Pay, Apple Pay, or digital wallet - so the company can immediately recoup the cost of their energy.
Companies can also set different prices for different users through Monta. A business could offer their charge point to their employees at cost, and open it to the public on evenings and weekends at a higher rate per kWh and make a small profit per charge.
This cost would still be cheaper for the driver than charging at a public EV charging station or a public rapid charger and would be just as convenient. This could also help in communities where congestion is often created on evenings and weekends by people searching for parking and charging stations, moving electric cars away from big destinations like shopping centres or public car parks and dispersing traffic through business car parks across the UK.
Soon your workplace will have more EV drivers than charge points, but with Monta's smart queue feature employees can reserve their spot at the charge point and create a virtual queue. Employees can message the front of the queue in an emergency and jump to the front of the line if they need to charge quickly. Best of all, you don't need to get involved.
Monta's platform creates the virtual queue and manages communication between employees so they can charge conveniently and efficiently. By setting up a queue, employees can get on with their work day and be notified when they're ready to charge.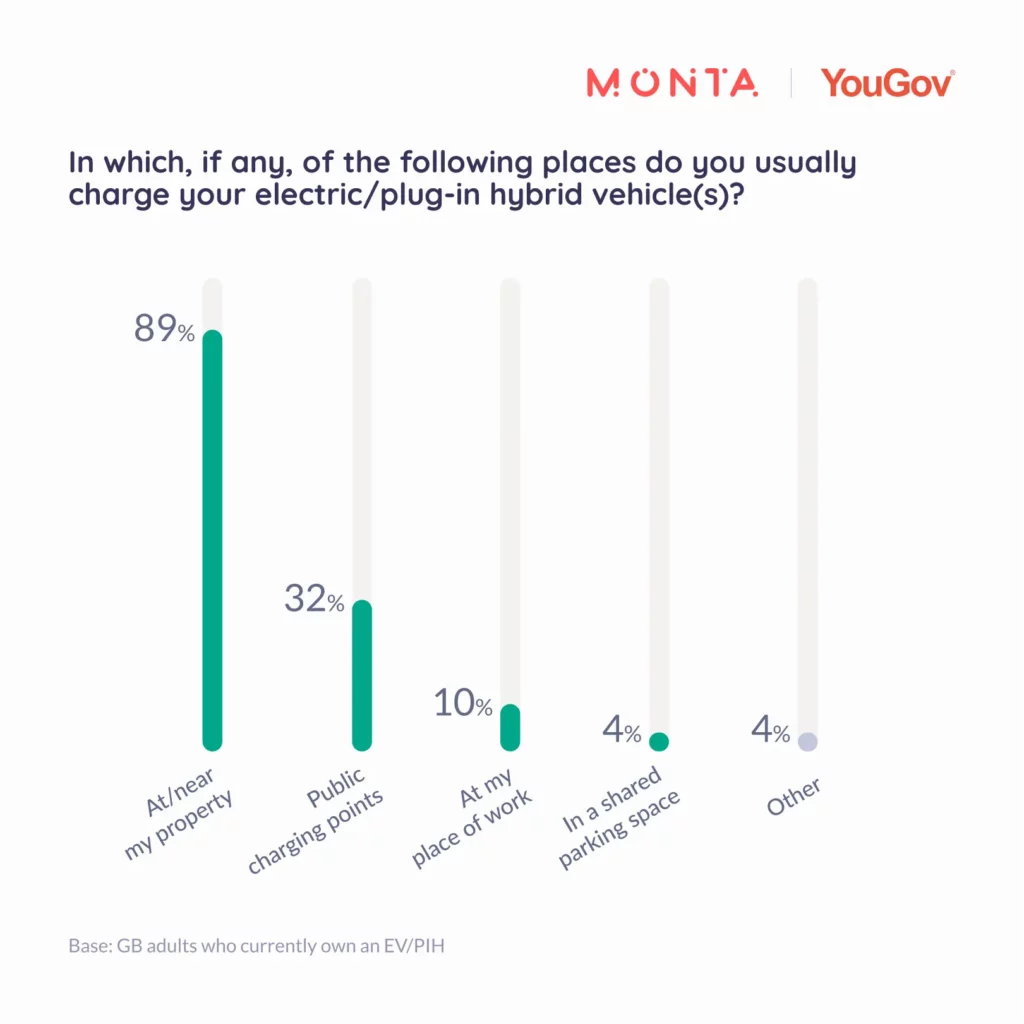 But there's still the issue of admin - it's a full time job to manage who's charging where and for how much, unless you use Monta! One advantage for companies is that Monta manages all of the payment for you, you can control the access, schedule, and price and Monta manages all payments and makes your charge point visible to the public.
Companies can also benefit from Monta's EV charging data, which will show how much energy was used and carbon was saved in providing a flexible charge point at work. As sustainability becomes increasingly integral to business models across all sectors, this data is invaluable.
Want an EV charger in your place of work?

All figures, unless otherwise stated, are from YouGov Plc. Total sample size was 1011 adults
of which 317 were EV/PIH owners. Fieldwork was undertaken between 25th - 27th May 2022.
The survey was carried out online.