This is a guide that explains how to set up a Payter terminal via Payter cloud integration with Monta as Merchant. If you have an existing hardware integration, it should be removed.
If you want to have a hardware integration, this is not the correct set up for you. Then, you need to create your own Payter account, where you are the Merchant.
1. Order a Payter Terminal
Once you have added the charge points to Monta Portal, create price groups, added members, etc. the next step would be to order and add the payment terminal to the site.
You can order a Payter Terminal from the Monta Shop.
When you will receive the payment terminal it will need to be activated in Monta Portal. Expected delivery time is about 5 to 7 business days.
2. Active payment terminal
Once your receive the payment terminal it will need activation on the Payter website. To activate the payment terminal in Payter use this online registration form and enter the information below –
Distributor/Supplier: Monta
Terminal mode: Cloud
Terminal reference name: Pick a name fitting
Terminal domain: Customer name for example "My operator"
Trading company name: *enter the correct name, according to the currency you need – see table*
Merchant ID (MID): *enter the correct number, according to the currency you need – see table*
Bank: Elavon
You can state a different Trading company name or a Merchant ID (currency). Currently, we support DKK and GBP as currencies. Please note that the currency in the Team and the currency you set on Payter should match.
| | | |
| --- | --- | --- |
| Currency | Merchant ID (MID) | Trading company name |
| DKK | 2101867301 | MONTA APS |
| GBP | 2101898190 | MONTA GBP |
| NOK | 2101921795 | MONTA APS |
| EUR | 2101901567 | MONTA APS |
| SEK | 2101927701 | MONTA APS |
You will be requested to pay the activation fee and will have to pay monthly fees to Payter. Monta will pay the transaction fees (just like on credit cards). Monta will still charge the normal transaction fee agreed.
Please keep in mind that it can take up to 10 days to get your payment terminal activated by Payter once the form is submitted.
3. Customized display message on your Payter device
You are able to set a customized message to display on the Payter device, so the EV driver knows how to use it. This is something you have to setup in MyPayter.
You have received access to MyPayter after you have submitted the activation form for the device.
Login to MyPayter
Find the Payter Terminal
Select "General" tab
Select "Screen saver text" and type "Connect vehicle – Tap card to start"
Click on "Save"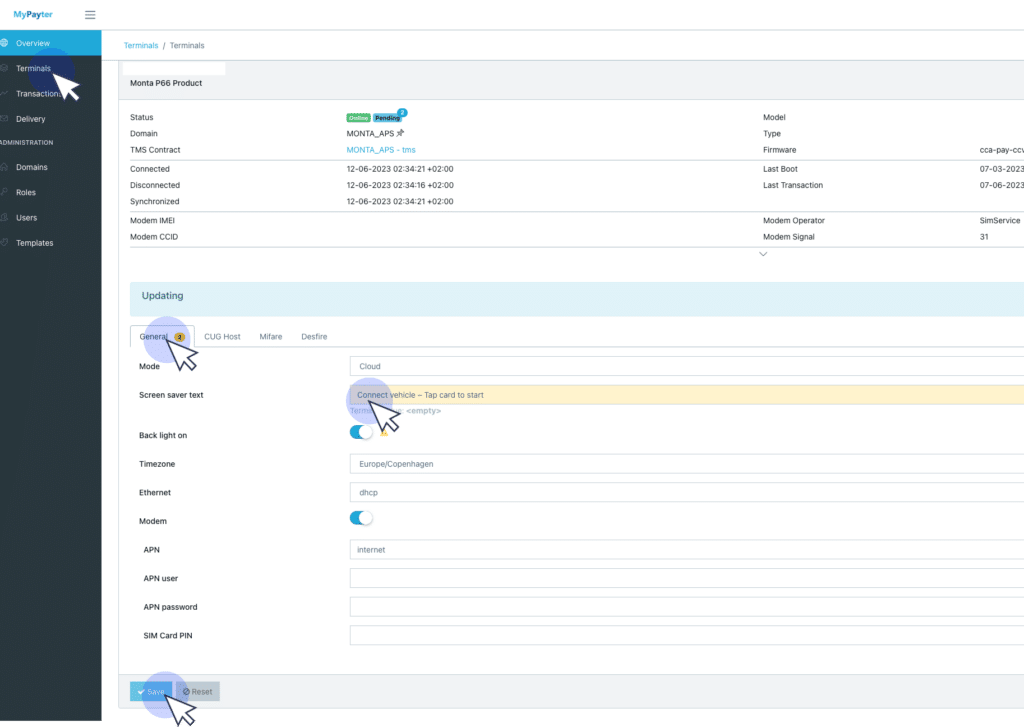 Now the EV drivers can see on the Payter device that they first need to connect their car and then tap a payment card to start the payment.
4. Connect the Payter terminal to your Monta account
Now, you need to connect the Payter terminal in the Monta Portal.
Here is a guide on how you can do that.
Thanks for your feedback!